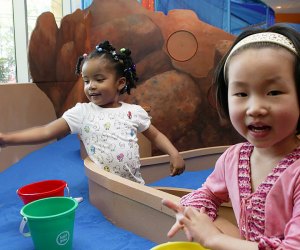 Drop-In Play Spaces for Kids in NYC That Cost $12 or Less
New York City is packed with fun indoor play spaces to keep kids active all year. Unfortunately, the average price at these parental lifesavers keeps creeping up. Admission often runs $20 to $25 per child for a single drop-in. Pricey fees or membership commitments can quickly ruin your plans for a quick escape from the staying-in doldrums.
Of course, we're here to help. We've rounded up 16 options for drop-in play—all for under $12 a visit, and a few that cost significantly less!
Read on for open play sessions that won't break the bank in nearly all five boroughs, and find more indoor fun spots in our local NYC guide, or at-home boredom buster games and crafts for those days when you really want to pinch a penny.
Manhattan
ACT Indoor Playstation — Morningside Heights
Cathedral Church of St. John the Divine, 1047 Amsterdam Avenue at 111th Street
Open play: December-March: Monday-Thursday noon-3pm
$8 per child, 6 months and under FREE
Ages 0-5
With a spacious gymnasium full of pint-sized slides and places to crawl and explore, plus soft mats to ensure safety, this indoor playspace is perfect for passing the chilly fall and winter months. The center closes during holidays and school breaks, so be sure to call ahead to confirm it's open before heading over.
RELATED: Best Manhattan Play Spaces for Toddlers and Preschoolers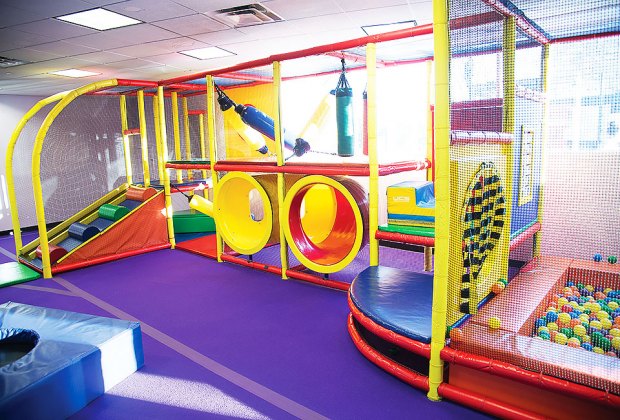 The toddler gym at Chelsea Piers will keep your toddler busy for hours! Photo by Scott McDermott for Chlesea Piers

Chelsea Piers' Toddler Gym — Chelsea
Field House at Chelsea Piers, 23rd Street and the Hudson River
Open play: Schedule varies; call 212-336-6500, ext. 0 to confirm daily hours.
$12 per session, discounts for multiple sessions
Ages 6 months-4 years
Chelsea Piers is a hot spot for recreational fun for all ages and its Toddler Gym is no exception. Preschoolers will love sliding and crawling through the big play structure and exploring the interactives on the walls. Soft playthings, a tiny rock climbing wall, and ball pit round out the space.
Brooklyn
232 Playroom — Cobble Hill
232 Warren Street
Drop-in play times vary; check website
$10 per session
Ages 0-3
232 Playroom understands how expensive having multiple kids can be, so siblings play free! Register online to participate in an open-play session, or sign up for a semester-long class or camp. They have a train table, dress-up options and lots of toys for pretend play. This space is geared toward toddlers under 3, so keep that in mind when you make your plans. This awesome organization donates some of their profits to UNICEF, so you can feel good about spending a little money to enjoy a play day.
Brooklyn Arts Exchange — Park Slope
421 Fifth Avenue, between Seventh and Eighth Streets
Drop-in play: October 30-May 4, 2019 on Monday and Friday mornings. Visit the website for current hours.
$10 per family, discounts available for multi-session packs
Ages 1-4
The BAX Playspace is a favorite for local families. Tots can while away chilly mornings exploring tunnels and playing with colorful toys. Bring your own nut-free snacks and you'll be good until lunch—or nap time!
Good Day Play Cafe — South Slope
591 5th Avenue between 16th Street and Prospect Avenue
Drop-in play daily, Monday through Saturday; visit the website for current hours.
$12 per one-hour session (free for babies under 8 months)
Ages 0-6
With Stumptown coffee, a sensory pit, and a clear view of the entire play area from the minimalist-chic cafe, this play cafe is a local favorite, like its sister location in Bayside, Queens. There is plenty to do for kids that like to get physical—including a ball pit, slide, and climbing structures—as well as options for those who prefer quieter games and imaginative play, from costumes to a pretend kitchen and grocery store.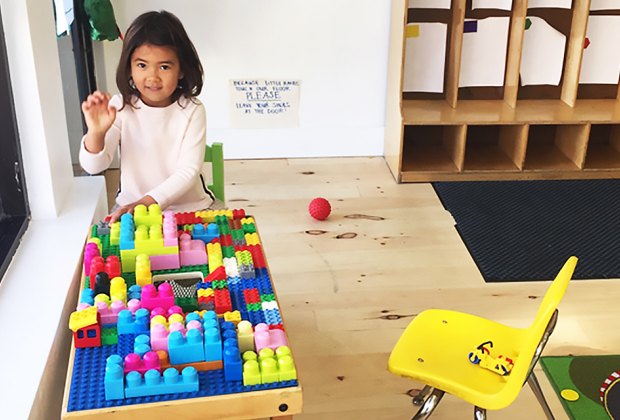 Giocare Play Spot has daily themes to keep activities engaging. Photo by Diana Kim

Giocare Play Spot — South Slope
655 Sixth Avenue, at 18th Street
Drop-in play Monday, Tuesday, Wednesday, and Friday; visit the website for current hours.
$10 per visit per family
Ages 0-5
Giocare offers open play with toys, blocks, and musical instruments. Daily themes are incorporated into play sessions and include storytimes, music and movement, art exploration, and more. Read our full review of this Giocare here.
Little Chubs Playground — Bensonhurst
7205 16th Avenue
Drop-in play daily (closed Tuesdays)
$10 per 2 hour session; infants under 1 year old are free
Ages 1-10
If you've got kids spanning multiple ages, this is a great spot to take them! Little Chubs offers age-appropriate activities for kids ranging from 1 to 10. Jump in the ball pit, ride on a race car, or build with big, foam blocks. They offer affordable birthday party packages and have gorgeous party rooms. They are closed on Tuesdays, but otherwise offer open play daily for just $10 per 2 hour session.
Little Lola & Tots — Bed-Stuy
503 Dekalb Avenue
Drop-in play weekdays, 9am-12:30 pm and 2:30-5:30 pm; Saturdays 10am-1pm
$12 per session
Ages 0-4
This Bed-Stuy local favorite believes in the transformative power of imagination. Climb and slide or sit and read in this dynamic indoor playspace. If you expect to go more than a few times, save even more with their class pack option.
Party Gym — Sheepshead Bay
1130 Avenue Z, at East 12th Street
Drop-in hours on Tuesdays and Thursdays; visit the website for current hours.
$11 per child
Ages 0-8
This party place has open-play hours on select weekdays. Little ones will delight in the multilevel maze of tunnels and slides—and who doesn't love a good ball pit?
Play Days & Parties — Bay Ridge
6632 Third Avenue, between 67th Street and Wakeman Place
Drop-in hours Tuesdays through Fridays; visit the website for current hours.
$12 per two-hour session, $8 on Thursdays, $5 on Tuesdays with Facebook group membership
Ages 0-5
This family-run spot offers open play sessions during the week in a cozy room full of soft blocks and other toys and equipment like a seesaw and slide. Classes, playgroups, and party packages are also offered. For more info, check out our full review.
RELATED: NYC Stores Where Kids Play for FREE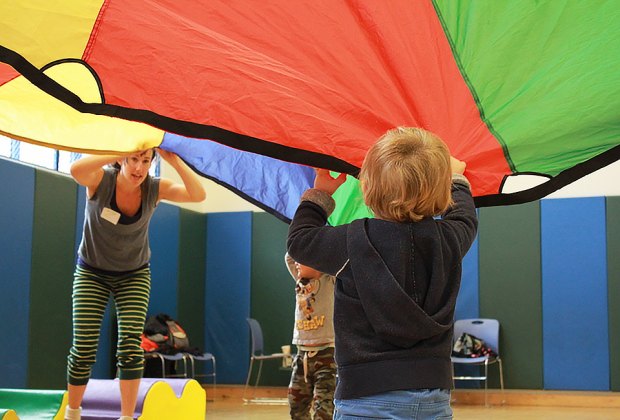 Enjoy the open gym and arts and crafts on a Sunday morning. Photo courtesy of Hannah Senesh
Sundays@Senesh — Carroll Gardens
342 Smith Street, at Second Street
Sunday mornings November 5-March 25, 2018; visit the website for current schedule.
Ages 0-5
$5 per person, including adults
Jewish day school Hannah Senesh offers open play sessions every Sunday all winter long. Enjoy coffee and bagels while little ones run, play, and explore. There's a dedicated space for babies and toddlers and guided movement, art sessions and music to keep kids engaged.

Totally Tots at the Brooklyn Children's Museum — Crown Heights
145 Brooklyn Avenue, between St. Marks Avenue and Prospect Place
Drop-in play offered Tuesday-Sunday; visit the website for current hours.
$11 for ages 1 and older; Pay as you wish Thursdays from 2-6pm
Ages 0-6
Totally Tots is a treasure for babies and preschoolers with nine sensory play areas—enjoy water play, music, climbing structures, blocks, dress up, and more. Included with museum admission (which is pay-as-you-wish on Thursday afternoons), Totally Tots is a bargain for winter fun.
Queens
Raising Astoria — Astoria
26-11 23rd Avenue between 26th and 27th Streets
Drop-in open schedule varies; visit the website for schedule and to reserve. Private play sessions can be scheduled for groups of five families or more.
$5-$10 per family (cash only), depending on age group
Ages 0-3
Raising Astoria offers a variety of drop-in options for babies and toddlers, providing unstructured, supervised fun with toys, blocks, music, and more; plus an occasional bounce house to liven things up. There's even coffee available for parents. Open play is cash only. Follow Raising Astoria on Facebook for schedule updates.

Kids 'N Shape — Howard Beach
162-26 Cross Bay Boulevard between 162nd and 163rd Avenues
Drop-in play offered daily; visit the website for current schedule.
$10 per two-hour session
Ages 1-12
With ball and foam pits, a bounce house, an obstacle course, and even a zip line, kids will have a blast staying active and burning off energy. Children are admitted on a first-come, first-served basis with a maximum of 50 kids per session. Kids 'N Shape also has a Staten Island location.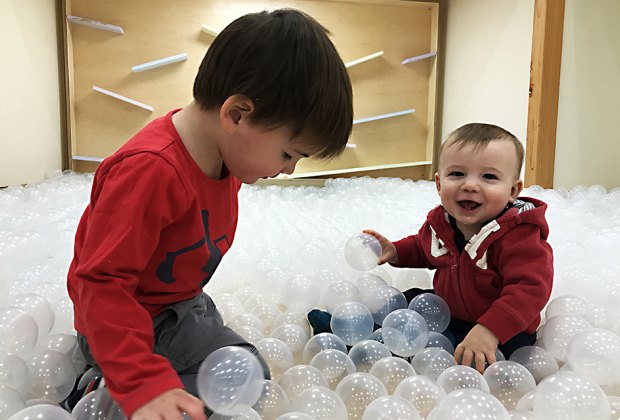 The ball pit is hit at Good Day Play Cafe. Photo by Louise Trapasso

Good Day Play Cafe — Bayside
208-03 35th Avenue
Drop-in play offered Monday-Saturday; visit the website for current schedule.
$9 per one-hour session weekdays; $10 weekends; discounts for siblings and longer sessions are available
Ages 8 months-6 years
Good Day Play Cafe—modeled after play spaces in Korea—has quickly become a go-to for neighborhood families. The space is divided equally between a cafe and play space. The cafe offers free Wi-Fi, coffee, smoothies, and a full menu of tasty fare. The play space features a climbing area, ball pit, a Hinoki cypress wood cube pit, Lego table, kitchen set, dress-up area—pretty much everything little ones could want.
Staten Island
JW Tumbles — Staten Island
27 Brienna Court
Drop-in open schedule varies; visit the website for schedule.
$10 per child
Ages 4 months-9 years
Get your sillies out at an open gym session at JW Tumbles. Little ones are free to climb, run, jump and explore the equipment, toys, and games in a safe, clean space.
A version of this post was published in 2017; it has been updated. Louise Finnell contributed additional reporting.