8 Things to Love About the Children's Museum of Manhattan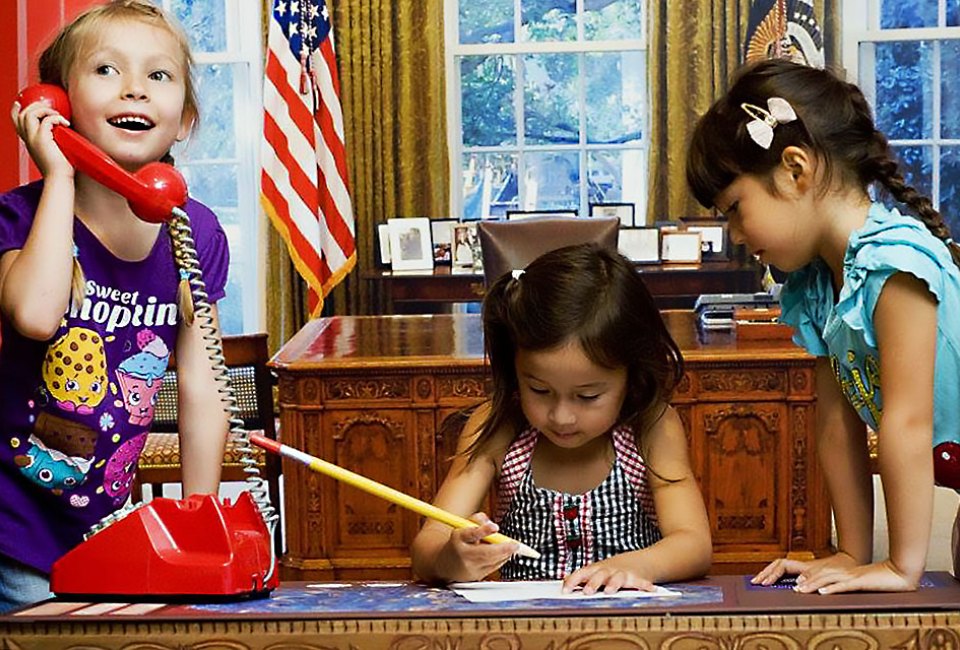 11/5/18
- By
Kera Rennert
The Children's Museum of Manhattan is an absolute must-visit for any NYC family with young children, and it's especially great for kids ages ten and under. This Upper West Side mainstay is a super-fun environment to learn about science, culture, art, music and history. CMOM features both permanent and rotating immersive exhibits, themed play areas, workshops, classes, and interactive performances, all designed around the latest child development research. The nearly 40,000-square-foot institution spans five stories, which seems to be just enough space to keep your children happy, engaged, and occupied without overwhelming them (or you).
I've taken my kids to CMOM more times than I can count, and it never gets old. There's always something new and interesting to explore, along with some ever-present favorites (the fire truck is sure to please any child, big or small – just ask my husband). Read on to see our top reasons why CMOM is one of our favorite kid-centric destinations in all of New York City.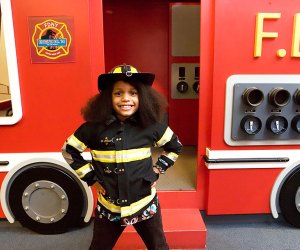 Drive the fire truck and see what it's like to be a real-life firefighter at CMOM's PlayWorks exhibit.
PlayWorks
My kids request to go to PlayWorks the moment we walk through the front doors of CMOM. Covering the entire third floor, this permanent exhibit features—among other things—a carpeted play structure for kids to climb and slide down, a soft area for crawlers where story time is often held, a pretend deli that includes a conveyor belt at its checkout counter, "Alphie" the talking dragon who eats letters (and lots of other things), a 6-foot mural painting wall, and an Art Lab with daily hands-on activities. There is also a fire pole to slide down, and the previously-mentioned fire truck where kids can take turns driving, navigating, and pushing buttons. Be sure to have your camera ready to get pictures of your little firefighter on the job.
RELATED: What Ages Get in to NYC Museums, Parks, and Zoos for FREE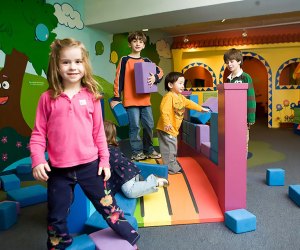 Cross the Rainbow Bridge on the way to Dora's house at the Adventures With Dora And Diego exhibit.
Adventures With Dora and Diego
Whether or not your children are fans of Dora and Diego, this second floor permanent exhibit is sure to thrill them with its endless adventures. Your little ones can help Diego rescue animals, walk in animal footprints, explore caves and the rainforest, drive Tico's car, walk across the Rainbow Bridge, and make their way to Dora's house. There, they can explore where Dora lives, play drums and games, and pretend to cook Latin American foods. My daughter absolutely loves to go into Dora's room and pretend to sleep in her bed. ¡Vámonos! Let's go!
RELATED: Free Admission Hours at NYC Museums for Families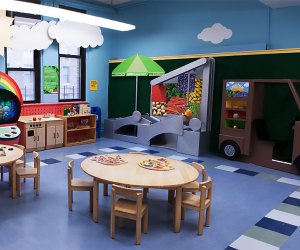 Learn about living a healthy lifestyle at CMOM's EatSleepPlay exhibit.
EatSleepPlay: Building Health Every Day
In this interactive, fourth floor exhibit, CMOM has found a way to entice even the youngest of children into learning about living a healthy lifestyle. How, you ask? With burps and farts, of course! After all, there isn't a child (or adult, for that matter) out there who doesn't giggle at the sound of passing gas! EatSleepPlay gives kids a chance to crawl through a digestive system (where some of the funniest bodily sounds occur), follow nutrients into the body, and pretend that balls are blood cells traveling through the circulatory system. Children can join the Super Sprowtz, a team of super-powered vegetable heroes, and learn about calories and energy while pedaling on stationary bikes. There's also a giant toilet which brings the flatulence theme full circle! Though this is a temporary exhibit, it's been at CMOM for years and there is currently no plan to flush it away.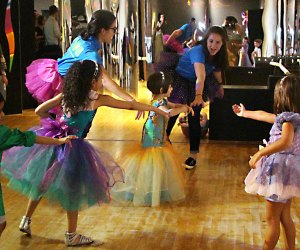 Let's Dance! gives children the opportunity to learn from the pros.
Let's Dance!
CMOM's newest exhibit/dance space gives children the opportunity to dress up in costumes from around the world and shake their booties. There's an interactive "dance portal" where kids can learn from dance professionals, and a stage for creating shadow dances, Children can play instruments from an array of cultures, and even get down with their own choreographed performances. This wonderfully diverse area does a great job of teaching kids about the universal language of dance. Let's Dance! is a temporary exhibit, but it's expected to remain at CMOM for a long time to come.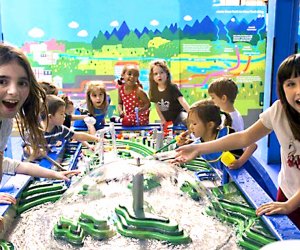 During the summer, kids can splash their way through the Dynamic H2O exhibit at CMOM.
Dynamic H2O
Every summer CMOM turns their outdoor space into a giant, multi-level place for kids to cool off. From clouds to rain to rivers and eventually to skyscrapers, an interactive water table traces the path of the water we use in New York City. Kids can create waterfalls, build dams, and pretend to go fishing. They can even try their hand at water-focused careers, playing the role of marine scientist, chemical engineer, or sewage treatment worker. One thing to note: There is a limited amount of splashing from the water table, so even though children are playing with water, they actually don't get very wet. This means that you don't have to worry about bringing a change of clothing for your kids.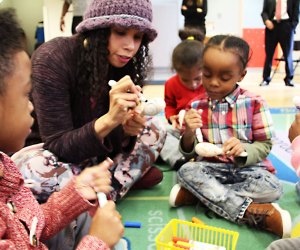 Register your child for a course at CMOM, or drop in to one of the many class offerings.
Classes Galore
CMOM puts the "early" in early childhood programs, where even your 8-week-old baby can take part in Tiny Movers, a class that supports brain and body development through movement and music. Two-year-old future dancers will love the American Ballet Theater program at CMOM. The museum also offers gentle separation classes for toddlers and drop-off classes for 3-4 year-old future scientists. Check the website for updated class information and to register. And if you're looking for a last-minute activity for your child, look no further: On any given day, the museum has easily eight or more drop-in classes available for children of all ages, and no registration is required. Move & Groove Sing Along, Movement & Circle Time, Take the Stage, and Mural Wall Painting are just some of the drop-in offerings. See the CMOM calendar for the complete list of drop-in classes. And note, all drop-in classes are FREE with museum admission.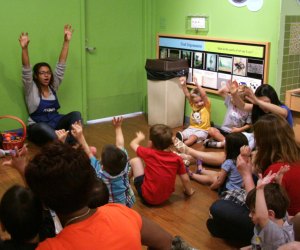 Circle time at CMOM.
Special Events
There are endless opportunities to learn at CMOM. Programs such as this year's Indian Arts Series, taught by professional artists, can help broaden your child's cultural knowledge. The museum also sponsors lectures, family workshops, and structured play groups. Find a complete list of current programs on the museum's events page.
Affordable Membership With Great Perks
CMOM Is one of our favorite places to buy a family membership. For $225/year, you get a basic membership that includes unlimited visits for two adults (including caregivers) and up to four children per visit, discounts on classes, early access to new exhibits, discounts at the CMOM Store and local stores and restaurants, and half-price admission to more than 200 children's museums throughout the U.S. and Canada. When you consider these inclusions along with the many drop-in class offerings and events at CMOM, this membership is a steal! For a complete list of all membership opportunities, check the CMOM website.
Know Before You Go: Museum Visiting Tips
The museum is closed on Mondays. Regular hours are 10am-5pm on Tuesday-Friday and Sunday; 10am-7pm on Saturday. Check the CMOM website for schedule changes.
There are members-only hours. Every Wednesday, CMOM opens an hour early at 9am just for members.
For non-members, admission is $14 for children and adults, $11 for seniors 65+, and FREE for children under 1 year. Admission is also free for museum members. CMOM offers free and discount admissions for qualifying visitors.
Strollers are not allowed inside. However, CMOM offers a complimentary stroller and coat check, so pack a diaper bag to carry with you to the exhibits.
No food or drink is allowed inside the museum. You can come in and out of the building as needed to feed your child—just show your hand stamp upon re-entry.
All performances, programs, and workshops are free with admission. Keep an eye on the museum's calendar for daily special events.
Photos courtesy of the Children's Museum of Manhattan
Places featured in this article:
---
Children's Museum of Manhattan
Click Here to Sign Up!