Upper West Side with Kids: 30 Things to Do for NYC Families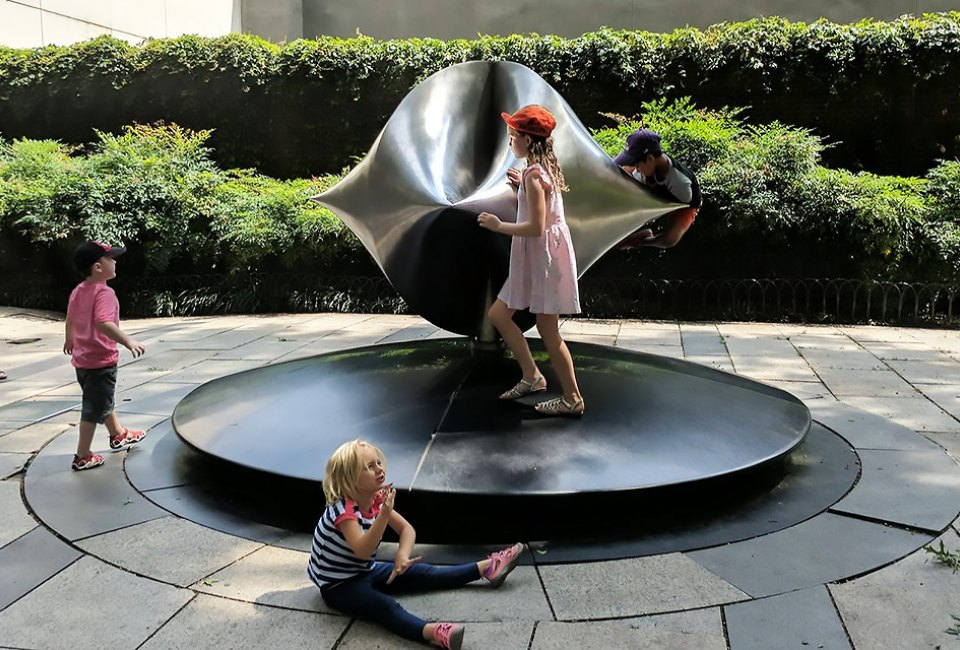 9/14/18
- By
Kera Rennert
The Upper West Side of Manhattan is one of the most famously family-friendly areas in NYC. I've lived on the UWS since I was just a tot and raised two children in the same apartment where I grew up, so we're all very passionate about the neighborhood. (That's part of why we've covered it so extensively in the past.)

Within the massive neighborhood bordered by Lincoln Center to the south, 106th Street to the north, and from Riverside Park to Central Park west to east, there are a slew of kid-centric hot spots and activities. It wasn't easy, but we've whittled down our list to 30 top picks for things to do with kids on Manhattan's Upper West Side. While you're sure to find the obvious ones (hello, American Museum of Natural History and Children's Museum of Manhattan), we also included some off-the-beaten-path ideas and activities for families in the Upper West.
Arts and Culture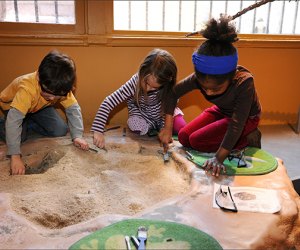 Fossil digging activity at the American Museum of Natural History's Discovery Room. Photo by R. Mickens/courtesy of the museum.
1. Most NYC families have taken their kids to the American Museum of Natural History at least once. But have you explored some of its lesser-known sections and activities? The Discovery Room encourages hands-on exploration of everything the institution covers, from anthropology to zoology. Kids can build a life-size dinosaur skeleton, romp in an interactive tree house, play memory games with fossils, and much more. The 40-minute sessions fill up quick, so to ensure your spot, be sure to pick up your free pass at the Discovery Room entrance as soon as you arrive at the museum. Middle schoolers might also want to try one of the museum's sleepovers, a splurge, but perfect for a special birthday coming up.

Kids can't get enough of the ever-popular Adventures of Dora and Diego exhibit.
2. In addition to the ever-popular Adventures of Dora and Diego exhibit, the Children's Museum of Manhattan continually offers new exhibitions, like Let's Dance, where children can groove along with professional and student dancers. In addition, CMOM offers amazing programs and activities, especially on weekends. Catch concerts by local kids' bands or participate in hands-on workshops with arts professionals—all free with museum admission.
RELATED: Free Times for Kids at NYC's Museums, Gardens, and Zoos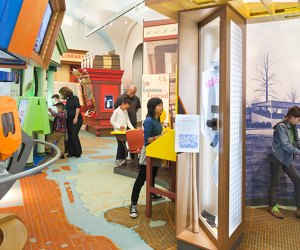 The DiMenna Children's Museum has many interactive exhibits that spotlight the city's history. Photo courtesy of the museum.
3. The New-York Historical Society is home to the family-friendly DiMenna Children's History Museum, a fun and interactive place for kids to explore New York City and its history. Families can enjoy ever-changing exhibits—like the Harry Potter: A History of Magic exhibit opening this fall—as well as kid-friendly programs and events.
4. For a top-notch lineup of bands and shows, plus film and book events aimed at children, check out the Just Kidding family performance series at Symphony Space. Shows include everything from bands to puppet theater to dance performances, and most events are interactive.
5. Vital Theatre Company mounts musicals that aim to please very young theatergoers, usually based on popular picture books like Pinkalicious and Angelina Ballerina.
6. While many offerings at Lincoln Center are aimed at adults, the Little Orchestra Society presents classical concerts for young people, the Big Apple Circus mounts an annual show, the Metropolitan Opera always has a family-friendly holiday offering and, of course, there's the annual Christmas production of The Nutcracker. Lincoln Center Kids offers year-round family-friendly entertainment and, in summer, the Lincoln Center Out of Doors Festival always features a family day. Plus, there's that awesome fountain year-round!
Parks and Playgrounds
7. Central Park is a destination in its own right. However, the Swedish Cottage Marionette Theatre is an Upper West Side gem and the charming stringed puppets are the stars. Admittedly, it ain't a Broadway show, but with insanely cheap ticket prices, short shows, and post-performance sessions where kids can meet a puppeteer, it's a great choice for first-time theatergoers.
8. Also in Central Park adjacent to the Upper West Side: More destination-worthy playgrounds than any stir-crazy child could ask for, including the recently refurbished Tarr-Coyne Playground, the Heckscher Playground (the park's largest playground, and a family favorite), the Diana Ross Playground at 81st Street near the AMNH, and the toddler-friendly Mariner's Playground at 85th Street.
RELATED: See NYC's Best Destination Playgrounds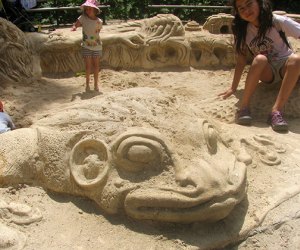 Build sand castles at the adorable frog sandbox at River Run Playground. Photo by Eden, Janine and Jim via Flickr.

9. Like Central Park, Riverside Park has many destination playgrounds including Hippo Playground, Elephant Playground, River Run Playground, and Dinosaur Playground. Several of the playgrounds offer seasonal concerts and festivals for kids. In warmer months, the Riverside Park South extension and Pier I host lots of family-friendly events like Mamapalooza in May and the West Side County Fair in September.
10. It's fun to look at the houseboats docked at the Boat Basin at 79th Street in Riverside Park—yes, there are people in NYC who actually live on houseboats!
11. There are also lots of smaller green spaces that break up the urban landscape on the UWS. One of our favorites is the West Side Community Garden. Local families plant tiny plots that produce fresh veggies, fruit and flowers for their tables. Become a member and also enjoy its annual events, like an arts and crafts fair, a Fourth of July barbecue and alfresco Shakespeare in the summer.
Must-Visit Shops
12. Zabar's is an old-school Upper West Side institution. Foodie families will be in heaven browsing gourmet goodies from around the globe, both exotic (caviar, all kinds of cheeses) and familiar (bagel with a schmear.) Ask nicely at the smoked fish counter and your kid will likely get a free taste, and other free samples are often available.
13. Speaking of old-school shops, although the Upper West Side is constantly welcoming new businesses, a few stalwarts still survive, in addition to Zabar's. There's a pair of veteran shoe stores—Harry's Shoes and Tip Top Kids— where your kids' feet will be properly measured, and the salesperson will dole out a departing balloon.
14. Need more than a new pair of kicks? Upper West Side neighborhood standbys for kids' clothes and gear include Z' Baby, Albee Baby, and West Side Kids.
15. For more retro browsing, try Westsider Rare & Used Books, which is filled with second-hand books, including kid lit. A second location on 72nd Street sells LPs and more! You can finally show your kid what a record looks like.
16. We have to cheat a little now to send you just north of our boundaries to Bank Street Bookstore, which is located on the corner of Broadway and 108th Street. Not only will you find rows and rows of kid-lit, along with knowledgeable staff to help you find the proper text for any occasion, you can enjoy its three-times-a-week story hours, or Sunday afternoon puppet shows.
17. The handful of good farmers' markets on the Upper West Side are a lot less mobbed than Fairway, Trader Joe's or Whole Foods. My family and I frequent the 97th Street Greenmarket, which is open Fridays year-round, and often features entertainment and activities, like live music and cooking demos.
18. Another outdoor shopping destination: the GreenFlea in P.S. 334's schoolyard and building. Every Sunday from 10am-5:30pm, you can find a variety of vintage and new items—clothes, toys, jewelry, cool knickknacks—both outdoors and inside. There are even seasonal refreshments, like warm cider in winter and fresh produce in spring.
RELATED: Best NYC Bookstores for Kids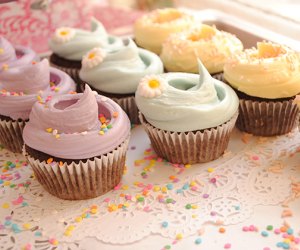 Magnolia dishes out its trademark confections from a bakery on the south end of the Upper West Side. Photo by Alexi Ueltzen via Flickr.
19. I have to give a shout-out to my favorite cupcakeries: Magnolia and Baked By Melissa.
20. Alice's Tea Cup is a treasure for locals and visitors alike. This whimsical tea house inspired by Alice in Wonderland features a delicious menu (the scones and homemade jam and cream are amazing!) and countless tea options, plus merchandise including fairy wings, wands and necklaces to add a touch of magic for little ones.
Activities and Places to Play
21. One spot that surprised me when I first walked in is The Baseball Center, located in the basement of the Apple Bank on 74th Street. The 15,000 square foot facility offers camps, after-school programs, birthday parties and plenty of batting cages where you can perfect your swing or work with a professional coach one-on-one to enhance your game. The Baseball Center also has its very own baseball league, as well as competitive travel teams for more experienced players.
22. We were very excited when the first Michaels opened in NYC. It's a mecca for crafters on the Upper West Side. You can find just about anything you need for any art project, plus there are free or inexpensive workshops for children of all ages and birthday party packages. Visit the website before you go to download current coupons. On Amsterdam at 95th, you'll also find the tiny, homespun crafters' favorite Little Shop of Crafts, which hosts kids' parties as well as drop-in activities and crafting.
23. Engage in some educational fun at the STEM-centered The JCC in Manhattan is also a great resource and playspace. From November to March, the community hot spot hosts R&R: Shabbat on Saturdays. Families can check out the facilities and programs, and kids can play games, do arts and crafts, catch live entertainment and just chill. (And in case you're wondering, you don't need to be Jewish to enjoy.)
27. Libraries are wonderful spots for families to enjoy good reads and free programming for all ages. The Upper West Side is home to the St. Agnes, Bloomingdale, and Riverside branches.
28. Goddard Riverside's massive annual book fair that takes place in November is not to be missed. All proceeds go to the community center's many offerings, including a senior center, after-school programs and camps. New books are 50 percent off, but wait until the fair is winding down on Sunday afternoon and you'll find even better bargains. An entire room is devoted to children's titles.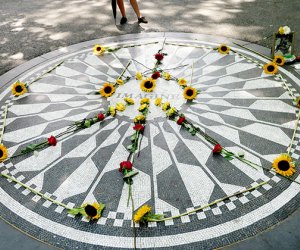 Central Park's Imagine memorial in honor of John Lennon. Photo by John Wisniewski via Flickr.
29. Public art is always popping up all over the city, and the UWS is no exception. The Broadway Mall Association features an ever-changing display of art. Of course, Riverside Park and Central Park are also home to many permanent statues, monuments and memorials, like the Soldiers' and Sailors' Monument and Strawberry Fields.
30. If you're looking for an indoor romping spot, the Upper West Side is home to many members-only place places including NY Kids Club, Super Soccer Stars, and Kidville.
A version of this post was published in 2011 and 2016; it has since been updated. Allison Tibaldi contributed additional reporting.