Best Toy Stores in NYC: 15 Family Favorites and Destination Toy Shops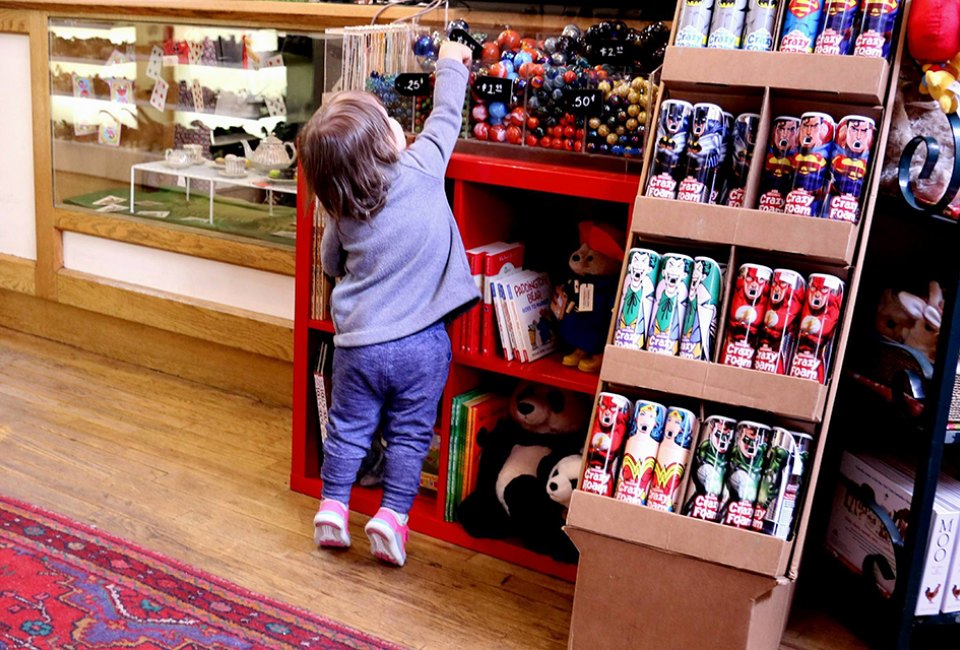 12/5/19
- By
Katie Nave
Whether your toy shopping trip is a winter day activity, a pre-birthday party stop, a bit of Santa research, or a special family outing, NYC's toy store options do not disappoint. From painstakingly curated indie experiences to unforgettable big-brand toy extravaganzas, we've rounded up over a dozen of our favorite go-to toy stores across New York City, where you're sure to find the perfect item for your little one or the winning gift for a birthday party.

Dinosaur Hill is a sweetly curated independent toy shop.
Dinosaur Hill – East Village
306 East 9th Street between First and Second Avenues
Opened back in 1983, this classic toy store offers a much less commercial experience. The beautifully curated selection includes lots of handmade items like cloth dolls, tutus and puppets, wooden toys, craft and science kits, kid-sized instruments, doll houses, and baby clothes and gear. Lingering is encouraged and free gift wrapping is offered, making this our family birthday gift go-to spot.
Kidding Around – West Village & Midtown East
60 West 15th Street near Sixth Avenue
Grand Central Terminal
Voted Best Indie Toy Store by New York Magazine, this shop is popular with parents and teachers alike. It's a child-friendly place with wide aisles and groupings of toys by themes, such as dress-up or kitchen/food play. It carries many brands of European and wooden toys that are otherwise hard to locate. Small shoppers will enjoy the interactive train table, where they can play while you shop.
Boomerang Toys – Tribeca
119 West Broadway near Duane Street
There are analog playthings for every age at this family-owned, neighborhood favorite, which carries baby toys, educational toys, games, trikes and scooters, and lots of miniature NYC vehicles—MTA buses, LIRR and Metro-North trains and several subway lines. In addition to hot modern-day items like Magna Tiles, you'll find classics such as Rubik's Cube, the original metal Slinky and the Bananagrams word game. Need a recommendation? The friendly and knowledgeable staff is happy to help you pick out the perfect gift. The Tribeca gem also makes custom party bags and offers a birthday registry.
RELATED: NYC Stores Where Kids Can Stay and Play for Free

No batteries or wires are to be found at eco-friendly Playing Mantis.
Playing Mantis – Tribeca
32 North Moore Street between Hudson and Varick Streets
Welcome to eco-friendly wooden toy heaven! Nothing here has batteries or wires. All of the items are meant to inspire old-fashioned imaginative play. Peruse wooden puzzles, marbles, instruments and music boxes. You'll also find one-of-a-kind handmade wool blankets, pillow pals and puppets.
CAMP Store — Flatiron, Hudson Yards, and Downtown Brooklyn
110 5th Avenue
20 Hudson Yards
City Point, 1 Dekalb Avenue
Step through the "secret" door in this stylish toy store into a giant, interactive play zone full of wonder and fun. The space reinvents itself every season, but in its current summer-camp-themed incarnation, kids can explore cabins with a bunk bed slide and a light-up dance floor, walk over a musical bridge, climb into the back of a station wagon, and experiment with sound and flavored bubbles. A classroom at the back offers crafting workshops and "maker" projects. The original was such a success that they've opened new locations in City Point in Downtown Brooklyn and Hudson Yards. We raved about this store when it opened in 2018; see our full review for details and photos.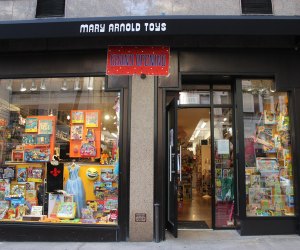 Check out the oldest toy store in the country, Mary Arnold Toys. Photo by Hela Borer
Mary Arnold Toys – Upper East Side
1178 Lexington Avenue between 80th and 81st Streets
Mary Arnold Toys has staked its claim as the oldest toy store in the country, so you can't argue with their experience. In addition to the usual high-quality and educational toys—construction sets, toddler toys, pretend play, etc.—this store stands out for its book section near the front entrance. You'll find wonderful "life-skill books" for typical and special needs children on topics such as children being "different," children adjusting to school or a new sibling or children coping with illness. Note: the Upper East Side store can be a bit crowded and the aisles are narrow. Skip the stroller if you can.
West Side Kids – Upper West Side
498 Amsterdam Avenue at 84th Street
West Side Kids has been an Upper West Side institution since 1981. This family-run store—now located just one block north of the Children's Museum of Manhattan—has survived the influx of larger chain stores. Owner Alice Bergman and her grown daughter staff the store and have backgrounds in teaching and early childhood development, and it shows (they also offer a discount to teachers who buy here, a nice touch). There are no electronic toys here, no licensed character toys and no weapons. Each item in the store has been carefully vetted, from toys to books.
RELATED: Where to See NYC's Most Dazzling Holiday Window Displays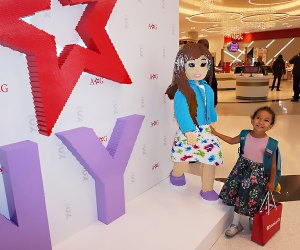 This mega-store is a destination for lovers of American Girl Dolls. Photo by Jody Mercier
American Girl Place – Midtown West
75 Rockefeller Plaza
This Rockefeller Center mega-store is an American Girl fan's dream come true. The 38,000-square-foot, two-story store opened in 2017, replacing its old digs on Fifth Avenue, and is sure to be a destination for lovers of these iconic dolls for years to come. While the original location offered shopping, dining, and salon services, the upgraded spot serves up even more treats for kids (matching makeovers!) and adults (plush benches!) alike. The birthday party offerings are quite extravagant, with theme packages and private party rooms.
Build-A-Bear – Midtown West
22 West 34th Street
You probably already know the drill, but this teddy bear go-to spot allows children to hand-select and personalize their new cuddly friend. Pick from a seemingly infinite number of creatures (pets, farm animals, wild animals, aquatic bffs, and so on). The staff adds a heart (after warming it up in their hands, wishing upon it and kissing it goodbye). Then kids get to help stuff, sew and groom their new buddy. Plenty of accessories and outfits are available to choose from during this interactive experience.
Lego Flagship Store – Midtown West & Flatiron
West 50th Street, Rockefeller Center
200 Fifth Avenue
Lego enthusiasts will be thrilled by a visit to Lego's flagship store. Don't miss the free events and impressive 3-D murals of NYC landmarks. Kiddos can get hands-on with the toys and will have their choice of endless LEGO sets, including hard to find and exclusive items. Don't miss the Mini Master Builder Bar and a wall of bricks where you can find that long-ago lost Lego piece. Of course, this is a tourist destination, so pack your patience or head to the less hectic Flatiron location.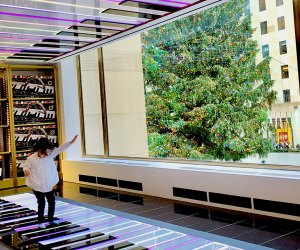 It's always playtime at the new FAO Schwarz in Rockefeller Center. Photo by Janet Bloom
FAO Schwarz – Midtown West
767 Fifth Avenue, Rockefeller Center
We were all saddened when the original FAO Schwarz closed their doors in 2015, but luckily FAO is back and better than ever at a new location. The 20,000-square-foot store has returned to the Midtown family shopping scene. Aside from the dance-on piano, the iconic clock tower returns, and of course, you'll be able to pose with the life-sized toy soldiers guarding the doors. While there will be plenty of toys to purchase, the focus here goes beyond stacks of toys on the shelves. In-store experiences, like magic shows and a pretend grocery store, encourage families to stay and play.
Disney Store – Midtown West
1540 Broadway between 45th and 46th Streets
Located in Times Square, this store is the go-to spot to find beloved characters and Disney-themed swag. Check out the giant castle on the second floor or visit the Imagination Theater for some hands-on fun. The store also hosts free daily events—check the website for further details. While this toy store is filled with Disney magic, it is also a tourist destination and can get crowded.
Pizzazzz Toyz – Carroll Gardens, Brooklyn
281 Court Street
This little Cobble Hill shop is up-to-date on the latest toy trends. The venue stocks the best new brands your kids will love—LOL Surprise!, Hatchimals and Fingerlings, to name a few. But classic options like Legos, puzzles, and board games are also available. Every so often, you'll catch a giant Lego action figure standing guard outside the store next to cartons of seasonal toys like plastic balls and hula hoops.

The Waldorf inspired Acorn Toy Shop sells handcrafted, ethically made toys. Photo by the author
Acorn Toy Shop – Boerum Hill, Brooklyn
323 Atlantic Avenue
Acorn stocks educational and community-minded toys in its Boerum Hill, Brooklyn outpost. Play tents in bright colors replace the old-fashioned pillow-and-blanket fort, and a wooden animal menagerie has all the variety of Noah's Ark. Their handcrafted, ethically-made toys and goods are designed to inspire imagination and foster healthy childhood development.
LuLu's Cuts and Toys –​ Park Slope, Brooklyn
48 Fifth Avenue
Don't be fooled by the name. Owned by a local mama, LuLu's is far more than a haircut destination. Their selection of toys is expansive, from toddler to tween, and the train table in the front will keep busy hands occupied. Plus, it's a bonus if your little one needs a trim!
A version of this post was published in 2018; it has been updated for 2019.
t Click Here to Sign Up!