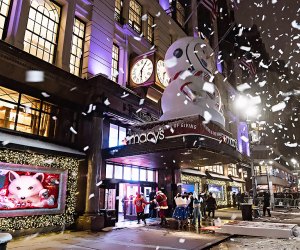 NYC's Most Dazzling 2018 Holiday Window Displays
There are very few things that can lure me into Midtown's big department stores during the holiday season. While I do make an annual exception for Macy's Santaland, the real holiday magic lies outside the doors as the holiday windows come alive with spectacular displays.
Always a Mommy Poppins favorite, and certainly a must-do FREE outing, a holiday windows walk in NYC is especially exciting this year, with interactive elements and beloved characters. We spent a good part of our Sunday afternoon checking out the dazzling displays. Read on for a peek at their magic, and relive the fun of NYC holiday windows in years past.

Kids will love the interactive Grinch features at the Bloomingdale's holiday windows.
Bloomingdale's
1000 Third Avenue
Honoring the recently released movie The Grinch, the brightly colored, extra-sparkly and crystal-covered windows at this iconic shop pay homage to everyone's favorite holiday wrecker. Kids will appreciate the interactive elements that encourage you to sing karaoke, play a tune, or snap a photo to be incorporated into the window display, where a larger-than-life Grinch will reward you with a personalized message—some sweet, but most snarky. Pro tip: If the karaoke window draws a crowd and you've got an impatient little one (or just a future Broadway star!) head around to the Third Avenue side of the store where another interactive singing station awaits away from the big crowds!
RELATED: How to See the Dyker Heights Christmas Lights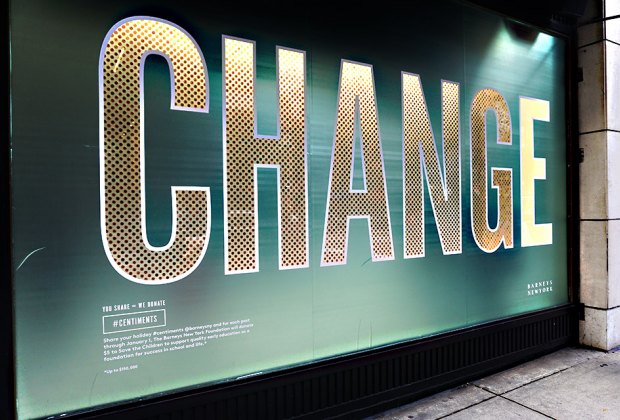 Barney's "Make Change" window displays were created using more than 2 million pennies that will be donated to charity when the holiday season is over.
Barney's New York
660 Madison Avenue at 61st Street
While Barney's eschewed the glitzy glamour of holiday windows past in favor of much simpler display, there's a big message behind its Make Change campaign. When we first approached the windows, I thought they had yet to be unveiled, but frosted glass gives way to a penny mosaic spelling out the words Make Change. Playing off the two meanings of "change," Barney's has teamed up with Save the Children this holiday season. In addition to the window displays, there are in-store photo ops for visitors. Share your images on social media, along with the hashtag "#centiments," and Barney's makes a $5 donation to the charity. More than 2 million pennies used in the holiday windows and other displays throughout Barney's stores will also be given to the charity once the holiday season is over.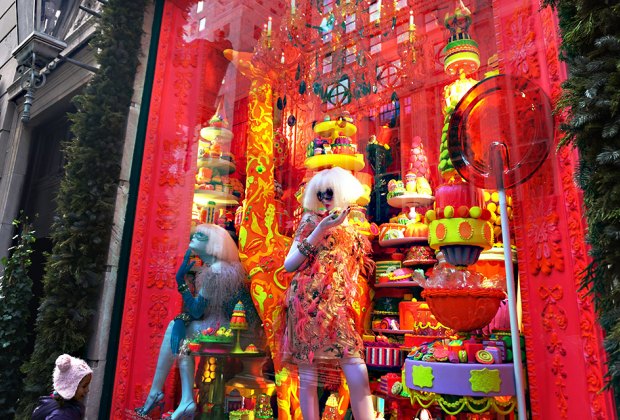 Neon colors and sweet treats are on display in Bergdorf Goodman's holiday windows.
Bergdorf Goodman
754 Fifth Avenue at 58th Street
Bergdorf Goodman recognizes the the sweet side of the holiday season with its "Bergdorf Goodies" themed windows. Layers upon layers of neon colored sweets greet you on the corner of 58th and Fifth Avenue, while other windows feature a candy-cane striped motif, cotton-candy pink confections, black-and-white zebra striped candy constructions, a gingerbread forest, a robot with a larger-than-life ice cream cone, and stacks upon stacks of cakes, cookies, brownies and other bakery-inspired goodness. My candy crazy girls wanted to eat this whole, sweet display up.
RELATED: Best Places to Take Pictures with Santa in NYC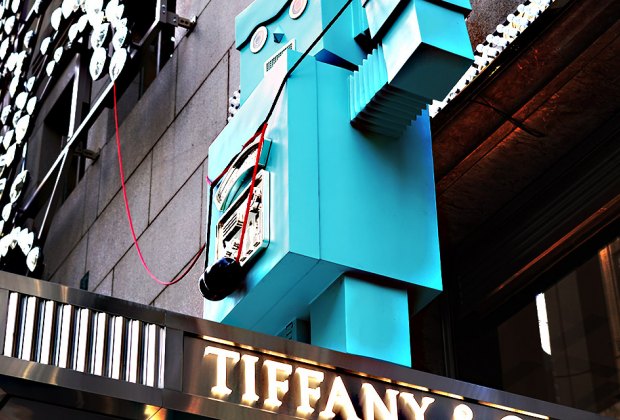 A Tiffany-blue robot (made out of the store's iconic gift boxes) is a cheerful sight.
Tiffany & Co.
727 Fifth Avenue at 57th Street
Though not as grand and extravagant as the neighboring department stores, like the jewelry inside, Tiffany's windows always dazzle. This year's theme, "The Holidays Made by Tiffany's," features a Tiffany-blue robot (made out of the store's iconic gift boxes) and chrome mice figurines all doing their part to bring the holiday to life. Bonus: Step inside and you can take a peek at the expert jewelers bringing some very pricey holiday presents to life in a glassed-in work room on the main floor, or gape at the Tiffany Diamond on display there.

Saks Fifth Avenue "Theater of Dreams" display brings the magic of the stage and the holiday season to visitors.
Saks Fifth Avenue
611 Fifth Avenue between 49th and 50th Streets
The iconic store takes its turn honoring Broadway with its "Theater of Dreams" display. Mannequins seem to float in dream-like bubbles while telling a six-act story, ending with lush velvet curtains and a rose-littered stage. The light show is re-imagined, too, and if you veer off Fifth Avenue, you can get a glimpse at the windows depicting backstage moments, which just might top the main event.
RELATED: Things to Do and See in Rockefeller Center (Besides the Tree)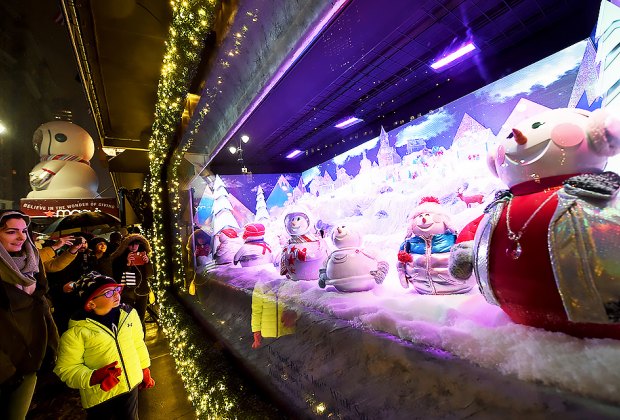 Sunny the Snowpal is the star of Macy's holiday windows this season. Photo by Diane Bondareff/AP Images for Macy's
Macy's Herald Square
151 West 34th Street between Sixth and Seventh Avenues
Macy's new character and seasonal ambassador, Sunny the Snowpal (made famous by his flight during the big parade), is the star of the store's windows this year. Revolving around the theme of "Believe in the Wonder of Giving," six windows tell the story of how Sunny the Snowpal works to save Christmas.
Sadly, the windows at Lord & Taylor are a thing of the past, as the store prepares to shut its doors.
See more of our holiday windows highlights from 2017, 2016, and 2015.
Unless noted, photos by the author