Play Space and Toy Store CAMP Comes to Brooklyn in December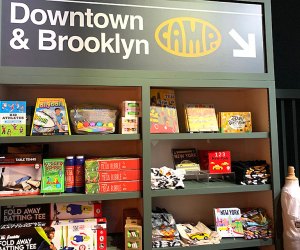 If you're looking for a unique indoor experience for your kids on a chilly or rainy day, head to the new CAMP store in Brooklyn, scheduled to open on December 1 2019. Unlike many other indoor play spaces in NYC, CAMP is a network of stores with rotating themed experiences. CAMP at City Point in Downtown Brooklyn will boast all of the same imaginative fun as the original Fifth Avenue location, including a cafe, a theater, interactive play stations, and of course, a super-cool toy store.

BaseCAMP has a sweet interactive summer camp theme. Photo courtesy of CAMP
CAMP at City Point will open with the brand's BaseCAMP theme—the nostalgic summer camp experience that also marked the launch of the Fifth Avenue space last December. BaseCamp takes families back to a woodsy, cabin-filled summer camp, designed for exploring the wonders of nature, arts and crafts, sports, and play.
Created to inspire and engage, the store includes a café, a magic door that leads to an interactive space for play and shopping, and a theater for activities and programming for kids of all ages.
RELATED: NYC Stores Where Kids Can Play for Free

Hop in a station wagon for an imaginative family road trip. Photo by Janet Bloom
CAMP Brooklyn will be located at 1 Dekalb Avenue in Downtown Brooklyn, part of the CityPoint development that also includes a Target, a McNally Jackson bookstore, a dine-in movie theater, and a food hall. The store and play space is scheduled to open on December 1, 2019.