Dine-In NYC Movie Theaters for Family Brunch or a Night Out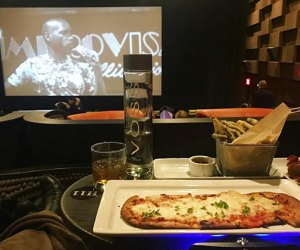 After a recent boom in dine-in movie theaters, NYC parents can combine dinner or brunch and a movie in one fell swoop for a perfect family outing, special occasion or treat for a deserving kid, or a much-needed date night. These theaters and screening rooms offer restaurant-style eats, and a fun, new way see movies, no matter what your age, and range from seriously swanky to indie theater cool.
The dining menus at these theaters, many of which are brand-new in the last year, are packed with easy-to-eat snacks, some even offer sandwiches, salads, and tacos. While none of the theaters here have kids' menus they all serve up things sure to delight little moviegoers. Plus, these theaters have full bars so adults can indulge in a glass of wine, a local beer or a cocktail, which just might be the thing to help parents sit through some of these kid flicks.
Read on to find out what you can expect from your visit.
Most of these dine-in theaters are set up the same way. Take your seat in the theater and order your food and drink, either verbally or by writing your order on a menu sheet. A stealthy server then delivers your meal and snacks as soon as they are ready. You can even get a second round while the film is playing or order dessert. When you are done you are presented with a check, just as if you are in a restaurant.
Ordering tickets online in advance is recommended. Many of these places are small with limited seating and some are by reservations only.
Alamo Drafthouse City Point — Downtown Brooklyn
445 Albee Square West
Part of a nationwide chain, Alamo Drafthouse, which opened at the new City Point complex in late 2016, offers a host of options for kids and family entertainment. It offers new releases, family films, and indie flicks. A film here includes seatside dining, letting you nosh on gourmet popcorn, hummus and chips, chicken wings, fried pickles and more during your film. You also can opt for a more substantial meal such as a salad, or sandwich. Did I mention the 30 beers on tap? Being part of a chain allows Alamo to offer more movie showings, no-ad preshow entertainment, and special activities of interest to families. Teens can apply for the Victory Vanguard program to see age-appropriate films for just $5 while leaving their parents at home. All screenings before 2pm on Tuesdays are "Alamo for All," with lower sounds and more lighting that are perfect for babies and sensitive kids. It also offers a kids camp on weekend mornings at which families can name their own price with proceeds donated to charity. as well as screenings of local PBS affiliate kids programming. Advance ticket purchase is recommended.
RELATED: Kid Film Festivals in NYC and Indie Movie Theaters for Families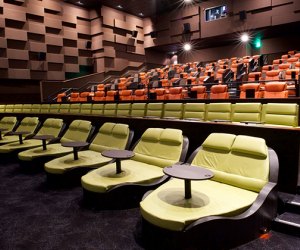 The seating and experience at iPic is designed to feel high-end.
iPic Theater Fulton Market —South Street Seaport
11 Fulton Street
This luxury theater concept recently opened at South Street Seaport with a clubby vibe and screenings of many blockbusters. While you could bring the kids to see the latest Disney flick, iPic seems to be a perfect date-night option. The menu, developed by pastry chef Sherry Yard, veers toward the high-end and features Angus beef sliders, truffle fries, and shrimp cocktail along with beer, wine and cocktails served in mini-shakers. Although menu options are the same no matter where you sit, all seats are reserved in advance so you can choose your level of service and seat style ahead of time. For tableside service, including unlimited popcorn and a pillow and blanket, opt for the Premium Plus ticket. All other seats need to pick up their goodies at the iPic Express Counter. Multiple theaters gives it a spacious feel, and it plays all the popular new releases.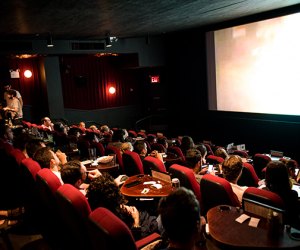 Nitehawk Cinema is the veteran on the scene and one of the most family friendly.
Nitehawk Cinema—Williamsburg, Brooklyn
136 Metropolitan Avenue
NYC's original dine-in theater, in 2011 Nitehawk overturned the Prohibition-era law that made it illegal to serve alcoholic beverages in movie theaters. Today the triplex offers everything from blockbusters to cult classics and independents, and family-friendly screenings to signature events, all with tableside dining and drinks. New parents can enjoy first-run films and dining every Tuesday afternoon during Hawks with Babies, and for families with kids age 6 and older Lil' Hawk friendly weekend brunch matinees feature G- or PG-rated films. Little ones are sure to enjoy mac-and-cheese balls and stuffed French toast delivered seatside, and popcorn and candy is available if they don't. Through March 2017, Nitehawk celebrates the 20th anniversary of the Harry Potter book series by periodically screening all the films and offering kids a chance to taste a Potter-esque chocolate frog and Gillywater (or for adults, rum-based butterbeer). Advance ticket purchase recommended.
Heads up: A second Nitehawk theater is expected to open later in 2017 near Prospect Park in the historic Pavilion Cinema.
RELATED: NYC Restaurant Guide for Families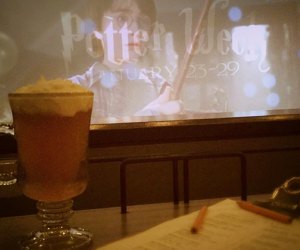 Harry Potter film series at Syndicated.
Syndicated —Bushwick, Brooklyn
40 Bogart Street
A great spot for movie buffs of all ages, Syndicated is a bona fide restaurant and bar that screens muted movie classics in its dining room, while the comfy 50-seat theater shows classics, indies, and family faves with table service for drinks, dinner, and snacks. The menu is carefully curated so anything too difficult to eat in the dark with a fork and knife will only be available in the dining room, but you can nosh on dishes such as corn dogs, the "Royale with Cheese" burger (a nod to Pulp Fiction) and fried chicken while enjoying family movie night. Brunch screenings are perfect for families since the spot caters to adults after dark. Tots can tuck into French toast sticks and tater tots while watching a classic on the big screen. For purists, Syndicated offer seasoned popcorn and classic candy, too.

The best part of the Syndicated experience? Unlike regular cinemas, ticket prices are seriously wallet-friendly at $3 for a single screening and $5 for a double feature. The movie schedule is released about a month early and it is suggested you buy tickets in advance.
These two spots offer food and films separately.
Metrograph — Lower East Side
7 Ludlow Street
Another sophisticated spot, Metrograph caters to serious cinephiles. Opened in 2016 and inspired by Hollywood's studio dining rooms of days gone by—think Paramount and MGM during their heydays—this deco dining room, serves up American classics with two screening rooms (one with a balcony) where you can catch a curated 35-mm screening before or after your meal. Film offerings are mostly indies, but on weekends you can catch daytime screenings of family classics. Metrograph has a bookstore on site and a well-stocked concession stand with imported and specialty sweets to enjoy while watching the film.
The Roxy Hotel — Tribeca
2 Avenue of the Americas
Families can tuck into a gorgeous, sophisticated buffet brunch in the cool lounge-like restaurant at the Roxy. Once the kids are done eating, parents can return for seconds, listen to the live music, or opt for another mimosa while kids enjoy complimentary movie screenings in the adjacent Roxy Cinema. My school-age son picked at his made-to-order waffles but thoroughly enjoyed the Disney cartoon in the screening room. Brunch is $35 for adults and $15 for kids.
Top photo: The view from a seat at iPic. Photo by dana_panzilla via Instagram. Unless otherwise noted, photos courtesy of the venues.