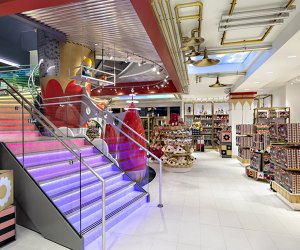 Kids Can Play for Free at These New York City Stores
Are you looking for an indoor winter play destination? There's no shortage of New York City stores where kids can play for free. You'll find options ranging from building Lego friends to playing the latest Nintendo games to rambunctious indoor playgrounds and mild-mannered train tables. Spend enough time playing, and your kids will be so exhausted by day's end, they might not even whine about leaving the Nintendo system behind (fingers crossed).
For more indoor play options, check out our guide to Indoor Play Spaces and Fun Zones in NYC.


Cuddle, accessorize, style, and show off your favorite doll at American Girl Place. Photo by Jody Mercier
75 Rockefeller Plaza
This Rockefeller Center spot is an American Girl fan's dream come true. The 38,000-square-foot store is sure to be a destination for lovers of these iconic dolls for years to come. The store serves lots of treats for kids (matching makeovers!) and adults (plush benches!) alike. There are plenty of opportunities for kids to cuddle, accessorize, and show off the doll of their choice.
Visit the website for locations
Check out Apple's latest products and play computer games from the comfort of cozy bean bag chairs. There is definitely a lot of shameless playing going on. While you're discovering your new favorite gadget, your little gamer can sample some educational apps, too. In addition to in-store games, Apple provides free hands-on workshops and youth programs for kids ages 6 and up. They'll learn to compose songs, create photo albums, and produce movies—all for FREE.
33 East 17th Street
The Union Square branch of this chain bookstore has a children's area on the second floor with an ever-popular train table, as well as kiddie chairs and tables. This particular chain carries an impressive selection of toys, games, and educational kits as part of its "science center." The store also has regular storytimes and other children's programs. Check the website for details.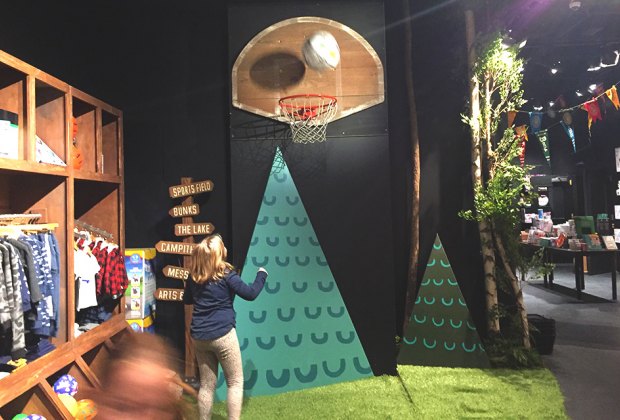 Shoot hoops at the CAMP store in Brooklyn or explore other locations with varying themes. Photo by Ros Muggeridge
CAMP Store — Multiple Locations
Visit the website for locations
The first CAMP store opened in 2018 in Flatiron, featuring a giant, interactive play zone full of wonder and fun. The space reinvents itself every season to keep things fresh. Two more CAMP stores recently debuted in Hudson Yards and Brooklyn. Behind a secret door of what appears to be a typical toy store, you'll find many interactive experiences, a dedicated space for crafts and "maker" projects, as well as treats and drinks to share with friends and family. The stores occasionally put on performances, so check the jam-packed calendar to see what's happening at your local outpost.
RELATED: NYC's Best Toy Stores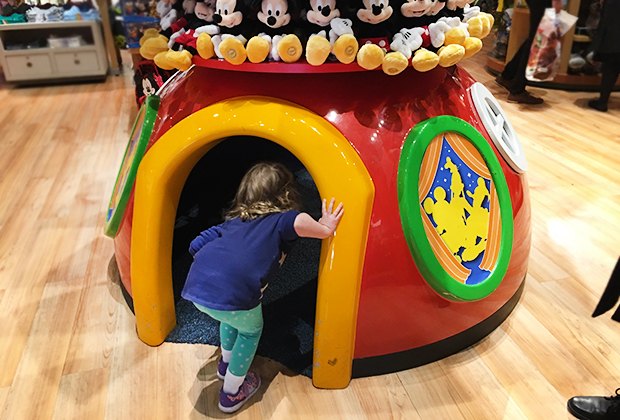 There are a handful of small play areas in the Times Square Disney Store. Photo by Rose Gordon Sala
1540 Broadway between 45th and 46th Streets
We visited the Disney Store when it first opened and, despite the intense merchandising, we were impressed. It's certainly cheaper than a trip to Orlando! If you've got a princess or Cars fan on your hands, you won't want to miss this one. Go on a quest to find many Mickey and Minnie displays throughout the store or visit the Imagination Theater for some hands-on fun. Star Wars fans can take pictures with a full-size stormtrooper. The store also hosts free events—check the website for further details.

The dazzling FAO Schwarz is a mind-blowing toy store experience. Photo by Richard Cadan
767 5th Avenue, Rockefeller Center
We were all saddened when the original FAO Schwarz closed its doors in 2015, but the brand is back and better than ever at a new location. The 20,000-square-foot store brought back some of our favorites, including the dance-on piano, the iconic clock tower, and the life-sized toy soldiers guarding the doors. They're a perfect picture opportunity! While there will be plenty of toys to purchase, the focus here goes beyond stacks of toys on the shelves. In-store experiences—like magic shows and a pretend grocery store—encourage families to stay and play.
Ikea — Red Hook, Brooklyn
1 Beard Street at Halleck Street
Småland, Ikea's drop-off supervised play area, has a ball pit and other kid-friendly attractions. The space is open to potty-trained children 37-54 inches tall. Parents with Ikea cards can leave their kids for up to an hour while they shop. Don't have an Ikea card? You can still leave your kids for up to 30 minutes. There is also a Children's Ikea located in the showroom, where little ones can play with a variety of toys, hide in pop-up tents, or relax in kids-sized chairs.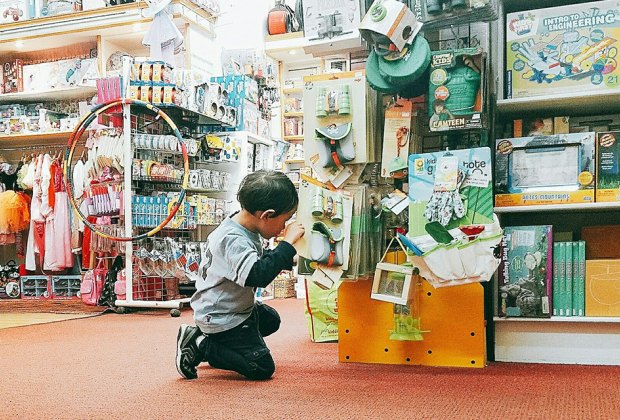 Kidding Around welcomes kids to hang out and play. Photo courtesy of the store
60 West 15th Street
This extremely kid-friendly toy store welcomes its tiniest customers to hang out, play with toys, and make new friends. There's a carpeted area in the back with a marble maze and interactive train display, which provides a great space for kids to explore and be creative. Kidding Around also has a smaller location at Grand Central Terminal, but it doesn't have a designated play space.
RELATED: Free Times to Visit NYC Museums, Gardens, and Zoos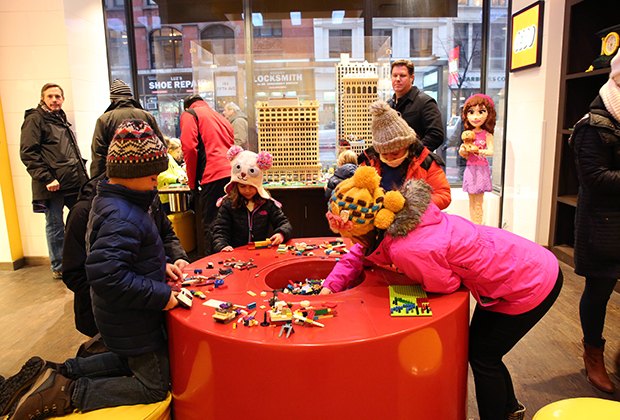 Kids can build while you shop, or just take a breather, at the NYC Lego stores. Photo by Mommy Poppins
The Lego Store — Rockefeller Center & Flatiron
620 Fifth Avenue between 49th and 50th Streets
200 Fifth Avenue at 23rd Street
Though we raved about the Rockefeller Center location when it opened, it's more a tourist destination than a neighborhood spot to linger. The newer spot on 23rd Street was built with local families in mind. While both locations have the popular Mini Master Builder Bar and a wall of bricks (where you can find that long-ago lost piece), the Flatiron location also has a Lego Lounge, with seating surrounding a model of the Flatiron District and several Lego-themed books to read on the cushy sofas. It's also much easier to navigate with a stroller.
90-15 Queens Boulevard
Queens parents don't have to venture into the city to find the best toy stores. They're all conveniently located in one place at Queens Center in Flushing. The Disney Store is perfect for little ones who can spend some time in an interactive area with a movie screen. The Lego Store is better suited for older kids. Inside the small but well-stocked store, kids can browse different Lego creations and sample a large variety of minifigures. Build-A-Bear-Workshop is also a few steps away, where hundreds of (un)stuffed animals await. Beware: They may even want to take a special one home.
M&M's World — Midtown West
1600 Broadway between 48th and 49th Streets
Kids and chocolate lovers alike won't have an easy time leaving this store. There is M&M merchandise galore, a two-story wall of the colorful candies, and a 21-foot Miss Green M&M Statue of Liberty. You can spend money quite quickly, but you can also wander around without feeling the pressure to purchase one single M&M (though kudos if you can resist). Stop to take some photos with M&M mascots. Plus, the staff is happy to let kids play, so let them unleash all that sugar energy before you get home.
RELATED: 20 Indoor Spots Offering FREE Play for NYC Kids

The Nintendo Store offers hours of free gaming. Photo by Sara Marentette
10 Rockefeller Plaza, 48th Street between 5th and 6th Avenues
Nintendo's flagship revamped its store in 2016 with a fresh name and fresh features. A 15-foot gaming screen is the centerpiece of the store. But there's still plenty of play space with multiple Nintendo Switch and 3DS stations throughout the two-floor, 10,000-square-foot Mario mecca.
372 5th Avenue
Brooklyn Superhero Supply Co. is a unique place that doubles as a store and a learning center. Walking inside, you can feel like a real superhero. The storefront sells all the superhero essentials like capes and masks (which everyone is invited to try on), as well as novelty items like detection kits and invisible paint for those top-secret missions. It's a place where imagination comes to life, sure to make even adults feel like kids again. The back of the store houses a volunteer-run organization that offers free writing classes and tutoring for kids. Proceeds from the store support the learning center.
Frankie's Playce — Glendale, Queens
8028 Cooper Avenue
Frankie's Playce is a children's hair salon and toy store located inside the Shops at Atlas Park in Queens. If your child is due for a haircut, head over to the salon, which sells toys in the front and has a playroom in the back. Kids can sit in an airplane or car chair during their haircut and score a goodie bag at the end. Indie toy store Lulu's Cuts and Toys in Park Slope (48 5th Avenue) has a similar setup, where kids can play while they wait for a haircut.
281 Court Street
Not to be confused with the baby store just down the block, Pizzazzz Toyz is a cute indie Brooklyn toy store, featuring a train display in the back that's popular with local preschoolers. The staff is friendly and happy for kids to hang out and play. Get a balloon for a cheap treat and explore the neighborhood for more family fun.
A version of this article first published in January 2012, but it has since been updated. Katie Nave Freeman and Elena Malykhina contributed additional reporting.