The Adventures of Tortoise & Hare The Next Generation
The Sheen Center

The Very Hungry Caterpillar Show
DR2 Theatre

NYC Easter Brunch Cruise 2023
Event Cruises NYC
Sign up for our free newsletters.
Step Inside the New Harry Potter Store in the Flatiron District
6/1/21
- By
Jody Mercier
Grab your house robes and get in line because Harry Potter New York, the 21,000-square-foot store dedicated to all things Wizarding World is ready to make its magical debut. Opening to the public on Thursday, June 3, we got a sneak peek behind the doors at all the fun that awaits in one of our most anticipated openings of the year.
Subscribe to our newsletters to get stories like this delivered to your inbox.
Fawkes the Phoenix greets visitors to Harry Potter New York, soaring high above a table stacked with paraphernalia from the popular franchise, and from there, you're off on a magical adventure exploring the jam-packed shelves.
Before you set out, be sure to download the Harry Potter Fan Club app on Apple or Google Play. It's your key to cool behind-the-scenes access throughout the store.

Get your hands on some (stuffed) Magical Creatures at Harry Potter New York.
You'll peruse 15 different themed rooms, peddling everything from Chocolate Frogs and Bertie Bott's Every Flavour Beans to an entire room dedicated to Hogwarts Houses, where you can find robes to scarves, pennants, water bottles, and even socks in your house colors. Be sure to look up here for an enchanting mural of a quidditch game amid the famed NYC skyline.
RELATED: 14 Fun and Offbeat NYC Stores to Visit With Kids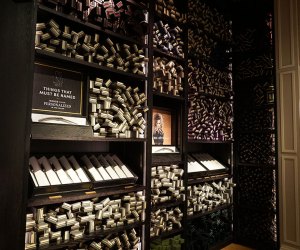 Walls of wands await. Will you choose yours, or will it choose you?
What would a Harry Potter shop be without wands? Find walls and walls of them here, including an only-in-NY Golden Snitch model. Whether you opt for the unique model or keep it classic with a replica wand from Harry, Ron, Hermione, or your other favorite character, be sure to take it to the "Things That Can Be Named" section on the lower level for personalization before you leave.
The classic collection of books takes up considerable real estate downstairs, and even if you have the whole set, you might not be able to resist just one more. We walked away with a beautifully illustrated, pop-up-filled MinaLima edition of Harry Potter and the Sorcerer's Stone and big plans to introduce my 7-year-old to the franchise this summer.
Speaking of MinaLima, the graphic design duo responsible for so many Wizarding World visuals has its own House of MinaLima section. You can find Daily Prophet covers, Hogwarts acceptance letters, and more. It's the only MinaLima outpost in the U.S.
RELATED: Kids Can Play for Free at These New York City Stores

Pose for a magical photo-op in an authentic London phone booth.
While it's hard to walk away without spending a dime, there is plenty to see, even if you're not in the mood to shop. Step into a London phone booth to pretend you're apparating to the Ministry of Magic, compare your height and shoe size to Hagrid's, or stage a wand duel. See countless artifacts from the movies in every section—here's where the Harry Potter app unlocks fun facts and interactive features—or just be awed by the details; candles float from the ceiling, a larger-than-life Griffin oversees the scene rotating in the main staircase, and a terrifying serpent guards the dedicated Dark Arts section.
RELATED: What to Do in the Flatiron and Union Square With Kids

Sorting hat-shaped cookies, chocolate frog-topped cupcakes, Butterbeer, and more await in the cafe.
One other can't-miss-feature: The cafe, where you can get your hands on a cooling mug of Butterbeer or some fun treats.
Though they're not opened yet, a pair of virtual reality experiences are planned for a summer debut and promise to put visitors squarely in the Wizarding World. In "Chaos at Hogwarts," you can journey to the famed castle seeing magical creatures along the way. "Wizards Takes Flight" lifts you high above the London streets for a head-to-head battle with Death Eaters.
Know Before You Go to Harry Potter New York
Harry Potter New York opens to the public Thursday, June 3.
Daily hours are Monday-Saturday, 10am-9pm; Sunday, 11am-7pm.
The store employs a virtual queue; visitors can scan a QR code outside the entrance to secure a spot in line and receive a notification when they can come back and step inside.
Upon opening, capacity will be reduced, face coverings are required, and guests are asked to maintain social distancing.
All photos by author