14 Fun and Offbeat NYC Stores to Visit With Kids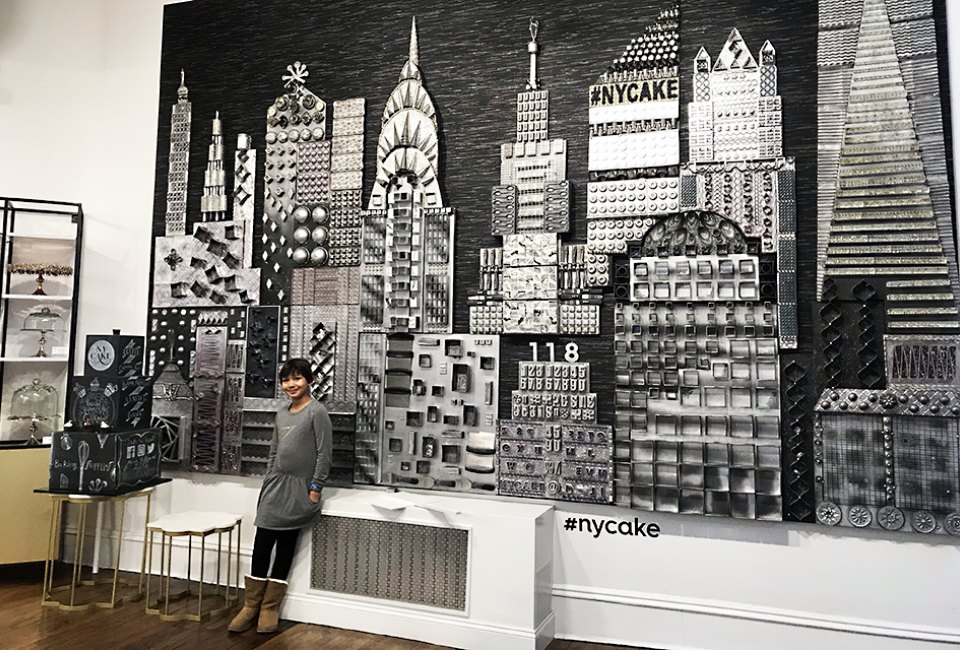 1/29/19
- By
Jody Mercier
New York City is famous for its shopping options, and for good reason—but some stores are a cut above and worth the schlep, even with kids. If you've got a big birthday to celebrate with a gift, or just need an indoor diversion from a gloomy winter day, these retail spots are sure to put a smile on your face, whether you're just a lookie-loo or decide to splurge on a special treat. Find more local shopping ideas in our NYC Local Shopping Guide.
Abracadabra — Flatiron
Your imagination is the only limit at this costume emporium. Specializing in all things dress-up, this spot is way better than those seasonal popups that come around in early fall. Open year-round, you'll find everything for your next costume party, or the perfect accessories to dress up your dress-up bin. From wigs to makeup, props, playthings, and more, Abracadabra is well-stocked with magic.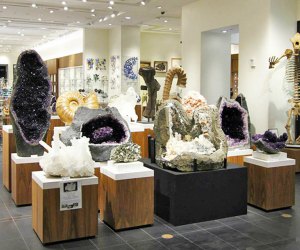 Explore and admire the aisles of sparklers at Astro Gallery of Gems.
Astro Gallery of Gems — Midtown East
Whether you've got a budding geologist or paleontologist on your hands, or just a little one with an eye for sparkly stuff, Astro Gallery of Gems offers plenty of eye candy. There are tons of crystals, geodes, fossils, and polished rock specimens to admire, plus plenty of small tumbled stones for suitable for kid collectors. Originally opened in 1963, Astro Gallery of Gems has been a family-owned operation ever since and bills itself as the world's largest gem and mineral gallery. Former outposts at the Times Square Toys R Us and the original FAO Schwarz prove this store is no stranger to dealing with kids.
Brooklyn Superhero Supply Co. — Park Slope, Brooklyn
Superhero supplies + a good cause = a huge win for humanity. This ultra-cool storefront is really a front for 826 NYC, the Dave Eggers-backed literacy nonprofit that operates as an writing program for local youth. In-store purchases go to support its mission. So what kind of wares can you get here? Everything from store-themed tshirts to costumes, toys, and capes—which can be tested on the in-store cape tester machine, naturally. Gimmicks like a De-Villainizing Machine make any visit memorable. To learn more about the nonprofit behind it, visit the website.
RELATED: NYC Stores Where Kids Can Stay and Play for Free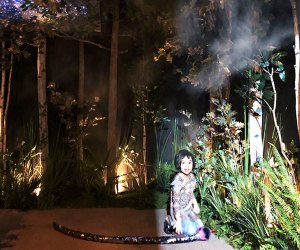 Walk on the wild side at CAMP. Photo by Janet Bloom
CAMP Store — Flatiron
A relative newcomer, this store was one of our picks for the best new openings in 2018 and for good reason. Not only is there a completely cool, curated selection of toys and clothes from brands like Kid Made Modern, Rockets of Awesome, and Lick-A-Bubble, it also offers plenty of opportunities for interactive play and exploration. The fact that it's hidden behind a secret door and there's an on-site Milk Bar is just icing on the cake...or the toasted mallow atop our Camp Sundae, as the case may be.
The Compleat Strategist — Midtown West
Board game enthusiasts have been flocking to this hidden gem for years for all their gaming needs. The shelves are stacked wall to wall and floor to ceiling with all manner of games, from common board games, to hard-to-find editions, plus party games, role playing games, card games, dice games, and more. While the selection online is vast, it's nothing compared to a visit to this spot. Don't know what you're looking for? The game-crazed staff will be happy to help you find a new-to-you-classic to fuel your next family game night.
Dinosaur Hill — East Village
Independent toy shops are hard to come by in the Amazon era, but this one has been doling out "handmade wonderments" since 1983. The emphasis here is on high-quality, long lasting children's goods, with a colorful assortment of handmade toys and a well-curated selection of books. Old-school string puppets adorn the shop's aisles, and friendly staff are helpful, but not pushy.
RELATED: NYC's Best Toy Stores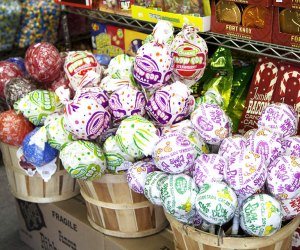 Need a lollipop the size of a beach ball? Head to Economy candy for giant Dum-Dums and every other treat you can imagine.
Economy Candy — Lower East Side
This sweets emporium is as classic-NYC as it gets. Stocked from floor to ceiling with all manner of sweets, Economy Candy started its life as a pre-Depression era cart outside a hat-and-shoe-repair shop. When business on the outside eclipsed that on the inside, the focus switched and Economy Candy was born. The shop draws locals and traveling candy enthusiasts alike, and it's rare to take a trip there and not find a special sweet you haven't seen since your youth. Beyond the commercially produced goodies, there's also a counter shelling out handmade confections.
The Evolution Store — Greenwich Village
A trip to this store is akin to a mini natural history museum exhibit; in fact, The Evolution Store sources its products from the same paleontologists, entomologists, anthropologists, and other professionals who keep museums stocked. You'll find all manner of natural history collectibles and gifts, including mounted specimens, taxidermy, meteorites, fossils, minerals, skeletons, skulls, and more. Another long-standing establishment, The Evolution Store called Soho home for years before a recent move to its current digs.
M&J Trimming — Midtown West
Crafty kids take note: This Garment District superstore has everything a budding fashionista needs to bring a creation to life. Its proximity to FIT (and its on-site FREE design museum) can serve as the perfect pairing for a little design inspiration. M&J practically bursts at its seams with ribbons and rhinestones, notions and patches, and tons of trim.
Midtown Comics — Multiple Locations
Midtown Comics opened its doors in 1997 and now has a trio of Manhattan locations, which all carry a wide variety of comic book titles, as well as collectibles, statues, action figures, and more. Manga titles are available, and graphic novels and books can also be found here. As the retail partner of New York Comic Con, Midtown Comics has a massive presence at the convention center show annually, too.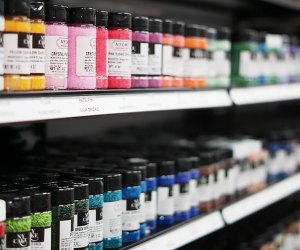 It's sprinkles and colored sugar galore at NY CAKE.
NY CAKE — Flatiron
If your kids design skills are more fondant than fashion, this is the store for you. All manner of baking supplies can be found here for both professional and novice bakers alike. Recently reinvented in a new location, NY CAKE has tools for every stage of your baking project, from whisks and dough scoops, to cake molds, pastry bags, and fancy sprinkles. On-site baking classes are now offered and a cafe greets you upon entering with delicious smells and treats. Be sure to check out the cool cityscape installation by the doors, where the skyline comes to life thanks to some artistic use of baking tins, cookie cutters, measuring spoons, and more. Beware, though, I find it hard to escape without spending at least $50...and that's just on toys for me!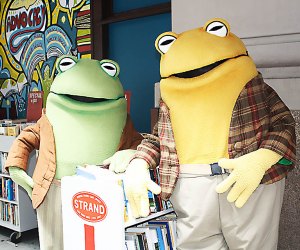 Frog and Toad visit the Strand.
Strand — Greenwich Village
You've undoubtedly seen the Strand stickers around town, with the tagline "18 Miles of Books" featured prominently. The flagship store carries both new releases and old and out-of-print rare editions. A lively weekend story hour involves a different storybook character appearing with each reading. A well-appointed children's section awaits, along with cheeky, funky gifts.
Tannen's Magic — Midtown West
The oldest magic store in New York City, Tannen's Magic has been a staple for professional and novice magicians alike since 1925. Only those in the know will be able to track down this hidden gem, which is located on the sixth floor of a West 34th Street office building. Knowledgeable staff demonstrates tricks for visitors, and of course, tries to sell you in the process. Much of the merchandise is under lock-and-key, so you're a bit beholden to the staff and forced to wait behind other customers, but the experience is worth it.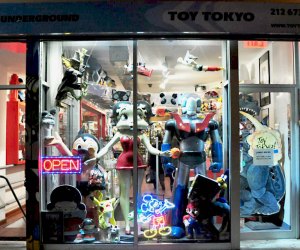 Toy Tokyo, a long-time East Village shop, is known for its collectibles and figurines. Photo by Raven Snook
Toy Tokyo — East Village
This long-time East Village shop has a diverse array of collectibles and figurines, both to gawk at and to purchase. If your kid is into sci-fi, anime, or Japan-centric toys, they'll likely find something to love here. Two full floors are stocked to the brim with toys, and the entire lower level overflows with the popular Funko figures. Blind-box toys aplenty can make a fun, reasonably priced surprise before you depart.
TrainWorld — Kensington, Brooklyn
If your little train enthusiast thinks the Holiday Train Show should last year round, a trip to this Brooklyn shop is sure to please. While most of the trains sold here are for serious collectors, a selection of everyone's favorite friendly blue engine can be found, too. Running models are set up in-store, so you can have plenty of fun just watching them whizz by.
Click Here to Sign Up!
i