Storytimes for NYC Kids: Read Your Way Around Manhattan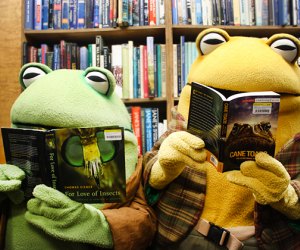 9/4/18
- By
Kera Rennert
Storytimes are great FREE—or super low-cost—kid activities that can often provide the incentive families need to get out of the house on those rainy, cold, or snowy days when cabin fever is likely to set in. Hosted throughout NYC at libraries, bookstores, museums, and other fun places, most of these baby and kid reading sessions don't require reservations, making it easy to just drop in. Plus, many of these storytimes incorporate arts and crafts projects, so story hour can easily turn into a full morning or afternoon of fun.
Read on for our most up-to-date list of storytimes for fall and winter 2018 in Manhattan. Also, be sure to check our list of NYC's best independent bookstores for kids for more reading inspiration, and if you're in the boroughs, we've also written about storytimes in Brooklyn and in Queens.
Storytimes at New York Public Libraries
Local libraries are of course great resource for parents and kids. Pretty much every branch offers story hours, so you can probably find one right in your neighborhood. They have lots of other great activities too, including plays, concerts, arts and crafts, and homework help. Visit the NYPL website to find out what's going on at your local branch or browse the Event Calendar for the entire NYPL.
Below are a couple of our favorite Manhattan libraries for baby, toddler, and kid storytime.
The Children's Center at 42nd Street — Midtown East
Stephen A. Schwarzman Building, 476 5th Avenue
This large, colorful space has something on offer practically every day. The weekly storytimes for preschoolers and toddlers are great and include songs, tales, and puppetry. There's also a Baby Laptime with books, songs, and rhymes for little ones up to 12 months. Be sure to look for the antique stuffed toys that inspired the Winnie-the-Pooh books. Check the calendar as there are lots of other ongoing activities.
RELATED: Best Events for NYC Preschoolers This Fall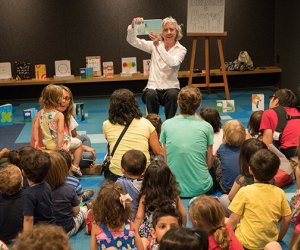 Storyime at the 53rd Street Library is always a popular event. Photo by Jonathan Blanc

53rd Street Library— Midtown West
18 West 53rd Street
A gorgeous new building, the 53rd Street Library opened its doors in 2016 and we were immediately smitten. The library offers plenty for all ages, with a teen room and multiple family story hours, weekly storytimes for babies, toddlers, and preschoolers, and a new weekly Dinosaur Hunters class where children ages 5-12 can learn about paleontology. Check the calendar for exact times.
Chatham Square Library — Chinatown
33 East Broadway
The Chinatown branch of the NYPL offers a Mandarin and English family storytime on Mondays at 10:30 and 11:30am. Kids from newborn to age five, along with their caregivers, read stories, sing songs, and engage in purposeful play at this bilingual storytime. The branch also offers separate English-only storytimes on Tuesdays at 11am for babies up to 18 months, on Thursdays at 10:30am for toddlers age 18-36 months, and on Saturdays at 11am or children age 3-5 years.
Harlem Library — Harlem
9 West 124th Street
Baby storytime at the Harlem Library is always popular and spots are limited to 15 babies (age 0-18 months) and their caregivers, so arrive early! Held on Mondays at 1pm, storytime includes books, bouncing rhymes, sensory play, and a chance to meet other babies in the neighborhood. Bring a blanket or towel for tummy time. The branch also offers toddler storytime on Wednesdays and Fridays at 11:30am, and family storytime on Mondays at 11:30am.
Mulberry Street Library — Soho
10 Jersey Street
The Soho branch of the NYPL offers outstanding storytimes for babies, toddlers, and preschoolers. Book Babies gets little ones and their caregivers reading, playing, and grooving on Tuesdays at 10:30am. Toddler storytime is offered on Thursdays at 10:30am, and preschoolers can stop by on Wednesdays at 4pm to read, sing, and make a craft to take home.
Poet's House — Battery Park City
10 River Terrace
Though not part of the NYPL, the Poet's House has more than 60,000 titles in its poetry-only library. Its children's room is open Thursday–Saturday from 11am–5pm, and they offer poetry for toddlers on Thursdays at 10am. Check the website for special events for older kids, featuring guest poets and illustrators.
RELATED: Rad Women and Civil Rights Heroes: Children's Books for Right Now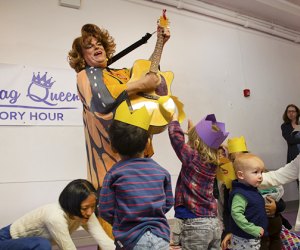 Kids boogie down at a Drag Queen Story Hour held at Tompkins Square Library.
Drag Queen Story Hour — Various locations
Drag Queen Story Hour is just what it sounds like: local drag queens reading stories to children, with the goal of encouraging awareness and acceptance of gender diversity. The drag queens read a mix of storytime classics and gender-themed books, sing songs, and lead children in a simple craft activity such as decorating crowns or wands. Storytime events happen at NYPL branches and other venues across the city. Check the website for upcoming events.
It's worth noting that library storytimes can get quite crowded, with long lines as patrons queue up, stroller to stroller, for a free ticket. Luckily, there are lots of other places to find free story hours in New York City.
Storytimes at Stores
Storytime at a store allows you to entertain the kiddos and maybe even get some shopping done. The best part: Most of these story sessions are free (or really cheap). Nearly every bookstore in Manhattan offers storytime.
Barnes & Noble —Various locations
Every branch of this chain offers storytime. You can search for a location near you and then look at the upcoming events.
Books of Wonder — Chelsea and Upper West Side
18 West 18th Street and 217 West 84th Street
This independent store, dedicated solely to children's books, boasts two locations to thrill young readers and listeners alike. Both locations offer children's storytimes on Saturdays at 11am and Sundays at 11:30am. The stores also host frequent visits from big-name authors, so keep an eye on the events calendar.
Bank Street Bookstore — Upper West Side
2780 Broadway at 107th Street
This neighborhood favorite hosts a free story hour at 10:30am every Thursday, Friday, and Saturday and frequently welcomes authors for readings. Big names like Dame Julie Andrews and Lemony Snicket often show up.
Book Culture — Upper West Side
2915 Broadway at 114th Street
450 Columbus between 81st and 82nd Streets
This store's Broadway location, just up the street from Bank Street, hosts storytimes at 3:30pm on Saturdays in its lovely children's room on the lower level. Its sister store on Columbus hosts storytimes every Tuesday and Saturday at 11am and also has a Carousel of Languages storytime, where the language changes every week.
Housing Works Bookstore and Café — Soho
126 Crosby Street near Jersey Street
Staff at this store read stories and sing songs on Wednesdays at 10:30am for children 3 and under. There is a $5 charge per family, which helps support Housing Works' community programs.
La Librairie des Enfants — Upper East Side
163 East 92nd Street
This Upper East Side spot dedicated to French, Spanish, and English children's books is part bookstore, part library, and part community space. The free French and English storytime will be back later in the fall, along with scheduled Puppet Shows. In the meantime, the store offers Petites Histoires, a French literary program for children ages 7 months to 15 years. Visit the website to find your child's age group and register.
McNally Jackson — Soho
52 Prince Street between Lafayette and Mulberry Streets
Another favorite independent store, McNally Jackson hosts a storytime for children ages 3-10 years on Saturdays at 11:30am, which includes themed craft activities.
RELATED: Free Times to Visit NYC Museums, Gardens, and Zoos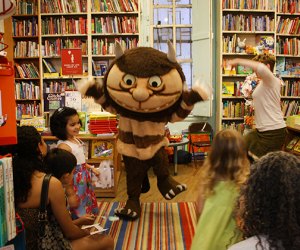 Wild Thing visits the Strand's storytime.

Strand —Union Square
828 Broadway at 12th Street
Your kids can get up close and personal with their favorite characters at Strand's Family Hour. Each weekend a different character visits the store for story and craft times. Visit the website for a complete schedule, but expect to find favorites such as Elmo, Peppa Pig, and more at the twice daily (11am and 2pm) Family Hours each Saturday and Sunday. The bookshop also hosts events that appeal to adults, including parenting author events.
Word Up Community Bookstore — Washington Heights
2113 Amsterdam Avenue at 165th Street
This volunteer-run community bookstore sponsors a weekly storytime on Saturdays at 11am for children ages 3 and older. Peruse its selection of new and used books while you're there, or consider donating your gently used collection.
Storytimes at Museums
The Metropolitan Museum of Art — Upper East Side
1000 Fifth Avenue at 82nd Street
The Met offers storytime for toddlers ages 18 months to 3 years most weekdays at 10:30am, and for children ages 3 to 6 most weekdays at 3pm and Sundays at 2pm in the Children's Reading Room at the Nolen Library. The library portion of the event is free, but if you want to enjoy the rest of the museum, an admission fee is required.
The Mount Vernon Hotel Museum & Garden — Upper East Side
421 East 61st Street between First and York Avenues
Give children a dose of history with their story hour. Aimed at children ages 2 to 6, Mount Vernon's storytimes take place the third Friday of each month at 10:30am, and are FREE for children and their caregivers. Kids can also try on period clothing and play with historical toys. When the weather is nice, the read-along is held outside in the 18th-century garden.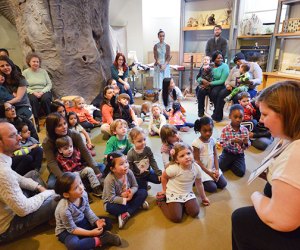 Storytime at the American Museum of Natural History takes place among the fossils. Photo by D. Finnin
American Museum of Natural History — Upper West Side
79th Street and Central Park West
The interactive kids' storytime at AMNH is held in the Discovery Room and is a great choice for preschoolers. Every Friday morning during the school year, kids aged 2-5 can enjoy free playtime, plus an educational story, singing, and then a visit to the related hall. There are two sessions: 10:10 and 11am. Storytime is included with museum admission, but because space is limited, tickets for storytimes are distributed the morning of starting at 9:45am.
Scandinavia House — Midtown East
58 Park Avenue at 38th Street
This story session geared toward children age 5 and older comes to life thanks to the gifted storytellers from the The Hans Christian Andersen Storytelling Center. The free Saturday morning storytimes begin at 11am on select weekends. Check the calendar for dates and ages.
DiMenna Children's History Museum — Upper West Side
New-York Historical Society, 170 Central Park West at 79th Street
Macy's sponsors this weekly storytime for children age 3-7 years on Sunday mornings at 11:30am, included with museum admission. The featured books often correspond to the museum's exhibitions.
Bonus Tip
For a more in-depth kid-lit experience, children ages 8 and up can visit the Thalia Kids Book Club at Symphony Space. The series of events brings young readers and famous YA authors together for creative writing projects, open-ended discussions, book signings, and readings. Rick Riordan, Judy Blume, and other notable authors have appeared over the years.
This article first published in October 2010 but is updated regularly.
Photos courtesy of the venues