New 53rd Street Library Opens with Children's Room, Teen Zone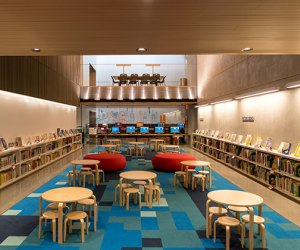 The New York Public Library opened its brand-new 53rd Street branch in late June, offering some great features for families in a busy NYC corridor, including a spacious Children's Room, Teen Zone, laptop bank, and programming and events for kids of all ages in a modern, subterranean setting. The 53rd Street Library replaces the longstanding Donnell Library that was razed in 2008. A series of setbacks, including the financial crisis of 2008 caused a lengthy delay in the construction of the new library, which sits below a luxury hotel and condo, but we think it might have been worth the wait.
Free, educational, and engaging library activities were indispensable during the early days with my son, so I was excited to check out the new library in Midtown West and learn more about its many offerings. Read on for a little preview of this gorgeous library, and don't forget to check out the trove of book suggestions, for babies to teens, for summer reading from the NYPL before you head in. Our Summer Slide Busters guide has even more library and STEAM-related fun activity ideas for NYC kids.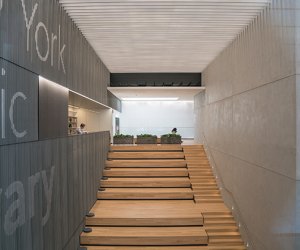 The splashy new library sits on the ground floor of a luxury hotel building and two subterranean floors.
The 53rd Street Library was designed by award winning architects TEN Arquitectos, and at around 28,000 square feet, it's among the largest in the New York Public Library system, though smaller than the old space as some activists have pointed out. The new space features an amphitheater and an auditorium with TV screens for programs and events, high ceilings, and modern décor. Though two of its three floors are below street level, the library feels bright and spacious, thanks in part to its glassy facade, and offers an impressive lineup of free events for kids and teens (conveniently displayed on a monitor near the entrance).
The Children's Room and Teen Zone are both on the lowest level of the library. The Children's Room, for ages 11 and under, is large and bright. Books—including board books for the littlest readers, a parenting section, and books in foreign languages including Russian, Chinese, French, and Spanish—line the perimeter, with child-sized tables and chairs in the middle. The books are new and won't float to other locations until late July. Another fun fact: The large area rug in the Children's Room depicts a pixelated, almost abstract image of Manhattan, with the Bronx at the top and rivers on each side, all in shades of blue.
RELATED: Storytimes for NYC Kids: Read Your Way Around Manhattan

Storytime is already a hit at the new library.
In addition to regular storytimes, children's events include Maker Mondays where children create crafts to take home, Science Buddies where science experiments will be demonstrated, Coloring Club, Chess Club, special playtimes for babies and toddlers, and a family storytime that is meant to be interactive. Storytimes will also include periods of free play involving age-appropriate manipulatives (shakers and scarves for babies, Play-Doh for tots).
The Teen Zone, aimed at kids 12 and up, hosts events such as College Bound! to prepare teens for the ACT/SAT, Book Club, Manga Club, Crafternoon (more advanced, age-appropriate crafts), and Code Club. Teens looking to add an activity to their college application can participate in Teen Council, where they will have the opportunity to help plan programs and share ideas for the branch. The Teen Zone features a large collection of graphic novels and lots of outlets (for tablet, phone, or laptop charging). Both children and teens will find computers reserved especially for them, and plenty of laptops available for use (onsite only).
The children/teen floor has men's and women's bathrooms, as well as a family restroom complete with a sink, toilet, and changing table. The building is wheelchair and stroller accessible with elevators, and an area outside of the Children's Room for stroller parking. Bonus: There is also a designated area where food is allowed!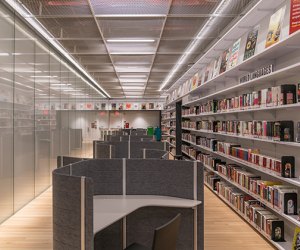 The library also has stylish, private study desks.
The 53rd Street Library is located at 18 West 53rd Street in Midtown, across the street from the Museum of Modern Art. Check the website for hours and programming, but we're happy to report this library is open on Saturdays.
All photos by Jonathan Blanc/courtesy of NYPL.