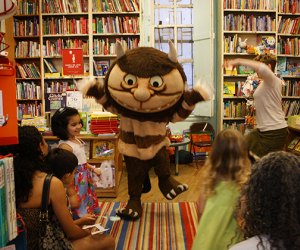 Best NYC Children's Bookstores to Spend an Afternoon In
Only a small number of dedicated children's bookshops exist in NYC—Books of Wonder and Bank Street Bookstore, we're looking at you!—but there are a number of other indie stores with impressive children's book sections. Many of these lit havens host children's activities, including read-alongs but also author events, and writing workshops.
My kids have a particular weakness for books, possibly because it's the one thing I never deny them—as evidenced by the overflowing bookshelves at home. We love exploring new-to-us, local shops and spending lazy afternoons getting lost in the stacks, so we've rounded up some of our favorite bookstores around the city, including two new ones coming soon.

Whether shopping for a birthday gift or looking for a local storytime, the neighborhood independent bookstore is a great bet for NYC families.
Astoria Bookshop — Astoria, Queens
31-29 31st Street
This local Queens shop hosts a popular with the tot-crowd storytime on Thursday mornings. Special storytime events are also often held on the weekend and there's a popular Young Writers Workshop for the slightly older crowd (ages 8+) on select Sundays.

Bank Street Bookstore — Upper West Side
2780 Broadway at 107th Street
I have a special fondness for Bank Street Bookstore. I'm always able to find exactly what I'm looking for—from bestsellers and new releases to amazing finds not available at big box retailers, thanks in large part to amazing staff that possess an encyclopedic knowledge of all things books. It was here that, with the help of a bookseller, I was able to find the perfect book that helped open a dialog with my kids about dealing with the loss of a loved one. A difficult topic to be sure, but I was grateful for the comforting pages that we read together, and it provided something solid that my kids could (and did) reach for on their own. This kid-lit haven offers fantastic reads, themed toys, activity books, and more, and offers weekly events that include storytimes, author readings, and puppet shows.

RELATED: Best Kid Play Spaces in Manhattan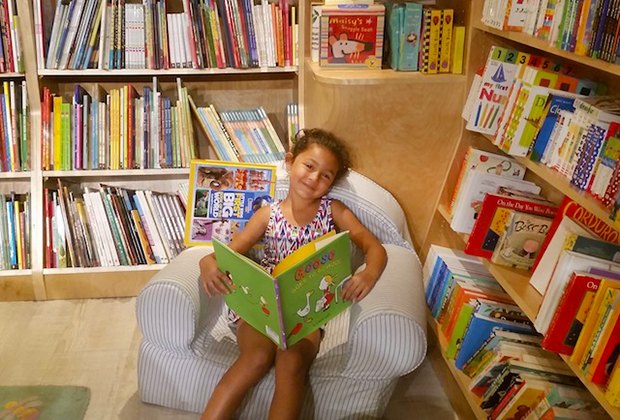 Multiple cozy reading spots can be found at Book Culture on Columbus uptown. Photo by Sonia Gonzalez.
Book Culture — Morningside Heights and Upper West Side
536 West 112th Street (between Amsterdam and Broadway)
2915 Broadway (at 114th Street)
450 Columbus (between 81st and 82nd Streets)
The Broadway and Columbus locations of this neighborhood bookshop have lovely children's room located on the lower levels. In addition to a wide variety of books and educational toys, you'll find kid-size tables and chairs and lots of communal playthings, which encourage families to linger. My kids and I are regulars. Book Culture also hosts lots of events for kids, including FREE storytimes in English, Persian and other languages at the Broadway location and its Columbus outpost. Check the calendar for upcoming events.

Books of Wonder — Flatiron
18 West 18th Street (between Fifth and Sixth Avenues)
NYC's largest and oldest children's bookstore sells new titles, beloved classics, and even out-of-print tomes. But it's so much more than a bookstore; it's a place where kids become bookworms. Large exposed columns are surrounded with cushioned seats and throw pillows, inviting families to settle in for a good read. There's the shop's famous Oz section to peruse, an exhibition area with original kid-lit illustrations and frequent FREE events, including storytimes and regular high-profile author readings for tots to teens. Check the online calendar for a complete list of upcoming events.

Boulevard Books — Dyker Heights, Brooklyn
7518 13th Avenue
Boulevard Books was born of a local's wish to create a community gathering space in her home 'hood. It downsized in 2015, making room for Pinot's Palette in the store's former cafe area. You'll still find a nice selection of children's books and Boulevard Books often hosts painting classes for kids at Pinot's Palette. Check its events page for upcoming events and classes.
Greenlight Bookstore — Fort Greene and Prospect Lefferts Garden, Brooklyn
686 Fulton Street (at South Portland Avenue)
632 Flatbush Avenue (at Fenimore Street)
Greenlight Bookstore recently opened its second location in Prospect Lefferts Gardens. Both locations offer a vast selection of books, including nice children's sections. Greenlight also hosts many events for kids including regular storytimes for 3- to 8-year-olds—hosted by local luminaries, children's authors, illustrators, kids' musicians, and performers—and a Young Readers Book Group.
La Librairie des Enfants — Upper East Side
163 East 92nd Street between Lexington and Third Avenues
This brand-new bookstore is dedicated to kids—and French! Founded by a pair of France natives, including a mom and an ex-librarian, this unique spot dedicated to French titles is really a hybrid: part library, part store, part community gathering hub. It offers memberships to check out a set number of books each week, as well as a store for purchasing books and toys. It also hosts regular family programming, including marionette puppet shows and a French language and storytime program.

McNally Jackson Books — Soho
52 Prince Street between Lafayette and Mulberry Streets
This spacious two-story bookstore boasts a children's nook stocked with famous classics and lesser-known indie titles. This local shop also hosts regular readings and author events for kids. Plus there is a cafe full of kid-friendly snacks.

powerHouse on 8th — Park Slope, Brooklyn
1111 Eighth Avenue between 11th and 12th Street
A cozier offshoot of the loft-like powerHouse Arena in Dumbo, this bookstore has an excellent children's book section and hosts all of the mini-chain's events for kids. Every Sunday morning there's an activity-packed storytime, often starring local kid-lit authors reading their own work or Brooklyn musicians playing their own songs. The shop also hosts a monthly book club for tweens and young teens, moderated by kids' book blogger Jordan B. Nielsen of The Rusty Key.
RELATED: NYC Film Festivals for Kids and Families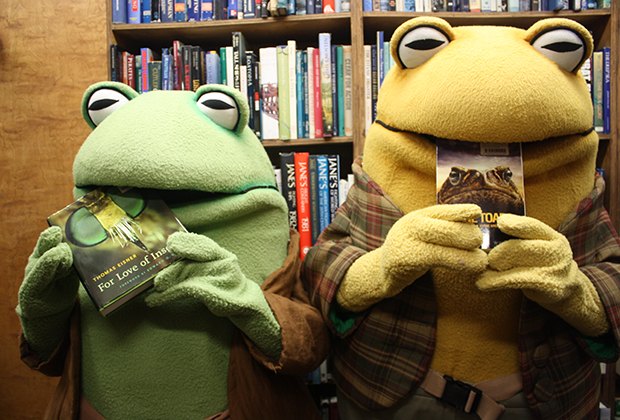 Frog &Toad are one of the many classic characters to visit Strand.

Strand — Union Square
828 Broadway at East 12th Street
Born in the 1920s, the Strand is a verifiable NYC institution selling "18 miles" of books, including an eclectic children's selection. It also buys and sells New Yorkers' gently used editions at discounted rates. Parents in-the-know check the Strand's event calendar regularly for its upcoming storytimes and character visits from beloved children's books, including Madeline, Clifford, Splat the Cat and, over the holidays, the Grinch. The store also periodically hosts pop-up shops around the city, including one coming to Brooklyn this spring.
Coming Soon
Books are Magic — Cobble Hill, Brooklyn
225 Smith Street (and Butler Street)
The closing of Book Court at the end of 2016 left many in the community saddened to lose this neighborhood gem, including local author, Emma Straub. She got straight to work hoping to fill the void and, with a location secured, this coming spring Cobble Hill will welcome Books are Magic. Plans include a large children's section and lots of events and storytimes, because as Ms. Straub put it, "That's really why we're doing it ... we needed a place to bring our kiddos!" Follow the store's progress on Instagram and Twitter.

The Lit. Bar — South Bronx
Sadly, with the recent closing of Barnes & Noble, the Bronx is now the only borough with no bookstore—big box or independent (which is why I spend so much time schlepping to other boroughs and to Westchester for my book fix). Bronx native Noëlle Santos is working hard to change that. After her second-place win in the NYPL & Citi Foundation's NYStartUp! Business Plan Competition, Ms. Santos launched a crowdfunding campaign to raise funds for a brick-and-mortar bookshop. The campaign surpassed its goal ahead of schedule with almost 1500 donors. She has the support of her community and the enthusiasm is growing. With plans that include a wine bar, The Lit. Bar hopes to cater to all ages and interests, reflecting the vibrant Bronx community Ms. Santos hopes to serve. Follow the shop's progress on Instagram and Facebook.

Top photo: A Wild Thing visits Strand. Unless otherwise noted, photos courtesy of the bookstores.

A version of this post originally published in September 2012.