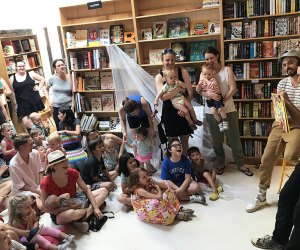 Best Brooklyn Storytimes for Kids and Babies
Neighborhood story hours for preschoolers and babies abound in Brooklyn, providing a fun, no-fuss outing, especially on cold or rainy days. Most storytimes are free (or cheap), and many venues offer additional kid activities before or after the reading, including plenty of book-browsing, so the fun can continue even when storytime ends.
Read on for our top picks for read-along sessions in Brooklyn at libraries, bookstores, and other tot spots, and find more story hours at these Manhattan spots.
Storytimes at Brooklyn Bookstores
Books Are Magic – Cobble Hill
This indie bookstore, opened by author Emma Straub, opens its doors at 9am on weekends to provide a welcoming space for weary parents to bring their kids. Toddler storytime is usually at 11am on Saturdays and Sundays, but check the events calendar before you go—sometimes storytime happens later in the day when children's authors visit to present their work. The store also launched a kids book club for middle-school readers.
RELATED: Drop-In Play Spaces in Brooklyn
OUR LATEST VIDEOS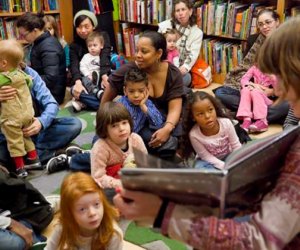 Greenlight Bookstore's storytime is always popular with neighborhood families. Photo courtesy of the bookstore.
Greenlight Bookstore – Fort Greene and Prospect Lefferts Gardens
This indie favorite recently opened a second location in Prospect Lefferts Gardens. Both stores host weekly storytimes for kids ages 3 to 8, and authors or illustrators are often in attendance to present their own work. Catch storytime on Saturdays at 11:30am at the original Fort Greene location, and at 1:30pm at the PLG store. Afterward, stick around for the crafts that frequently follow. Check the events calendar before you go.
powerHouse on 8th – Park Slope
The South Slope offshoot of the veteran Dumbo bookstore opened in late 2012 and hosts all of the mini-chain's kids' events, including a Sunday morning storytime at 11:30am, often featuring children's authors reading their own work. RSVP is appreciated on their website or Facebook page.
Barnes & Noble – Park Slope
The children's story hour typically runs on Saturdays at 11am at this Park Slope bookstore. Expect a crowd and grab your morning latte at the in-store Starbucks before heading to the children's section on the lower level. Check the website or call ahead to confirm storytimes.
RELATED: Storytimes for Kids and Tots in Manhattan

Stories Bookshop and Storytelling Lab offers storytimes, classes, and workshops.

Stories Bookshop and Storytelling Lab – Park Slope
This family-owned bookstore hosts authors and illustrators for free storytimes for all ages most Sundays at 10:30am in its Storytelling Lab in the back of the store. On weekdays you can drop in for storytime at 10:30am (Tuesdays and Thursdays) or 11:30am (Mondays, Wednesdays, and Fridays) for $8 per family. The store also offers drop-in art and storytelling classes for kids, as well as yoga and chess classes, animation workshops, and more. Check the calendar for upcoming events.
Edamama Cute Cuts and More – Williamsburg
This bright and cheerfully decorated kids hair salon/toy and book store offers storytime on Fridays at 10:30am for $10 and often hosts authors and illustrators for storytimes on the weekends. Call ahead to confirm.
Storytimes at Brooklyn Libraries
Brooklyn Public Library – Borough-wide
The Brooklyn Public Library offers storytimes in 10 languages and for all ages. With branches across the borough, you won't even have to travel outside your own neighborhood. Babies and Books provides a space for babies from newborn to 18 months to learn songs and rhymes and meet other families. There are also programs geared to toddlers and preschoolers, and a Ready, Set, Kindergarten! program where kids ages 3 to 5 can learn about literacy, science, and math through play. Many libraries offer an all-ages storytime on Saturdays. Find events at your local library on the events calendar.
The great thing about storytime at your local library is that you get to meet other families in your community, but if you're looking for a specific type of storytime experience, we've listed a few branches that host multilingual, inclusive, and outdoor storytimes, as well as storytimes led by drag queens!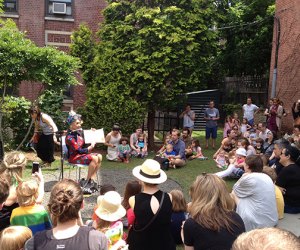 Storytime at Park Slope Library's amphitheater is a hot ticket in the warmer weather.
Park Slope Library – Park Slope
At the Park Slope Library, storytime heads outdoors to the brand new storytelling garden and amphitheater, weather permitting. On Thursdays at 10:30am, independent walkers up to age 3 can enjoy songs, stories, fingerplays, and rhymes at Toddler Time in the garden. Wednesday morning's Story Play and Saturday Storytime for all ages are also held in the garden through October, weather permitting.
Flatlands Library – Flatlands
Read and Play, an inclusive storytime program for kids with and without disabilities, is offered regularly at the Flatlands Library. The birth-to-5-years program includes stories, sensory and language stimulation, and educational playtime, and is offered on Tuesdays and Wednesdays at 1pm and Fridays at 3:30pm.
Leonard Library – Williamsburg
Kids from birth to 5 years can read and sing in Japanese at this iconic branch of the library, which was featured in A Tree Grows in Brooklyn. Japanese Storytime happens on Mondays at 4pm and is designed for babies and toddlers but all ages are welcome. The name of the program is Tako no Ashi, meaning "octopus legs," since there is no direct translation for storytime!
Cortelyou Library – Ditmas Park
At Cortelyou Library, kids from birth to 5 years can attend storytime in Russian.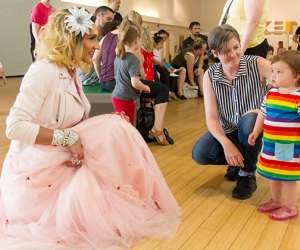 Kids tend to love the outfits at the Drag Queen Story Hour at Brooklyn Children's Museum, which comes with a message on tolerance and diversity.
Drag Queen Story Hour – Locations vary
Held at libraries and other locations across the city, Drag Queen Story Hour is just like any other storytime, with stories, songs, and crafts—the only difference is that it's presented by drag queens! The program, which is designed for kids aged 3 to 8, aims to teach awareness and acceptance of gender diversity, and the drag queens often read books that feature LGBTQ families. Check the website for upcoming events.
Storytimes at Brooklyn Museums
New York Transit Museum – Brooklyn Heights
Many children's programs are offered at this train and bus museum, perfect for any wheels-loving kid. Stories, games, and more take place during Transit Tots, Thursday mornings at 10:15am. Recommended for children ages 2 to 5 with an accompanying adult, storytime is free with museum admission. Visit the website for more family-friendly programming.
Brooklyn Children's Museum – Crown Heights
Storytime at this popular kid spot is geared toward the 5-and-under set. Join a museum educator for this Saturday event, free with museum admission. See the calendar of programs for exact schedule; times change weekly.
This post, originally published in November 2010, is updated annually.
Top image: powerHouse Books. Photos courtesy of the venues