Best Indoor Playgrounds in Brooklyn
2/10/23
- By
Jody Mercier
Brooklyn can't be beat for indoor playgrounds. From Play Kids in Greenpoint to Fairytale Island in Bay Ridge, Brooklyn kids have some prime indoor playgrounds to explore.
While we've included a couple of mellow tot spots with crafts or storytelling, this list of the best indoor playgrounds in Brooklyn is focused on active indoor play spaces, where toddlers, preschoolers, and even bigger kids can conquer multilevel mazes, swoosh down slides, climb rock walls, or just turn around in circles until they fall down exhausted and ready for a nap.
Read on for the best drop-in indoor playgrounds in Brooklyn and find more indoor playgrounds citywide in our Guide to Indoor Play Spaces.
Subscribe to our newsletters to get stories like this delivered directly to your inbox.
Best Indoor Playgrounds in Brooklyn
Ages 0-12
An indoor playground on par with Chuck E Cheese's, this activity zone has attractions for all ages, from soft play tunnels, mazes, and a ball pit for preschoolers to a roller coaster, train ride, bumper car, and video games for older children. The upside: If you have kids of varying ages, you can satisfy them all here. The downside? The more activities you try, the more you pay. Party packages are offered.
Ages 0-5
If you've got a preschooler who needs to get the sillies out, Totally Tots is for you. The Baby Hub features colorful padded structures where infants can crawl, cruise, stand, or just sit. Children ages 18 months to 5 years can romp at various stations, including a water play area, a multilevel climbing structure with instruments to pound and play, a building zone, and a theater.
RELATED: 19 Top Indoor Play Spaces in New York City

Kids can dive into the ball pit or climb aboard the train at Fairytale Island, an indoor playground in Brooklyn.
Best for kids ages 7 and under
This epic indoor playground offers a giant ball pit, a two-level train, trampolines, swings, a rock-climbing wall, and plenty more to keep kids occupied for hours.
Ages 0-6
Owned and operated by a longtime local family, this 4,500-square-foot indoor playground for tots features creative, custom-designed, hands-on activity stations, including a water table, firehouse, salon, general store, and a barnyard. It's a great option for preschoolers who love to pretend. Birthday party packages are offered.
RELATED: Museum Memberships in NYC That Are Totally Worth It for Winter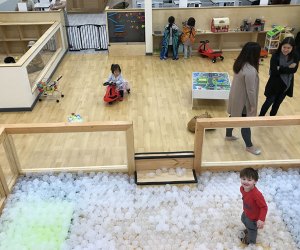 Kids can explore new toys, a climbing structure, a ball pit, and more at Good Day Play Cafe. Photo by Louise Trapasso
Ages 0-6
With Stumptown coffee and cold brew, a cypress wood cube sensory pit, and a clear view of the entire indoor playground from the minimalist-chic cafe, this spot is a favorite of both parents and kids. There is plenty to do for kids who like to get physical—including a ball pit, slide, and climbing structures—as well as options for those who prefer quieter games and imaginative play, from Legos to costumes to a pretend kitchen and grocery store.
Ages 2-12
This indoor playground is full of bounce-off-the-wall fun. Imagine wall-to-wall bouncers, obstacle courses, and plenty of slides and you just might find yourself in the middle of the action at House of Fun. Open play is offered daily, but book your tickets online in advance—no payments are taken at the door.
RELATED: Creative Hub Playday Opens Cobble Hill Location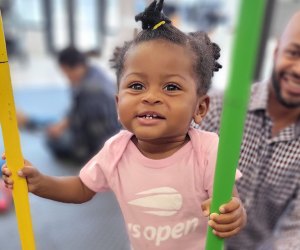 Kids can move, play, stretch, and jump around at Little Lola and Tots indoor playground.
Ages 0-4
Along with its classes and after-school sessions, you'll find open play for kids to slide, read, climb, and explore during daily drop-in sessions at this indoor playground in Brooklyn's Bed-Stuy neighborhood. Beautifully curated and mindfully constructed, this indoor playground offers plenty of play opportunities for kids to get physical and use their imaginations. A new addition to the play space: A work-and-play option lets parents take advantage of an on-site co-working space and childcare option.
Ages 3+
This action-packed newcomer recently opened in the amenity-stocked Industry City complex, bringing with it high-flying fun. Attractions at this Brooklyn outpost include tons of trampolines, a soaring ropes course, battle beams, and a little-kid-friendly indoor playground. There are also climbing walls, dodgeball arenas, a slam-dunk zone, and VR games making this a great spot for a mixed-age crowd. Birthday parties are also offered.
RELATED: Indoor Swimming Pools in NYC Offering Day Passes

Play Well Brooklyn has a tire swing and large soft play mats to keep kids entertained for hours.
Ages 2 1/2 and up
Designed by two occupational therapists, Play Well offers an inclusive indoor playground for both neurodivergent and neurotypical kids, including gym equipment (soft play mats, swings, and climbing structures), sensory play areas, and art and fine motor areas.
Ages 4-8
This play space has undergone a lot of changes but is still uber-popular. Catering to older kids, this indoor playground offers after-school programs and classes in its modern, airy space. Looking for a more traditional indoor romping spot or a fun place for little kids? Be sure to look into its sister biz, The Play Lab...
Ages 9 months-7 years
This eco-friendly Montessori-inspired indoor play space encourages physical play with a rock wall, treehouse, slide, and pretend playhouse. There's also a magnetic wall with alphabet letter magnets, a soft foam pit, and a ball wall where kids can toss balls into holes at various levels.
RELATED: Indoor Activities for Kids: 35 Things To Do in NYC on a Rainy Day

Kids Town indoor playground offers a playland with a play supermarket, a hospital, a fire station, and more.
Ages 0-7
This clean and bright indoor playground houses plenty of areas for kids to get physical including a treehouse and slide, a climbing wall, a ball pit, and a good mix of toys that are often rotated, including lots of options that are appropriate for kids under age 2. There's also a cozy cafe where caregivers can enjoy a hot beverage while the little ones explore.
Crawlers and older
The Ability Center has been around for years as a physical-therapy spot, but its indoor "practice-and-play" gym lets kids get their play on. Expect to find a clean, well-maintained indoor playground, where kids can safely challenge their growing bodies in an age-appropriate way. Birthday parties are also offered.
Photos courtesy of the spaces
Originally published in January 2017.