Brooklyn Drop-In Play Spaces and Kiddie Gyms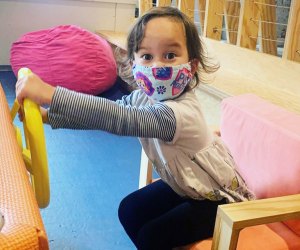 Brooklyn can't be beat for indoor play spaces. From Recess d.u.m.b.o. to Fairytale Island in Bay Ridge, Brooklyn kids have some prime spots for indoor playtime.
While we've included a couple of mellow tot spots with crafts or storytelling, this best-of-Brooklyn list is focused on active play spaces, where toddlers, preschoolers, and even bigger kids can conquer multilevel mazes, swoosh down slides, climb up rock walls, or just turn around in circles until they fall down exhausted and ready for a nap.
Read on for the best drop-in indoor romper rooms for kids in Brooklyn. If you want the play space to yourself and your pod, check out these places offering private playtime, and find more play spots in our Guide to Indoor Play Spaces.
Editor's Note. All the play spaces require adults and children (over age 2) to wear masks and maintain social distance when possible. Due to the ever-changing nature of the pandemic, please call ahead or check on the play space's website to confirm hours, pricing, and availability.
Due to the pandemic, most of the play spaces we've highlighted are operating at reduced capacity, and all of them require or recommend reservations. Unfortunately, several neighborhood spots have shuttered, and more are temporarily closed. Make sure to check back for updates.

Kids can dive into the ball pit or climb aboard the train at Fairytale Island.
Brooklyn Play Spaces Open Now
2021 update: Currently open on the weekends and select weekdays. The schedule changes frequently, so it's best to call ahead and confirm hours.
7110 3rd Avenue between 71st and 72nd Streets
Best for kids ages 7 and under
This epic play zone offers a giant ball pit, two-level train, trampolines, swings, a rock-climbing wall, and plenty more to keep kids occupied for hours.
2021 update: Reservations are recommended because there is a maximum capacity of eight children. Book on its website, email, or call.
81 Washington Street, between Front and York Streets
Ages 6 months-6 years
Opened by a pair of neighborhood moms in June 2015, this play space features gorgeous, custom-made equipment, including a wooden climbing wall, hidden ladders, and tunnels made from rope netting. Drop-in play is offered seven days a week. Read our full review for more info and pics.
RELATED: The Top Indoor Play Spaces in NYC Open Now

Kids can explore new toys, a climbing structure, a ball pit, and more at Good Day Play Cafe.
2021 update: Reservations for a 2-hour time slot must be made on the website in advance. Open Monday-Saturday.
591 5th Avenue between 16th Street and Prospect Avenue
Ages 0–6
With Stumptown coffee and cold brew, a cypress wood cube sensory pit, and a clear view of the entire play area from the minimalist-chic cafe, this spot is a favorite of both parents and kids. There is plenty to do for kids who like to get physical—including a ball pit, slide, and climbing structures—as well as options for those who prefer quieter games and imaginative play, from Legos to costumes to a pretend kitchen and grocery store.
2021 update: Open Sunday-Thursday, 11am-6pm; Friday, 11-2pm; Saturday evenings only, 7-11pm.
1149 McDonald Avenue, near Avenue I
Ages 0–12
An indoor amusement center a la Chuck E Cheese's, this activity zone has attractions for all ages, from soft play tunnels, mazes, and a ball pit for preschoolers to a roller coaster, train ride, go-karts, and video games for older children. The upside: If you have kids of varying ages, you can satisfy them all here. The downside? The more activities you try, the more you pay. Party packages are offered.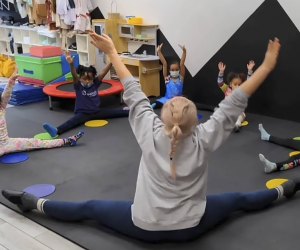 Kids can move, play, stretch, and jump around at Little Lola and Tots.
2021 update: Open Monday-Friday, 10am-5pm. Book in advance via the website or email info@littlelolatots.com.
503 Dekalb Avenue between Franklin Ave and Skillman Street
Ages 0–4
Along with its classes and after-school sessions, you'll find open play for kids to slide, read, climb, and explore during daily drop-in sessions. Beautifully curated and mindfully constructed, the space offers plenty of play opportunities for kids to get physical and use their imaginations.
2021: Play sessions are available on weekends by reservation. Bonus: Enter for FREE on Sunday afternoons after 3pm.
145 Brooklyn Avenue, between St. Marks Avenue and Prospect Place
Ages 0–5
If you've got a preschooler who needs to get the sillies out, Totally Tots is for you. The Baby Hub features colorful padded structures where infants can crawl, cruise, stand, or just sit. Children ages 18 months to 5 years can romp at various stations, including a water play area, a multilevel climbing structure with instruments to pound and play, a building zone, and a theater.
RELATED: Private Playtime: 13 Indoor NYC Play Spaces That Can Be Rented For Pods or Families

For a change of scenery and toys, book a private playtime at Play Kids.
2021 update: Play Kids is only offering playtime by reservation. Book time for your family to drop-in and have exclusive use of the space, or book drop-off playtime in advance online or by emailing team@playgreenpoint.com.
33 Nassau Avenue, between Guernsey and Dobbin Streets
Ages 0–5
This play space has undergone a lot of changes but is still uber-popular. Preschoolers can hit the playsets and activity stations, including a food market and laundry set, and romp around the tumbling gym. There's also a separate baby area where infants can safely crawl and explore.
2021 update: Register online in advance for 2-hour play sessions. Masks are required, as are temperature checks and health questionnaires. Hand sanitizing stations have been installed and play space is sanitized between sessions.
144 Frost Street between Graham and Manhattan Avenues
Ages 0–6
Owned and operated by a longtime local family, this 4,500-square-foot tot spot features creative, custom-designed, hands-on activity stations, including a water table, firehouse, salon, general store, and a barnyard. It's a great option for preschoolers who love to pretend. Party packages are offered.
Brooklyn Play Spaces That Have Temporarily Closed
421 Fifth Avenue, between Seventh and Eighth Streets
Ages 1–4
Known as the BAX Playspace, this under-the-radar gem is a favorite of local families. Toddlers and preschoolers navigate hoops and tunnels, color, play with balls, and read books.
274 Garfield Place near Eighth Avenue
Ages 0–2
This is another popular Park Slope tot spot, where the littlest ones (note the age range, above) can tumble and play with educational toys in the congregation's large social hall.
2021 update: Sundays@Senesh hopes to reopen programming in the fall.
342 Smith Street at Second Street
Ages 0–5
Jewish day school Hannah Senesh opens its spacious, sunny gym to neighborhood kids for playtime on Sunday mornings all winter long. Kids race around the gym with pals while parents chat over coffee and bagels. Ride-on toys and mini climbing structures keep everyone busy, but there's also a music session and art-making station.
Photos courtesy of the spaces
A previous version of this post was published in January 2017, but it is regularly updated.