Great News! Good Day Play Cafe Opens in Park Slope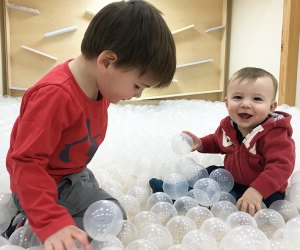 You might be wondering if Park Slope needs another play space, but after you see the inside of a Korean-inspired Good Day Play Cafe, your answer will be a confident, "yes." Think: Stumptown coffee and cold brew, a Hinoki cypress wood cube sensory pit, and a clear view of the entire play area from the minimalist-chic cafe.
The owners, who already have a location in Queens, balance good food, inviting ambiance, and strong coffee with their kid-oriented play area to create a place adults and children can genuinely enjoy. The play cafe trend is booming in Brooklyn and Queens, and we can't get enough of it. Get the details on the new space, including rates and hours, below.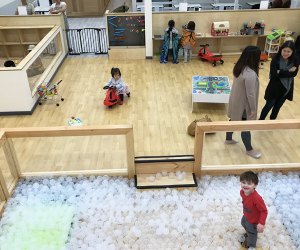 The wide open space and clear plexiglass dividers let parents and caregivers keep an eye on their kids.
I stopped in with my 8-month-old and 2.5-year-old for a snack and an afternoon of play. Upon entering, I was struck by the simple, chic decor. Neutral colors, pristine white subway tile and succulents brighten the cafe area, and children's books hang tastefully along one wall. There is a service counter in the entryway, as well as benches with cubbies underneath for shoes.
Check-in was fast and easy. Since payment happens at the end of the session, all I had to do was sign a waiver and leave my ID with the friendly staff at the front desk. We took off our shoes and made our way along the cafe counter to the seating area and play space.
The seating area is bright and open, with tasteful recessed lighting. There are tables and chairs, as well as a generous cluster of highchairs for the littlest visitors. The entire play area is visible from the cafe seats, which makes watching multiple kids or taking a coffee break exponentially more relaxing.
RELATED: 22 Brooklyn Drop-In Play Spaces and Kiddie Gyms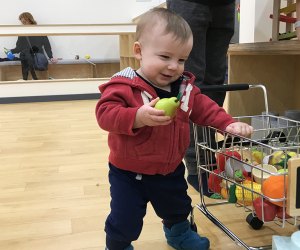 Grab some groceries with your little one.

The play area is geared toward children 8 months to 6 years old, and the collection of toys is perfectly curated for these age groups. There is plenty to do for kids that like to get physical, as well as those who prefer quieter games and imaginative play. There is a ball pit, complete with a rock-climbing ramp and a slide (be warned: the slide is very fast, but lots of fun!). There is a sandbox-esque area filled with small, wooden cubes that offer the same creative possibilities as sand—without the mess. It's a Hinoki cypress wood cube sensory pit, popular in Korea and Japan. A kitchen and marketplace are set up for pretend play. costumes, Legos, magnets, and a train table are also available. To the left of the ball pit, there is an area with floor mats and large, colorful blocks for the younger children. The room also has plenty of open space. Even when it got crowded, it felt like a pleasant, safe environment.
RELATED: Play Cafes in Brooklyn and Queens for Snacks and Playtime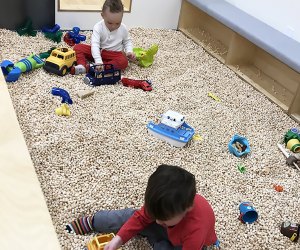 This Hinoki cypress wood cube pit is like a sandbox but cleaner!
The plexiglass walls that separate several of the sections contribute to the feeling of openness and add another element of play. My 8 month old loved watching his brother dig in the wood cubes through the glass. I was thrilled to be able to watch both of them at once.
The space has two bathrooms complete with playful faucet fixtures, kid-friendly potty seats, and step stools at the sinks. The bathrooms are big and clean, which is a huge plus.
Admission is charged hourly, starting at $12 per child, and babies under 8 months are free. There is a sibling discount, and caregivers play for free, which sweetens the deal. Pricing is outlined on the website.
The cafe serves grown-up-friendly food like smoothies and Acai bowls, and they plan to expand their menu in the coming months. They serve Stumptown Coffee, as well as grab-and-go snacks—which come in very handy during a marathon play session. I was shocked when I glanced down at my watch and two hours had gone by. Not only were my kids having fun, I was having fun, too! The only downside of the experience was trying to convince my children it was time to go home.
Good Day Play Cafe is located at 591 5th Ave in Park Slope and is open Monday through Saturday, 10am to 7pm.
Top photo: The ball pit is a huge hit! All photos by the author