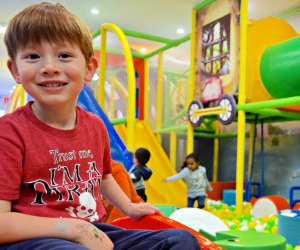 Fairytale Island Opens in Bay Ridge with Ball Pit and More
Add Fairytale Island to the short list of winter (and hot day) indoor lifesavers. The brand-new play space in Bay Ridge, Brooklyn, opened in late October, and it's huge. Not only that, but it offers just about every imaginable play item to keep the kids busy for hours.
When you enter Fairytale Island, you know that your child is entering an epic play zone. The main play space offers a giant ball pit, two-level Fairytale Island train, swings, crawl spaces, slides, little cars, and a trampoline—phew, hope I got it all. There are additional imaginary play and more toys set up in separate areas. Read on for our full review.
While NYC families always flock to museums, atriums and other indoor activities to escape the snow and rain, there always seems to be a shortage of places where kids can burn hours of energy while parents can relax. What my family needs (and I'm guessing your family, too) is a place where 1) both toddlers and young kids can have fun; 2) there's no time limit; 3) lunch is offered; and 4) is reasonably priced. Well, bingo. Fairytale Island is it.
Fairytale joins other neighborhood play spots like Play Days and Parties and play cafe The Coop, as well as the Dyker Heights BounceU.
RELATED: Best Brooklyn Play Spaces for Kids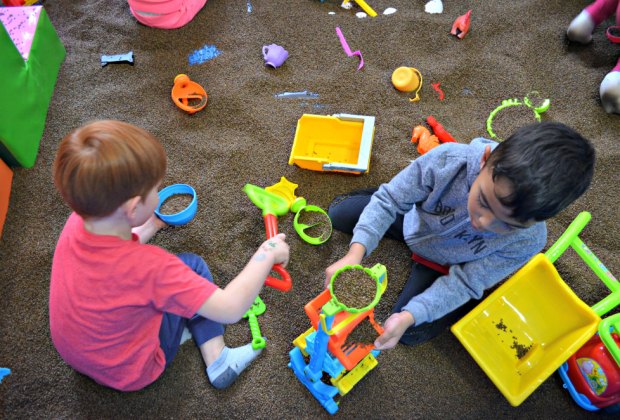 Play paleontologist in the "seed pit" where dino bones are hidden.
Another section of the play space is dedicated to the seed pit. Think sand pit but with much more sanitary and easy-to-brush-off seeds. There are dinosaur bones underneath, so young kids can have their own paleontological dig. There's also sand pails, shovels, and other fun toys to go along. This is a great space for toddlers that can spend long periods of time just shifting through the seed and enjoying the sensory items. Close parental supervision is highly recommended given the small size of the seeds.
Toward the back, there's a low rock-climbing wall with a padded floor. My 5-year-old scaled it in under two minutes, so it's good for preschoolers as long as a grown-up is there to help.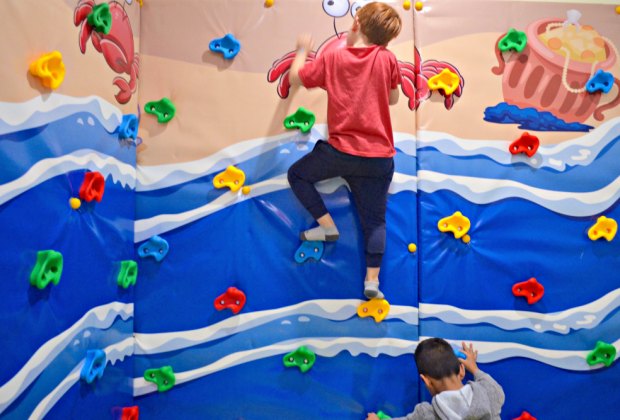 Scale the wall for an extra challenge.
At the very end of the space is the "shopping center." Young children can play pretend for as long as their hearts desire with carts, kitchen sets, and tons of other age-appropriate toddler and preschooler toys.
The majority of the play space is open, so parents who sit at the picnic tables in the back can see directly into the play space or keep an eye on kids in multiple places at once. There's a staff member at the play space entry, supervising and making sure no food, beverages, or shoes enter. Being new, the staff is still working out some kinks, but they are surely on their way to making the play space perfect for everyone.
Fairytale Island can be a full afternoon event as it even has food options. It offers light lunch fare, like popcorn chicken, smoothies, and pizza, and desserts like a full ice cream bar and a cotton candy machine.
RELATED: 18 Indoor Party Spots for NYC Kids with Mega Playgrounds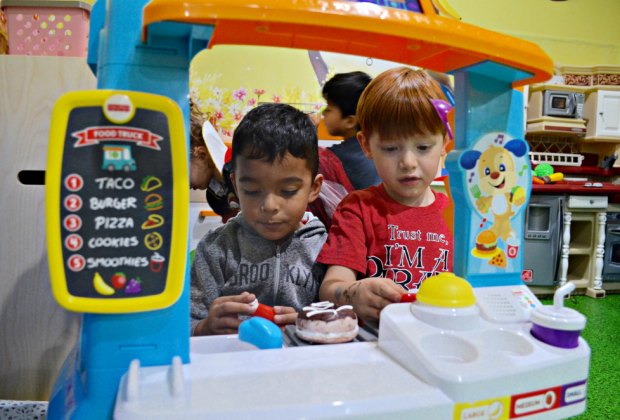 Pretend play at the "shopping center" or hit the real cafe for snacks.
Parties, both private and non-private, are also on the menu. The party room is ideal for parents who want a one-stop-shop, as the walls and furniture are decorated and ready to go. Contact Fairytale Island to get complete price packages.
Things to Know Before You Go
The space is open everyday 10:00am - 8:00pm.
Socks are required
No outside food or beverage
Subway: the Bay Ridge Avenue stop on the R line is only 2 blocks away
Metered street parking is available up and down 3rd Avenue
Fairytale Island doesn't have an age limited, but we think that this place is ideal for kids 18 months to 7 years old. Regular admission is $18 for UNLIMITED play. If you mention the code MOMMYPOPPINS at entry, for a limited time you'll receive a discount entry of $14 and FREE ICE CREAM!
If you're hungry for dinner after a long play session, check out some local Brooklyn eateries. Or make a day out of your Bay Ridge trip with these additional Brooklyn activities.
All photos by author.