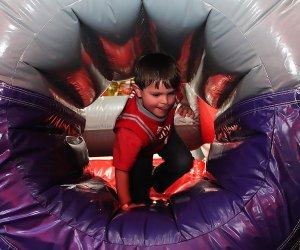 Bounce Houses and Trampoline Spots Where NYC Kids Can Jump
As any veteran NYC parent knows, there's only so much in-apartment bouncing your downstairs neighbor can handle. If you've got active kids and hop-happy toddlers to entertain during winter's freeze, spring's showers, or summer's heat, what's a parent to do? Nothing cures the bad-weather blues like a trip to a big old bounce house.
These inflatable favorites are a staple of outdoor festivals and street fairs, but it's such a bummer waiting on a long line to shell out several dollars for a two-minute session. Luckily NYC is home to several high-flying play spaces. You'll find all kinds of fun, including trampolines, long bouncy slides, tunnels, and obstacle courses at these spots. Best of all each location hosts regular open-bounce sessions, so your kids jump all they want for one low price.
Be sure to call ahead as open-bounce times change and can be adjusted based on private events. Sign up for our FREE newsletters to get posts like this delivered to your inbox.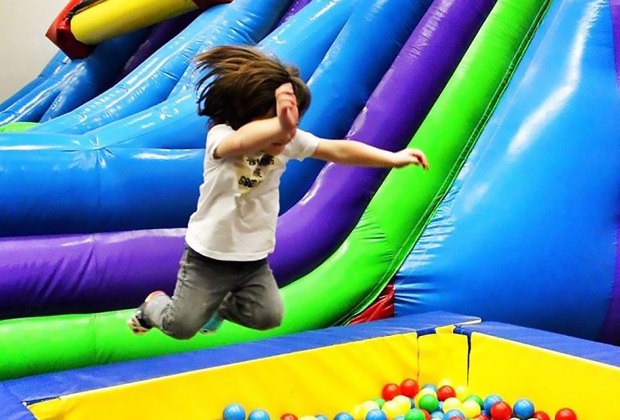 Games and inflatables are part of the fun at Bounce N Play.
Bounce N Play — Astoria, Queens
20-21 Steinway Street between 20th Avenue and 20th Road
$14 per child, price includes two adults; $5 for each additional adult
Drop-in schedule varies; visit the website for current hours
Opened by a local mom in spring 2014, this play space has bouncy houses and giant inflatable slides in addition to the standard play space attractions—play sets, a jungle gym with tubes, a rock climbing wall, toys, and arcade games. If you've got a little one, make note of the special open-play sessions for the under 6 set.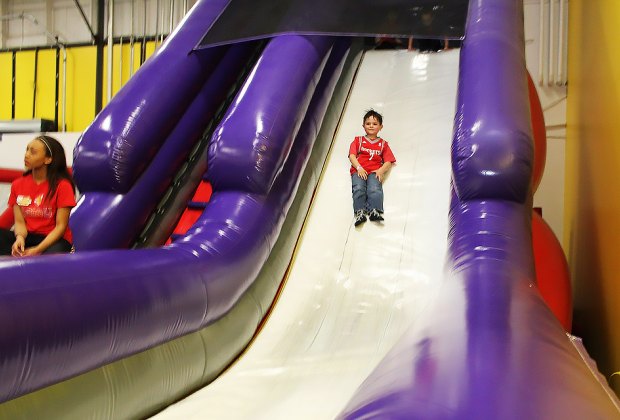 BounceU has locations across the tri-state area loaded with inflatables for all ages. Photo by Meagan Newhart
BounceU — Dyker Heights, Brooklyn
6722 Fort Hamilton Parkway between 67th and 68th Streets
$12-$21 per person
This national chain features a wide array of inflatables available for play, from traditional bounce houses, slides, and tunnels to climbing frames, and other activities. It is a popular spot for birthday parties and also offer classes, and drop-in, and open-bounce sessions throughout the week. Plus there are special programs like Preschool Playdates, Family Bounce Nights, and Cosmic Open Bounce. BounceU also has locations on Long Island, in New Jersey and across the country.
Fly High — Bulls Head, Staten Island
501 Industry Road
Drop-in schedule varies; visit the website for schedule and to reserve
$15-$30 per session
While not a bounce-house spot per se, there's plenty of high-flying fun to be had at this indoor trampoline park. We loved the spot when we reviewed it upon its opening. There are separate areas for big kids and little kids to bounce. In addition to paying the admission fee, all bouncers must purchase a pair of special non-skid socks for $2, though hold onto them to reuse on your next visit.

Hit the bouncy slide or even ride-on toys at Kids 'N Shape.
Kids 'N Shape — Multiple Locations
162-26 Crossbay Boulevard between 162nd and 163rd Avenues, Howard Beach, Queens
153 Main Street, Tottenville, Staten Island
Drop-in schedule varies; visit the website for schedule
$12 per child; adults are FREE
While bouncing around isn't the focus here, these family-owned spots have bouncy castles in addition to other active-play favorites like a zip line, obstacle course, basketball/soccer court, ball and foam pits, and more. Children are admitted on a first-come, first-served basis with a maximum of 50 kids per session.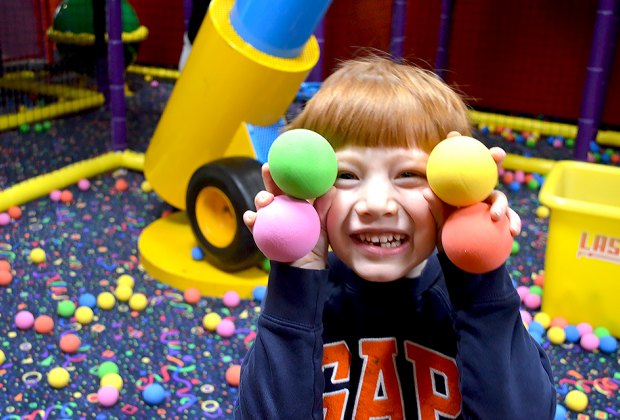 Your kids will burn tons of energy at Laser Bounce's two-story ball city, complete with ball cannons and slides. Photo by Sydney Ng
Laser Bounce — Glendale, Queens
80-28 Cooper Avenue
Drop-in schedule varies; visit the website for schedule
$15.95 per child, $5 per adult
Far more than a bounce house, Laser Bounce offers fun for all ages, a fact that was apparent during a recent visit. Part arcade, part indoor playground, part bounce house, the cost of admission covers all three. Laser tag sessions can be enjoyed on site too for an added fee.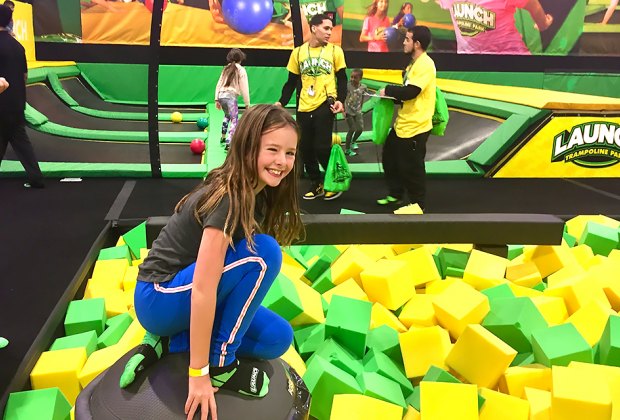 Launch Trampoline Park is endless indoor entertainment for kids and adults. Photo by Ros Muggeridge
Launch Trampoline Park — ​Howard Beach, Queens
163-50 Crossbay Boulevard
Visit the website for schedule
Admission starts at $26 per person for 1 hour
We were excited to check out the new Launch location that recently opened in the Howard Beach neighborhood of Queens. The space features "Tumble Traks"–extra long trampolines that allow you to do flips and tricks (or just bounce) across the room. Kids will love the the obstacle course, two enclosed dodge ball courts, and dedicated basketball hoops. Launch doesn't have an official age limit, but we think that this place is ideal for kids 4 years and older.
Raising Astoria — Astoria, Queens
26-11 23rd Avenue between 26th and 27th Streets
Drop-in schedule varies; visit the website for schedule and to reserve
$5-$10 per family
Though this Queens spot is known for its wide array of affordable classes, its drop-in playtime is also a hit. On occasion, those open-play periods include a small indoor bouncy house. Hours vary, but a frequently updated Facebook page keeps families in the know. It's small size makes this a better bet for toddlers and preschoolers than big-kid playtime.
Sabrina's Play Studio — Sunnyside, Queens
52-07 Queens Boulevard at 52nd Street
See website for current drop-in hours.
$11-16 per child
Attractions at this neighborhood hot spot include a small bounce house sure to thrill little ones. Much like it's neighbor in Astoria, the small size may turn off big kids, though children up to age 9 are welcome.
Superstar Family Fun Center — Sunset Park, Brooklyn
736 61st Street, between Seventh and Eighth Avenues
Visit the website for current hours as it varies.
$15 per child; one adult enters FREE per paying child
Bounce the day away at this indoor space, featuring inflatable slides, bouncy houses, a large maze, and other equipment. Drop-in open play is often offered on weekday afternoons, but also some weekend days and school holidays; it's important to call ahead in case the spot is closed for a private party. No shoes or bare feet are allowed, so don't forget socks.
Looking for more options? There are a slew of indoor spots to bounce the day away in New Jersey and Westchester.
A version of this post was published in 2017; it has been updated for 2019. Katie Nave Freeman contributed additional reporting.
Unless noted, photos courtesy of the venues.