Laser Bounce Opens Indoor Amusement Park and Arcade in Queens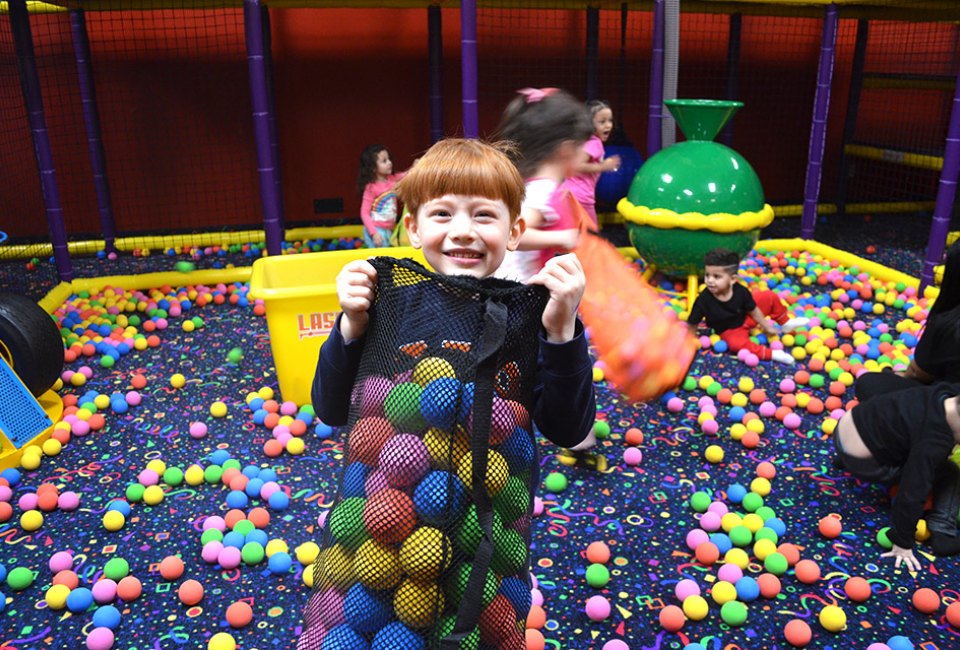 3/23/18
- By
Sydney Ng
With the popularity of Netflix's Stranger Things and nerd-comeback, I'm excited to see a resurgence in my childhood favorite hangout: the arcade. There are plenty across NYC, serving up everything from skee-ball to racing games, but we're happy to introduce Queens' latest addition.
Laser Bounce joined The Shops at Atlas Park, in Glendale, in February 2018. This is the second Laser Bounce location in the area; the original is located in Levittown, Long Island.
My 5-year-old son and I entered Laser Bounce with few expectations. Lasers? Bouncing? How can a place like this exist in NYC? But it does! There's everything from arcade games and laser tag to virtual reality and bounce castles.
When you enter Laser Bounce, you're hit with a sensory explosion: lights, sounds, the pings and beeps of arcade machines, and the squeals of delight from young children. The line to enter was short, even though the Saturday afternoon was crowded. Games don't accept coins. Instead, load up and store credits on a plastic card—which means no more paper tickets churning out of the machines (and no more jiggling and finagling extra tickets out like I did when I was a kid).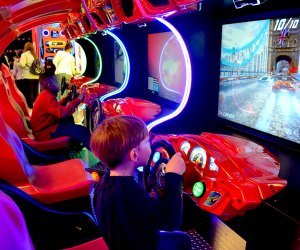 If your kids can reach the pedals (or if you can do it for them) then they'll have fun hitting up these racing games.
Walk-in packages start at $14.95 per person and include 12 credits plus entry to some of the smaller attractions like Highway 66 Bowling and the 3D Motion Simulator. There's also an a la carte option specifically for a laser tag session or time in Ballocity and bounce arenas. This is a great option for younger children who only want to jump and run around.
My son spent a solid 10 seconds turning in a circle in indecision, so we settled on the first thing we saw: car racing. But there are other favorites like motorcycle racing, snowboarding, and the typical shooting-gallery type games. You'll also find old-school classics, such as air hockey, skee-ball, foosball, basketball hoops, and a zombie version of the whac-a-mole boardwalk classic. Be careful! It took everything in my power to convince my newbie son not to spend an entire card of credits on his first game.
RELATED: Jump N Play Is the Latest Must-See Queens Bounce House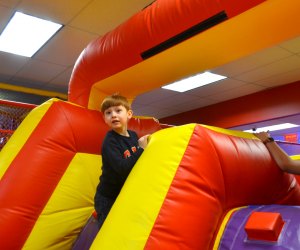 Hit the bounce houses and inflatable obstacle courses to burn off more energy!
After a solid hour of game-hopping, we went on to Ballocity, a gated area perfect for smaller kids to pre-teens who need to get away from the screens and shake those willies out. This two-level jungle gym is swimming in foam balls. There are air canons and air guns, slides, ramps, and other physical attractions. My son quickly made friends and zipped through the timed session inside.
Once our time was up, we were rotated into the bounce arena, the sister area across the floor full of houses and obstacle courses. Plenty of kids had the energy to do both areas back-to-back, but my son topped out at about the 15-minute mark.
Both areas are supervised by staff, but I do recommend accompanying young children under the age of 6 inside. It can get quite rambunctious, parental supervision is limited, and smaller children can get caught underneath more excited older children.
RELATED: Must-Try Laser Tag and Paintball Venues in NYC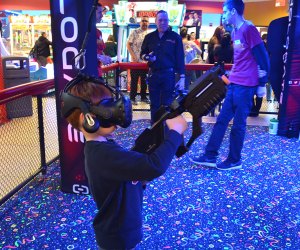 Children's and adults (let's face it - more adults) will have tons of fun in the Hologate Virtual Reality.
Other highlights in Laser Bounce include the Hologate VR arena. My son geared up with a helmet and virtual laser gun. On the perimeter screens, I watched his point-of-view battle aliens on another planet. Being on the young side, my son struggled with the equipment, and his helmet continually popped off. But for older teens and adults, VR is a big hit these days. New VR spots have opened in Midtown and in Brooklyn, so it's nice to have a local option in Queens. Besides, nothing is more hysterical than watching grown men duck and cover from virtual laser shots.
And speaking of silly fun, the laser tag area is immensely popular. Set in a glow-in-the-dark obstacle course, laser tag is a great thing to do as an individual or for a whole birthday party. There are open play sessions or you can book the arena for a private event.
The snacks are limited to pretzels, popcorn, and other small fare, but being located in The Shops at Atlas Park, there are other options after your visit.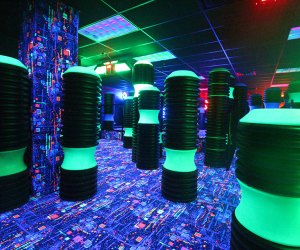 Drop in for a game at the Laser Tag Arena or host your kid's party here! Photo courtesy the venue
Birthday parties are one of Laser Bounce's biggest offerings. There are private party rooms for pizza and cake, exclusive use of the Laser Tag Arena, plus plenty of add-ons. Packages start in the $430–$500 range.
Because of the lights, dark areas, noise, and crowds at Laser Bounce, this indoor mini amusement park is best for school-age kids. The aisles between the games can get crowded, so strollers may find a hard time navigating the floor. There are changing tables in the bathrooms.
The best way to get to Laser Bounce is by car and parking in the reasonably priced pay-lot on premises. The Q47 bus also goes to The Shops at Atlas Park. If you're looking for other bounce houses and indoor play places, check out our NYC Play Space Guide or Indoor Sports and Fun Zone Guide.
Laser Bounce is located at 80-28 Cooper Avenue in the Glendale area of Queens.
All photos by the author unless otherwise noted
Places featured in this article: