Awesome Arcades for Long Island Kids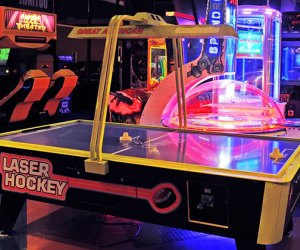 Get your little gamers off the couch and out of the house at these awesome arcades on Long Island. As a bonus, most arcades are located at party places or sports complexes. Get the whole family (and friends) together for some bowling, laser tag or mini-golf, and cap off your trip with ticket-winning arcade games for a chance to win some valuable prizes.
Get more ideas on what to do inside with kids in our Indoor Play Spaces Guide or Kids' Sports Centers Guide. And for even more kid-friendly activities, check out our Long Island Events Calendar.
Nassau

Redeem for prizes at Laser Bounce in Levittown.
Laser Bounce — Levittown
2710 Hempstead Turnpike
In addition to laser tag, a multi-tier climbing structure and bounce houses, Laser Bounce offers a large arcade with carnival-type games such as Knock Down the Clown and Whac-a-Mole. There are also basketball hoops, skee ball, and large-screen TV games such as Deal or No Deal and Piano Keys. Earn tickets to redeem at its 35-foot prize kiosk. All games require advance token purchase.
Q-ZAR — Carle Place
151 Voice Road
In addition to laser tag, Q-ZAR offers various arcade, racing, and other games, including air hockey, skee ball, basketball, and a Mad Wave Motion Theater with bumps and turns. A 9-foot tall Doodle Jump offers gigantic joystick play. Enjoy it all, plus the classics, and earn tickets redeemable for prizes.
Suffolk
Adventureland — East Farmingdale
2245 Route 110
Once you've tackled this outdoor amusement park's rides, and your head stops spinning, head indoors to the climate-controlled arcade. Win prizes at games such as Wheel of Fortune, Deal or No Deal, Power Drop X-Treme, and Guitar Hero. Test your skills on Barber Cut or Giga-Crane games to win small electronics. Redeem tickets for prizes such as stuffed animals, sports equipment, toys, and more.
The All Star — Riverhead
96 Main Road
Shooting and driving games, prize games, basketball, and skee ball are just some of the options at this bowling-alley arcade. Compete in air hockey or air hockey extreme, which drops several pucks at a time for super scoring. The arcade offers redemption games that issue e-tickets saved on little ones' game cards. No more counting (or carrying) paper tickets.
Boomers Family Fun Center — Medford
The go-karts are the headliners at this central Suffolk mecca of children's entertainment. But kids also can enjoy rockclimbing, batting cages mini-golf and, of course, arcade games. Games include horse racing, dancing, snowboarding. starship battles and more.Players accumulate tickets and can redeem immediately at an expansive ticket center. There's also a climbing area and kiddie rides for little ones.
RELATED: 25 Rainy-Day Activities for Long Island Kids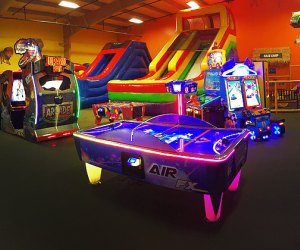 The fun at Safari Adventure includes bounce houses, slides, and a host of arcade games.
Safari Adventure — Riverhead
1074 Pulaski Street
Bounce houses and slides adorn Safari Adventure, in addition to a multi-tier climbing structure for exploring. Don't worry about being in two places at once as the attractions and arcade are both located in the same area. Race rubber duckies or knock down the clowns in carnival-style games. Ride a motorcycle or try your hand at skee ball. Enter the Jurassic Park game or compete in glow-in-the-dark air hockey. Just outside this area are interactive floor games, motion-sensored for the children's movements. Children can jump, stomp, walk and explore these games played with their feet. Points accumulate on your pre-paid card so you can save or spend as you go.
Tiki Action Park — Centereach
1878 Middle Country Road
Outdoor go-kart racing, laser tag and mini-golf might be the initial draws to Tiki Action Park, but its 45-game indoor arcade offers skee ball, air hockey, two dance games, and other prize-winning games. Earn points toward prize redemption.
Islandwide
Dave & Busters — Westbury & Islandia
1504 Old Country Road, Westbury; 1856 Veterans Memorial Highway, Islandia
With two Long Island locations, Dave & Busters offers hundreds of games, plus sports, bowling, and billiards. From Dance Dance Revolution games, to racing and role playing, Dave & Busters has it all. Just charge (or recharge) a power card and swipe to play. Save up after a few visits or cash in for prizes that day.
Top photo: Q-ZAR offers skee ball, basketball and plenty more. Photos courtesy of the arcades.
A version of this article was first published in 2014, but it has since been updated.