Awesome Arcades on Long Island for Video-Game Loving Kids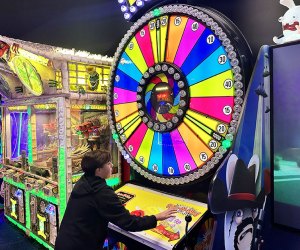 2/6/23
- By
Jaime Sumersille
This roundup of awesome arcades on Long Island will get your little gamers off the couch and out of the house. As a bonus, most of these arcades are located at party places or sports complexes. Get the whole family together–and invite some friends–for bowling, laser tag, or mini-golf. Cap off your trip with ticket-winning arcade games that can be redeemed for valuable prizes.
Get more ideas on what to do inside with kids in our Indoor Play Spaces Guide or Kids' Sports Centers Guide. For even more kid-friendly activities, check out our Long Island Events Calendar.
Arcades in Nassau County
Located inside the Cradle of Aviation along Nassau County's Museum Row, the Arcade Age exhibit tells the story of video gaming dating back to the 1940s. Set in a darkened tunnel for optimal graphics, it features iconic games such as Ms. Pac-Man, Galaga, Space Invaders, Centipede, Donkey Kong, and more. It's open on weekends and school breaks and also from February 18 through May 21, 2023. It's also included in the annual Cradle Con, which will be held on May 20-21, 2023.
Laser Bounce offers a large arcade with carnival-type games such as Knock Down the Clown and Whac-a-Mole, as well as the classics like Pac Man, skee ball, and basketball. There are also large-screen TV games such as Deal or No Deal and Piano Keys. Earn tickets to redeem at its 35-foot prize kiosk. Other attractions include laser tag, bowling, a VR machine, bounce houses, and more. Check out their all-you-can-play packages for extra fun!
What's unique about the arcade at Planet Play is its size and appeal to younger gamers. Spinning wheels, VR pods, baskeball shooting, skee ball and air hockey awaited, alongside a space-themed Whac-a-Mole, spaceship flying games, and more. Planet Play's lone bouncy house is designed for ages 2-8, while the 700-square-foot, two-tier climbing structure boasts slide races, ninja warrior obstacles, and a dueling Ballocity game.
Q-ZAR – Carle Place
In addition to laser tag, Q-ZAR offers various arcade games, racing, air hockey, skee ball, and basketball. A 9-foot-tall Doodle Jump offers gigantic joystick play. Enjoy it all, plus the classics, and earn tickets redeemable for prizes. This spot serves beer, wine, and small bites. They also offer laser tag and axe-throwing, but note that kids must be at least 12 years or older to participate in axe-throwing. If they are ages 12-17, a parent or guardian must be participating in axe-throwing as a player.
RELATED: Laser Tag Spots on Long Island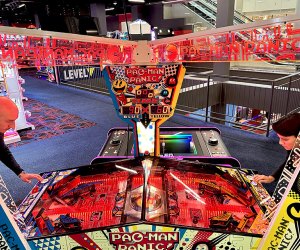 Go head-to-head on Pac-Man Panic at Round 1.
Located in the Broadway Mall, Round One is claw-machine haven. Rows and rows of machines boast opportunities to capture keychain-sized goodies to oversized stuffies. Carnival-type arcade games, sports games, air hockey tables, and traditional video games all line the floor. It offers a flat fee–which is less expensive on weekdays–for 60 minutes of unlimited play on certain games. The reloadable digital card records all of your tickets, which can be redeemed at the prize center. The arcade offers memberships to help save a few bucks. A snack bar, drinks, bowling, billiards, ping pong, and karaoke are also offered on the lower level, which as of the publication of this article is closed for renovations.
Arcades in Suffolk County
Once you've tackled this outdoor amusement park's rides and your head stops spinning, head indoors to the climate-controlled arcade. Win prizes at games such as Wheel of Fortune, Deal or No Deal, Power Drop X-Treme, and Guitar Hero. Test your skills on Barber Cut or Giga-Crane games to win small electronics. Redeem tickets for prizes such as stuffed animals, sports equipment, toys, and more. Note that their arcade is open during their operating season.
Shooting and driving games, prize games, basketball, and skee ball are just some of the options at this bowling-alley arcade. Compete in air hockey or air hockey extreme, which drops several pucks at a time for super scoring. The arcade offers redemption games that issue e-tickets saved on little ones' game cards. No more counting (or carrying) paper tickets.
Located right in the food court of the Smith Haven Mall, gamers across generations will enjoy this unique spot. This authentic arcade transports you to the '80s and '90s, which is totally rad! There are over 100 games to play, and all are free to play with admission. Bonus: kiddos cost less than adults! Family and group rates are also offered.
RELATED: 25 Rainy-Day Activities for Long Island Kids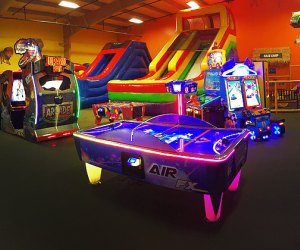 The fun at Safari Adventure includes bounce houses and slides. Photo courtesy of Safari Adventure
Bounce houses and slides adorn Safari Adventure, in addition to a multi-tier climbing structure for exploring. Don't worry about being in two places at once as the attractions and arcade are both located in the same area. Race rubber duckies or knock down the clowns in carnival-style games. Ride a motorcycle or try your hand at skee ball. Enter the Jurassic Park game or compete in glow-in-the-dark air hockey. Points accumulate on your pre-paid card so you can save or spend as you go.
Outdoor go-kart racing, laser tag, and mini-golf might be the initial draws to Tiki Action Park, but its 45-game indoor arcade offers skee ball, air hockey, two dance games, and other prize-winning games. Earn points toward prize redemption. This spot is seasonal, so be sure to check its operating hours before setting out!
More than 35 card-swipe arcade machines are available at Xplore, from a giant Space Invaders console to carnival-style games and ridable motorcycle attractions. Earn tickets and redeem them at a glitzy prize center. The arcade already offers two-level laser tag, inflatables, soft climbing playgrounds, and a toddler zone. In 2022, it debuted a glow-in-the-dark go-karting attraction.
Xplore Family Fun Center has more than 30 arcade games to test all skill levels. Purchase a game card from the machine and rack up e-tickets with each try. There are classics such as basketball, claw machines, and air hockey, but there is also a big-screen Rabbids Hollywood video game as well as a Transformers game, motorcycle racing, and more. Lazer Frenzy, soft playgrounds, an inflatable slide, a ropes course, and rock climbing walls. Note: minimum weight for rock climbing is 25 pounds. A full cafe is also found at this North Shore spot. Memberships and a rewards program are offered that are also good for use at the Xplore Commack and Safari Adventure Riverhead locations.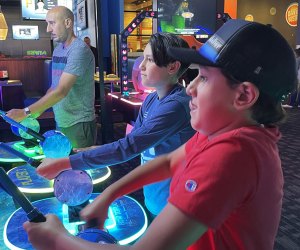 Dave & Busters has three different locations on Long Island to get your game on!
Arcades to Check Out Throughout Long Island
Dave & Busters – Westbury, Massapequa, and Islandia
With three Long Island locations, Dave & Busters offers hundreds of games, plus sports, bowling, and billiards. From Dance Dance Revolution games, to racing and role-playing, Dave & Busters has it all. Just charge (or recharge) a power card and swipe to play. Save up after a few visits or cash in for prizes that day. Get their app to keep informed about discount days and specials.
Coming Soon
Construction is underway at Pinball Long Island in Patchogue, where approximately 100 vintage, collectible, and modern pinball machines will be on display in a recreation room. Owner Joshua Guskin spent decades restoring some of these iconic games. An official opening date has not yet been set.
A version of this article was first published in 2014, but it has since been updated.
Unless noted, photos by the author