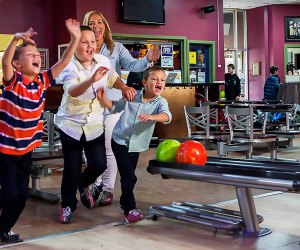 The Best Bowling Alleys for Kids in Nassau County
Visiting a local play space or children's museum is a surefire bet for lonely winter days. But if you want to get all ages in on the action (parents, too), bowling is hard to beat. This great boredom-buster is loads of fun and no experience is necessary.
Long Island is loaded with family-friendly lanes, including some that offer bumper lanes, lighter balls for little hands, arcades, and family and teen nights. We've already updated our list of bowling alleys in Suffolk County, and now we're putting together a list of those in Nassau. One of the best things about bowling? It's often open on holidays when other fun and sport zones are closed.
If your kids take a shine to the sport, some local alleys participate in Kids Bowl Free programs during the summer months, and also offer youth leagues. Many also offer birthday party packages.
AMF — East Meadow, Garden City, Mineola, Plainview, Syosset, Wantagh
​1840 Front Street, East Meadow
987 Stewart Ave., Garden City
​199 East Jericho Turnpike, Mineola
500 Old Bethpage Rd., Plainview
111 Eileen Way, Syosset
1300 Wantagh Ave., Wantagh
National chain AMF is known for its large-scale, high-tech bowling experiences—perfect for a memorable family night out. All six Nassau locations boast at least 40 all-star lanes, arcades, pro shops, and sports bars. All offer leagues for kids and adults, as well as adult-child leagues and special-needs bowling. Kids can try their hands at bumper bowling; they can also request lighter balls and ramps to help their aim. AMF specials include late-night and early-bird bowling, $2 Tuesdays, Sunday Funday, and more. Birthday parties, of course, are always a big hit. Hours, leagues, and specials vary by location.
RELATED: Indoor exercise games sure to get kids moving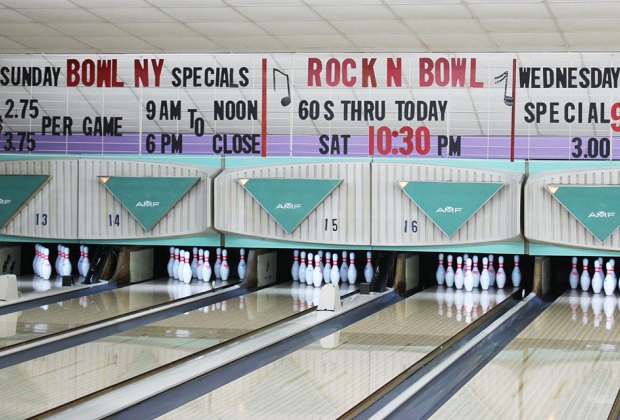 Herrill Lanes in New Hyde Park offers plenty to entertain your family.
Herrill Lanes — New Hyde Park
465 Herricks Rd.
If you're looking for a non-chain bowling alley, Herrill Lanes is for you. It's family-oriented and has been independently owned for 40 years. Bumpers are available for kids, as well as lightweight balls, and the facility and lanes are wheelchair-accessible. On Saturday nights Herrill hosts Rock-n-Bowl, featuring cosmic lighting, contests, and prizes. The coffee shop and lounge both have windows with a view of the lanes, so you can watch your kids rack up the points while you enjoy a snack or drink.
Levittown Lanes — Levittown
56 Tanners Lane
Levittown offers bowling options for the whole family, from camps to adult-child and junior leagues and non-competitive bumper bowling for little ones. Levittown also hosts parties, including the popular glow bowl, as well as plenty of specials and family events year-round.
RELATED: Free indoor play spaces on Long Island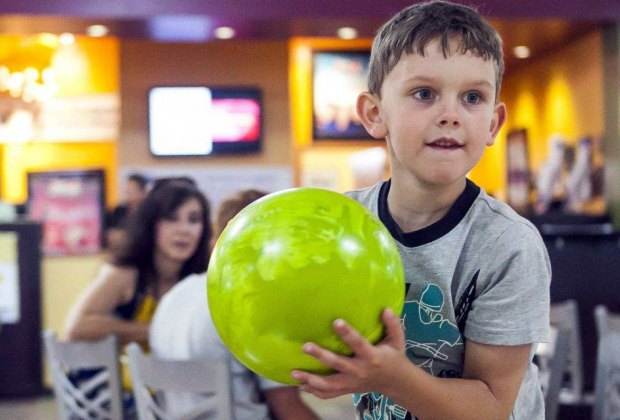 Kids can have a ball (and roll one) at Maple Lanes in Rockville Centre.
Maple Lanes — Rockville Centre
100 Maple Ave.
Give your kids a head start on this classic American sport. Maple Lanes offers FREE lessons and youth clinics and a scholarship instructional program that provides money for school. Friday-night cosmic bowling provides glow-in-the-dark fun for families, and toddlers will be delighted by colorful plastic dragon-tail ramps that help them get the ball down the lane. In addition to leagues, Maple Lanes hosts special events throughout the year.
San-Dee Lanes — Malverne
342 Hempstead Ave.
San-Dee offers 16 lanes as well as an arcade, bar, sports lounge, and kitchen serving homemade pizza. Glow under black lights at laser bowling on weekend nights. A Friday-night deal includes bowling, pizza, and shoe rentals on top of the laser fun. Adult and junior leagues are available, and the space can be rented for birthday parties.
RELATED: Gymnastics classes for Long Island kids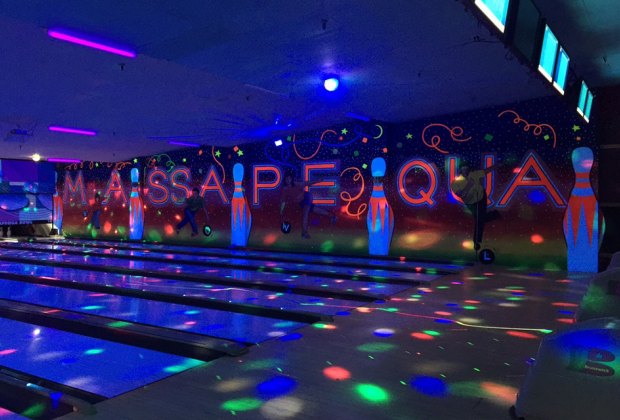 Thrill to glow-bowl at Ultra Lanes in Massapequa.
Ultra Lanes Bowl & Lounge — Baldwin, Massapequa
2407 Grand Ave, Baldwin
4235 Merrick Rd., Massapequa
These alleys offer patrons 30 classic lanes along with state-of-the-art technology. They host after-school youth leagues, adult-only and adult-youth leagues, and school-break and summer programs. Darts, billiards, karaoke, an arcade, cosmic bowling, birthday party packages, online booking, and a large dining menu fill the bill. Hours, leagues, and specials vary by location.
RELATED: Bounce houses and trampoline parks for LI kids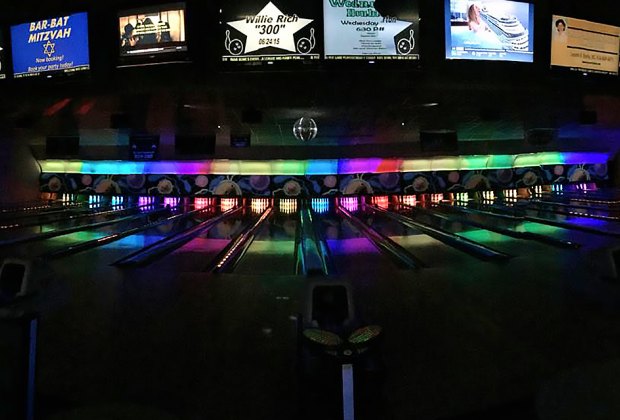 Experience LED cosmic bowling at Woodmere Lanes.
Woodmere Lanes — Woodmere
948 Broadway
Woodmere Lanes is a small, family-friendly bowling alley that hosts leagues for children and adults, but no child-adult league at this time. There's a food counter for snacks. Special events include a Friday late-night special and glow bowling. If you want all the fun without the balls and special shoes, Woodmere offers non-bowling party packages (glow in the dark, DJ, and karaoke) and also hosts fundraisers.
A version of this article was posted in 2017. It was updated in January 2018.
Photos courtesy of the lanes