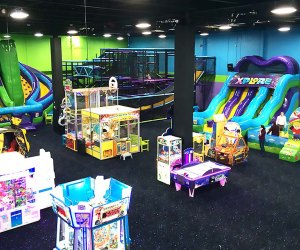 Xplore Family Fun Center Opens in Port Jefferson Station
Many families in the Port Jefferson Station area were sad to see the indoor play spot Fun 4 All close at the end of 2017. But good news: The space has been rebranded by the folks behind Safari Adventure in Riverhead, who have transformed it into one of the top indoor play destinations in Suffolk's North Shore.
Welcome Xplore Family Fun Center.

Thrills await at the new Xplore Family Fun Center.
Many families shared fond memories of snow-day play dates and birthday parties at Fun 4 All until its closing. This recreation of the Port Jeff Station space, however, is more than just a fresh coat of paint: This is a complete overhaul, and the results are impressive. Families who bemoaned the closing of the previous play center will not be disappointed by Xplore Family Fun Center.
From the outside, the building next to the Long Island Rail Road station looks more or less the same except for new, bright signage. The parking lot is a decent size, but could definitely fill up on a busy weekend. But as soon as you walk through the doors you'll notice how bright and new everything looks. The purple, green, and blue color scheme is eye-catching, and the upbeat music draws you in but is not too loud. Check in at the counter immediately to the right and a friendly staff person points out where the free lockers are as well as cubbies for shoes and jackets. Remember to wear or bring socks, because unlike the previous play spot children and adults must remove their shoes. This ensures the play area and carpeted surface are kept clean and sanitary.
RELATED: The best kids activities in Port Jefferson Village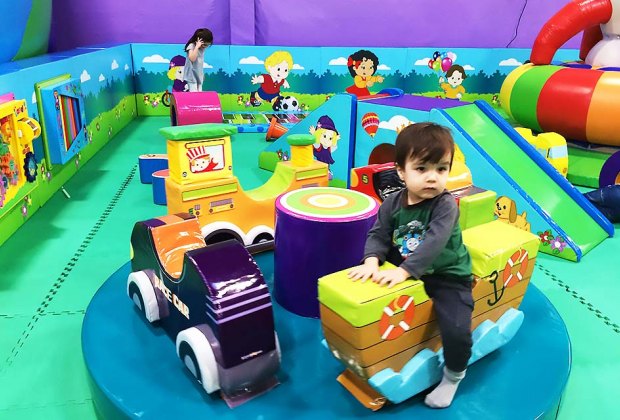 The "Toddler Zone" is a colorful, soft, and safe spot for little ones.
We visited on a weekday after school. Although there were quite a few families there the play area was well laid out with plenty of open space. Our 6-year-old could not wait, and took off for the huge play structure at the back of the building with dad in tow. The "Toddler Zone" immediately drew in our 2-year-old. This dedicated area for kids ages 3 and younger is enclosed and fully padded. Large soft blocks make for fun building, while the perimeter is lined with interactive puzzles and musical toys. My little one loved the piano and drum toys. A slowly revolving rocket ship let little ones ride or crawl around and pretend they were blasting off into space. There's also another soft revolving merry-go-round on which toddlers can sit. Adults have to help their little ones on and off as it continuously spins, but this was a popular attraction. On days when the play center is busy the Toddler Zone is staffed to ensure safety and to restrict access by bigger kids.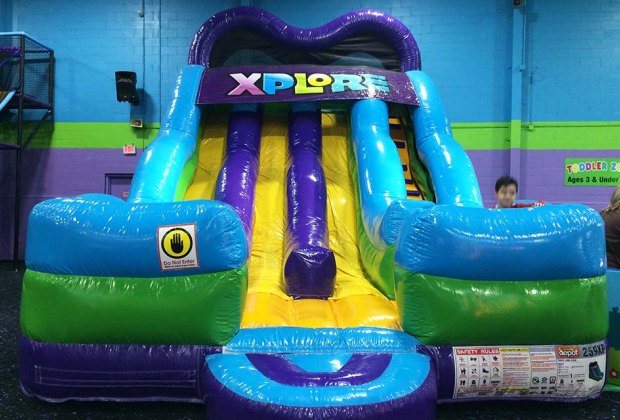 Kids will catch some serious speed on three giant bounce slides.
Three giant inflatables offer plenty of bouncy fun. The "3 Lane Wavy Slide" satisfies a need for speed. Challenge your friends to see who can get to the bottom first. The "Climbing Slide" is all about the steep and challenging climb to the top. Despite foot and hand holds, it's still much harder than it looks. Kids who enjoy obstacle courses will thrill to the "Wipeout," where they can climb to the top and jump, bounce, or hop their way over and across four inflatable balls. Fall off and you have to start all over again. This one is for older kids, but my 6-year-old came close to making it across several times.
RELATED: The best indoor play spaces in Nassau County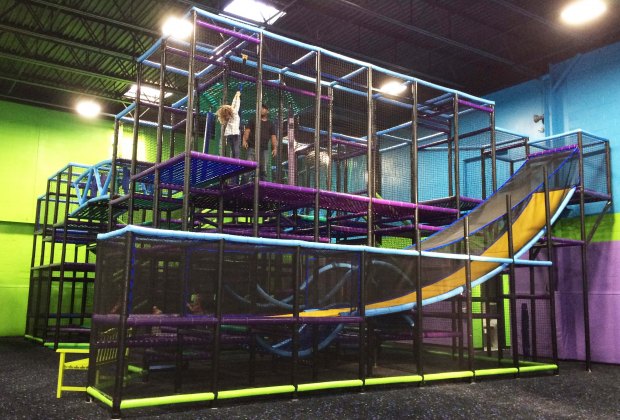 Older kids can challenge themselves on several obstacle courses in the multilevel playground.
The main attraction is the multilevel soft playground. Standing 20 feet high, it's actually two play structures connected by a pair of bridges. There are multiple entrances, so kids can challenge themselves in getting to the top and over to the zip line and 20-foot slide. Obstacles and other fun features keep kids crawling, jumping, climbing, and sliding all that energy away. For little ones who are curious and brave enough to give this a try, but not on their own, there's ample space for caregivers to crawl around. And for anyone who needs a breather there are benches placed all around the play area.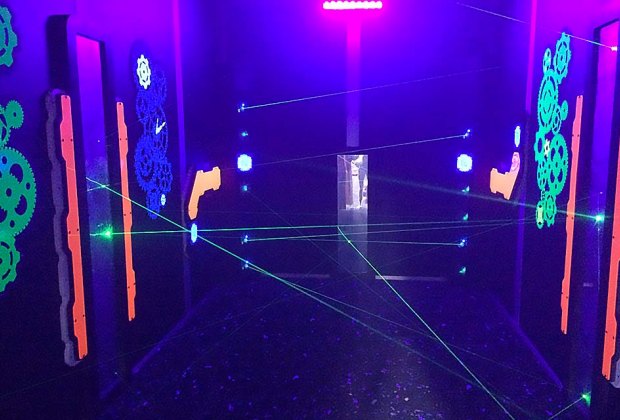 You'll feel like a super spy in the Lazer Frenzy game.
If that's not enough for an afternoon, Xplore Family Fun Center has more than 30 arcade games to test all skill levels. Purchase a game card from the machine and rack up e-tickets with each try. There are classics such as basketball, claw machine, and air hockey, but there is also a big screen Rabbids Hollywood video game as well as a Transformers game, motorcycle racing, and Lazer Frenzy. Lazer Frenzy is a laser maze where players must maneuver their way around without touching any of the laser beams and setting off the alarm. Bring your card to the redemption center and trade in those points for cool prizes.
RELATED: Suffolk County's top indoor play destinations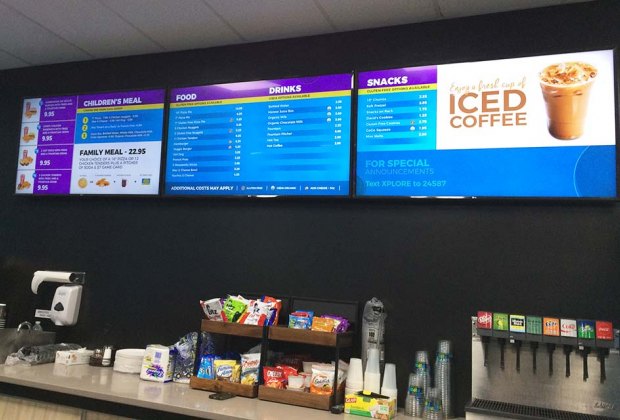 Parents and kids can refuel at the cafe, which offers an a la carte menu, snacks and drinks.
Xplore Family Fun Center also has a full café for when the kids—or you—have burned off enough energy, Seating is ample and the menu has organic and gluten-free options. Snacks include soft pretzels and churros as well as gluten-free cookies and Gogo Squeeze fruit pouches. The café also has an a la carte menu, kids meals, and a family meal deal that includes a large pizza or chicken tenders, soda, and a $7 game card. Place your order, keep playing, and the café staff announces when your order is ready for pickup.
Xplore Family Fun Center is also a great birthday party option. With four private party rooms, including the huge X Loft, it makes party planning hassle free. All packages include a party room, cupcake tower, party host, pizza and organic juice, and game card for each guest. Everyone can stay and play for the rest of the day. The staff takes care of cleanup.
Located north of Route 347, Xplore Family Fun Center is about 10 miles north of Long Island Expressway Exit 64. It also can be accessed via the LIRR's Port Jefferson line. It is open seven days a week from 10am to 7pm, so check out this play center if you're in the Port Jefferson area or are eager to experience all the community has to offer.
Unless noted, photos courtesy of the author