Safari Adventure: The Ultimate Party Experience for LI Kids of All Ages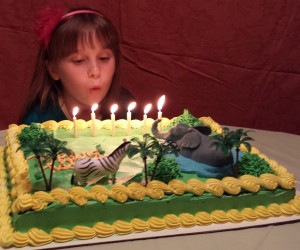 One of the challenges parents can face when looking for a birthday party venue is finding one that caters to a wide age range. Aside from your child's classmates, there might also be cousins, neighbors and friends' children on the guest list; the best party venue is a place where everyone—from toddlers to elementary school kids—can have fun.
Our sponsor Safari Adventure in Riverhead has been around for years, but with a recently renovated 11,000 square-foot facility, it now has so much more to offer for parents and kids looking for the ultimate birthday party experience, including a four-level playground where children ages 1-10 can get plenty of exercise –and have tons of fun—in a safe environment.
What sets Safari Adventure apart from the rest of the area's party venues? It's home to "Kilimanjaro," the largest soft play unit of its kind on Long Island. The African-themed structure allows kids to use their imaginations and challenge themselves both mentally and physically as they climb across cargo nets, through tunnels and past obstacles. There are also plenty of safe slides for even the smallest daredevils in your group. And that is just the beginning: Safari Adventure also has enormous bouncers and more than 30 video games and skill games to appeal to children of all ages. When they're done playing, kids can head over to the trading post to turn in the tickets they've won for a variety of prizes.
Birthday party packages start at $350 for 12 kids. The 90-minute party includes pizza, juice, the birthday cake, tokens for each child, paper goods and a party guide who takes care of all aspects of the event from start to finish; all Mom and Dad need to do is show up. There are also "extras" that can be added onto the packages, such as Safari-themed goodie bags, ice cream and more. All of the private party rooms have been remodeled with full Safari-themed murals, and since it's an open play, all day facility, guests can stay and play for as long as they like after the party ends.
For more on packages and pricing, be sure to check out Safari Adventure's website. And for other ideas, take a look at our Long Island Party Guide.
This post is sponsored by Safari Adventure, but the opinions are those solely of the author.