Laser Tag, Paintball, and Adventure Await at Area 53 NYC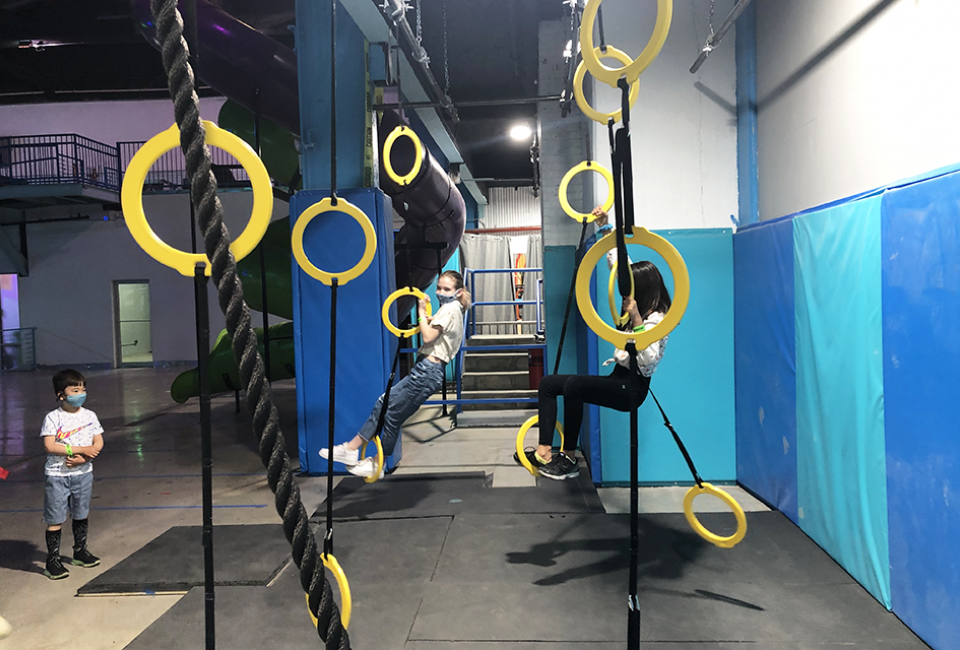 5/28/21
- By
Diana Kim
If your tween or teen has the energy to burn, we have found the place for them: Area 53 NYC is home to a ton of action-packed adventures spread over three locations in two boroughs. Area 53 NYC offers laser tag, paintball, water sports, and even an indoor adventure park with a dozen games and activities. Read on for our review of these thrilling new attractions—with two locations in Brooklyn and one in the Bronx—as well as our parent-tested, know before you go intel, pulled together after visiting with three kids ages 4-13.
Subscribe to our newsletters to get stories like this delivered to your inbox.
Located in an enormous warehouse-like space in Williamsburg, the Adventure Park activities are spread over two levels. They include a ropes course, climbing wall, roller rink, a ninja warrior course, laser maze, battle beam, skeeball, pool, foosball, air hockey, and slides. There's also a small area for toddlers, with swings and big blue blocks.
My kids had a blast, and the ropes course, with its zip line that encircles the arena, was a highlight. They also really enjoyed the ninja course and roller rink, complete with disco lights and a hazy, smoke-filled effect. Even my 4 year old was able to enjoy a mini-ropes course perfect for his age.
RELATED: New York Ninja Academy in Midtown Lets Kids Live Out Ninja Warrior Dreams

Area 53 NYC's Adventure Park has a few little-kid-friendly attractions, like this close-to-the-ground mini ropes course.
Area 53 disinfects and sanitizes its equipment and facilities nightly, and the staff was friendly and helpful, especially in aiding the kids with their harnesses. Currently, the staff is required to wear masks, while patrons are encouraged, but not required, to keep their face coverings on.
The admission price covers three hours of unlimited activities, and there's so much to do, my kids never got bored. Another bonus: It's a great spot to host a birthday party, with a large space upstairs near the lounge where you can bring your own food and drinks to celebrate.
Know Before You Go
Admission prices are $38 on weekdays; $48 on weekends. Children under 3 and spectators enter for a discounted rate.
There is no age requirement; however, there is a height requirement for the main ropes course, which requires a harness. While young children are allowed with adult supervision, the Adventure Park is best for older kids, tweens, and teens. Some of the activities, like the climbing wall, can be challenging—and frustrating to little ones.
Tickets must be booked online in advance as Area 53 is currently operating at a reduced capacity.
There are lockers for personal items; bring your own lock or purchase one from the front desk.
Roller skate rentals are $5, or you can bring your own skates.
An on-site concession stand sells a small number of snacks and drinks.
There are loud sounds and flashing lights.
RELATED: Supersized Bouldering Gym Opens in Harlem
Area 53 NYC's laser tag arena exists in a cavernous, refurbished Dumbo factory. During our visit, my two teenage daughters and I were paired up with two teen boys to compete against another group of five teen boys. Each team entered the game field on opposite sides. There was plenty of space to run and strategically placed columns, crates, construction cones, and nooks to hide behind and shoot from. Each laser gun allows a specific number of shots before the gun "reloads," and you can shoot again. To earn a point for your team, you have to hit a black box on your opponent's gun, and a scoreboard tallies each player's hits and misses.
A word of warning, though, the guns are meant to look and sound realistic, so keep that in mind as you consider visiting with kids. My girls and I had a lot of fun despite being teamed up with kids we didn't know. It's a great activity for birthday parties or with a large group of friends.
Know Before You Go
Admission is $37 on weekdays; $47 on weekends and grants you three, 15-minute laser tag sessions spread out over an hour and a half.
There is a height minimum of 3-feet-4-inches.
Although there is no age limit, the laser guns look somewhat realistic, make popping sounds when used ,and may not be appropriate for young kids or anyone who has had a traumatic experience.
The upper level houses a lounge area stocked with arcade games and a foosball table.
The laser tag arena is dark. It's flashing lights and loud sounds and may be jarring.
Paintball and Water Sports – Williamsburg, Brooklyn & Hunts Point, the Bronx
Area 53 NYC also offers paintball, airsoft, and water sports. Its indoor paintball and airsoft arena, spanning half a football field, is located adjacent to the Adventure Park in Williamsburg. You can rent paintball equipment, but you must bring your own equipment to play airsoft. The outdoor paintball arena is located in Hunts Point, the Bronx, and offers 65,000 square feet of outdoor space to run around and wage your paintball battle.
You must be at least 8 years old to play indoor paintball and 12 years old to play outdoor paintball. Indoor paintball costs $38 for weekdays; $48 on weekends for a three-hour time slot. Outdoor paintball is $50 on weekdays and $55 on the weekends. Reservations are highly recommended.
You can also enjoy kayaking or paddleboarding in the East River part of Area 53's water sports program. Rentals are available by the hour or the day.
Know Before You Go
Ages 3+ can ride in a double kayak, but you must be 16 or older to ride alone, and everyone under 18 years of age must have a waiver signed by their parents.
Paintball prices vary depending on whether you bring your own equipment. See the website for details on indoor and outdoor play.
Airsoft is available only on Tuesday nights, and you must bring your own equipment. It's $33 per person to play and available in Williamsburg only.
Private rentals are available at both the indoor and outdoor paintball arenas.
All photos by the author
Places featured in this article:
---
Area 53 NYC Indoor Adventure Park
---
Area 53 NYC Laser Tag
---
Area 53 NYC Outdoor Paintball & Water Sports