Launch Opens in Queens with Trampolines, Ninja Obstacle Course, Games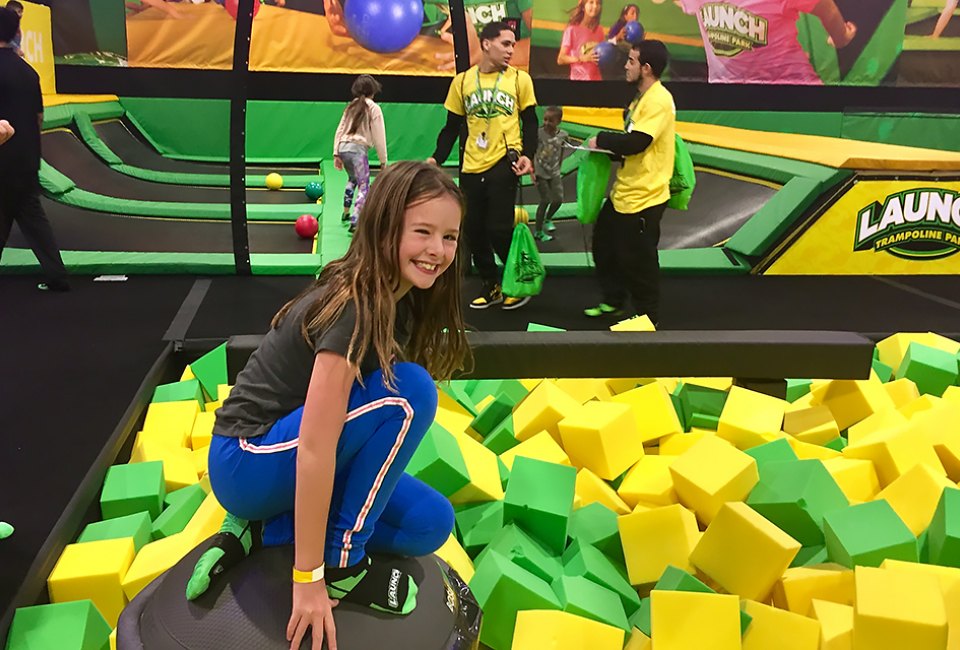 12/27/18
- By
Rosalind Muggeridge
With the cold weather officially here, most NYC parents are looking for a few good indoor play options. With the opening of Launch in Queens, another fun indoor attraction can be added to the list. Brand new as of November 2018, this trampoline park (and much more) boasts sparking clean attractions, super friendly staff, and lots of ways for kids of all ages to jump out their winter wiggles. Read on for the low down on everything this awesome space has to offer.
When I am looking for winter weekend activities for my kids, I usually turn to museums, atriums and other indoor activities to escape the snow and cold temps. But without driving out of the city, there aren't many places that boast enough space for kids to really get moving. That's why I was so excited to try out the new Launch location in the Howard Beach neighborhood of Queens.
RELATED: 20 Indoor Places Where NYC Kids Play for Free
Not surprisingly, the trampoline courts take center stage here. There are also "Tumble Traks"–extra long trampolines that allow you to do flips and tricks (or just bounce) across the room. The space is large and there are plenty of individual courts to go around. A rule that only allows one jumper per trampoline meant that I didn't have to worry about my 3 year old having to share a small space with a larger kid. In general, safety is the top priority here with plenty of staff who discreetly keep an eye on jumpers (especially little ones), to make sure everyone is following the rules to stay safe.
My family and I loved the two enclosed dodge ball courts. When we started an impromptu game with another family, a referee jumped into the court and helped guide our game. There are also dedicated basketball hoops – one even has a low net so that little ones get the chance to try to sink a basket or two.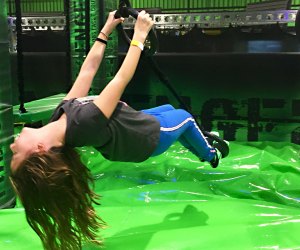 The coolest thing about Launch is probably The Ninja obstacle course. Visitors get to try conquering obstacles like the high flying trapeze, the spider wall, or the warped wall and there are lanes that cater to all skill levels.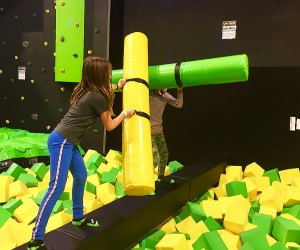 Just beyond the obstacle course you'll find the battle pit, where you can joust your friends with giant foam clubs on the battle beam or test your balance on the slack line. Watch your balance – one wrong step can land you in the foam pit! On the nearby Launch Pad, kids get to fly through the air practicing tricks like a stuntman, and land on a giant soft airbag.
RELATED: 19 Indoor Party Spots with Mega Playgrounds for NYC Kids' Birthdays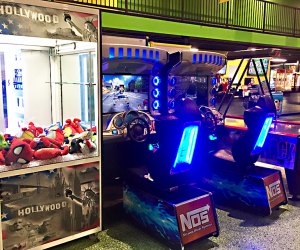 When your bounce session time is up, the fun is far from over. For an extra fee, there are a few arcade machines along with Paradox VR headsets featuring 100 virtual reality games. The Launch Eats counter has the usual fast food concessions on offer.

Of course, birthday parties account for much of the traffic at Launch and there are multiple party packages with the plenty of fun add-ons. I was also told that specific programs for teens, toddlers, kids with special needs, and homeschooling groups are coming soon. And with a new Launch location planned for Brooklyn, even more NYC families will have a chance to bounce away the winter months!

Good to Know Before You Go
Launch is open Monday-Thursday 3-9pm; Friday 3-10pm; Saturday 10am-11pm and Sunday 10am-8pm
Tickets are timed and groups are staggered to avoid overcrowding, but try to arrive when the space opens for the day to avoid the larger crowds that arrive later.
Fill out your waivers online in advance to save some time.
Special grippy socks are a required purchase for $3 a pair. (Keep the ones you buy to bring along for your next visit.)
Lockers are available for a small fee. You can also stash your stuff in your car and leave your shoes and socks on the racks provided.
Getting there: Public transportation is possible via subway and bus, but driving is probably your best bet. There's a large free parking lot on site.
Launch doesn't have an official age limit, but we think that this place is ideal for kids 4 years and older. Admission starts at $26 per person for 1 hour.
If you're hungry for something to eat after an energetic jumping session, head to DiVino Pizzeria right across the street for a delicious slice and a scrumptious piece of homemade chocolate cake. Or make a day out of your Queens trip with our list of other indoor Queens play spaces and gyms.
Photos by the author
Places featured in this article: