Bay Ridge Family-Friendly Restaurants: Soda Fountains and Eats from Around the World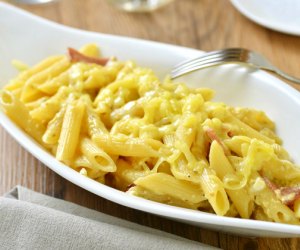 You're always close to great restaurants when you're in Bay Ridge. It's one of the many reasons we love living here. In fact, there are so many diverse culinary choices, my husband and I have been known to spend the first hour of our date nights strolling up and down Third Avenue before finally settling on a spot, always delicious.

But when we have our four kids in tow, indecisiveness is not an option. They don't want to walk and they want to eat now! Here are my family's top 11 kid-friendly restaurants in Bay Ridge, Brooklyn.
Stewart's (formerly Mike's Hinsch's)
8518 Fifth Avenue between 85th and 86th Streets
UPDATE: This old New York soda fountain rebranded again. It has almost closed twice in recent years until new owners saved it from the chopping block. A recent owner Mike Moudatsos (who added his moniker to the name) got a lot of flack for taking down Hinsch's iconic neon sign in summer 2013 and there's no question it was an aesthetic loss. But he overhauled the diner menu, too, and it's quite an improvement, and added modern touches like WiFi. Most importantly, he hasn't changed the yummy ice cream and egg creams that the place is famous for.

Arirang Hibachi Steakhouse and Sushi Bar
8812 Fourth Avenue between 88th and 89th Streets
Yes it's a chain but we keep coming back for the FREE kids' meals (on select dates), the tasty hibachi food, and the entertainment factor. Lady Gaga impersonations while building onion volcanoes? How can you pass that up?

Cebu Bar & Bistro
8801 Third Avenue at 88th Street
This swanky bistro is a great place to go for lunch or brunch with kids, or on a fancy date night. The menu includes a wide variety of sandwiches (the steak one is our fave), burgers and creative salads, and some of the sides can serve as meals for children. My kids especially like the mac and cheese and fries.

Schnitzel Haus
7319 Fifth Avenue between 73rd and 74th Streets
Despite the hit or miss reviews online, we've never had anything but positive experiences here. For $7, you can get American (burgers or chicken fingers with fries) or German kids' meals (gulasch, frankfurters) that include a drink and ice cream. The adult items we've tried have been tasty, with moderate prices and huge portions—lunch here equals dinner at most other places. Plus there's a wide selection of beer and live bands on weekends. If you go with a starving, non-vegetarian group and are feeling brave, try the Butcher's Plate: bauernwürst, liverwürst, blutwürst, and double smoked boiled bacon with sauerkraut and mashed potatoes.

Ho'Brah Taco Joint
8618 Third Avenue between 86th and 87th Streets
What this small spot lacks in size it makes up for in funky decor like surfboards. Tacos are the focus here and there are lots of different ones to choose from, all delicious (pork and pineapple is our favorite), great for sharing and perfect for tiny hands. The kids' brunch menu is under $5! There are killer Bloody Marys, too.

Anopoli Ice Cream Parlor & Family Restaurant
6920 Third Avenue between Bay Ridge and Ovington Avenues
Step into Anopoli and you'll feel like you time warped to old Brooklyn. We've only been here for the ice cream, which is phenomenal and the main attraction for more than a century now. But friends tell me this place has decent diner food, too. I can attest to the family-friendly service: I'm still thankful for the kind way the staff treated me and my four tired, sweaty children after we hiked back from a visit to Sunset Park one hot summer day.

Uno Chicago Grill
9201 Fourth Avenue near 92nd Street
I know, another chain. However, Uno's children's menu is incredibly cheap and even FREE on certain days, plus kids can make their own pizza right at the table. Bonus: It's always deserted on weekdays before noon.

Kimchee
9324 Third Avenue between 93rd and 94th Streets
This is a great place to introduce your kids to the fun and food of Korean barbecue. Yes it's a tiny space and I realize that cooking at the table with children around may sound scary. But it's surprisingly kid-friendly and very safe. Plus the service is attentive and gracious—they didn't blink an eye when my two-year-old pitched a fit toward the end of the meal.

UPDATE: Closed for renovations.
Vicolo
8530 Third Avenue near 86th Street
Many locals believe this restaurant serves the best Italian food in all of Brooklyn! The calamari and beef Bolognese are go-to choices for my family. Even the house salad is exceptional. There's no children's menu but you can't go wrong with pizza. While this place is quite family-friendly, it's also a great destination for date night (chocolate martini, anyone?).

Mike's Donuts & Coffee
6822 Fifth Avenue at 69th Street
Craving a homemade doughnut? This shop, opened back in 1976, continues to draw crowds for its wide selection like Boston creme, apple and cherry, jelly pom-pom, sugar twist and chocolate French cruller. Not only are these treats made the old-fashioned way—fried in oil and served fresh— the prices are retro, too. Be sure to arrive early: Popular flavors sell out by midday.

Little Cupcake Bakeshop
9102 Third Avenue at 91st Street
The cupcakes here are never stale or too rich. They're just right thanks to fresh ingredients like Vermont butter, Jersey eggs and European chocolate. Flavors run the gamut from traditional (vanilla, chocolate, strawberry) to the more offbeat (carrot, peanut butter and jelly, lemon). A great place to stop in for a treat (pudding and ice cream are on the menu as well), or to order customized cupcakes or cakes for your next birthday party.
Read all of our posts about exploring Bay Ridge, Brooklyn with kids.
Photo of pasta dish via Pixabay.