9 Sensory Gyms for Children's Physical Therapy in Manhattan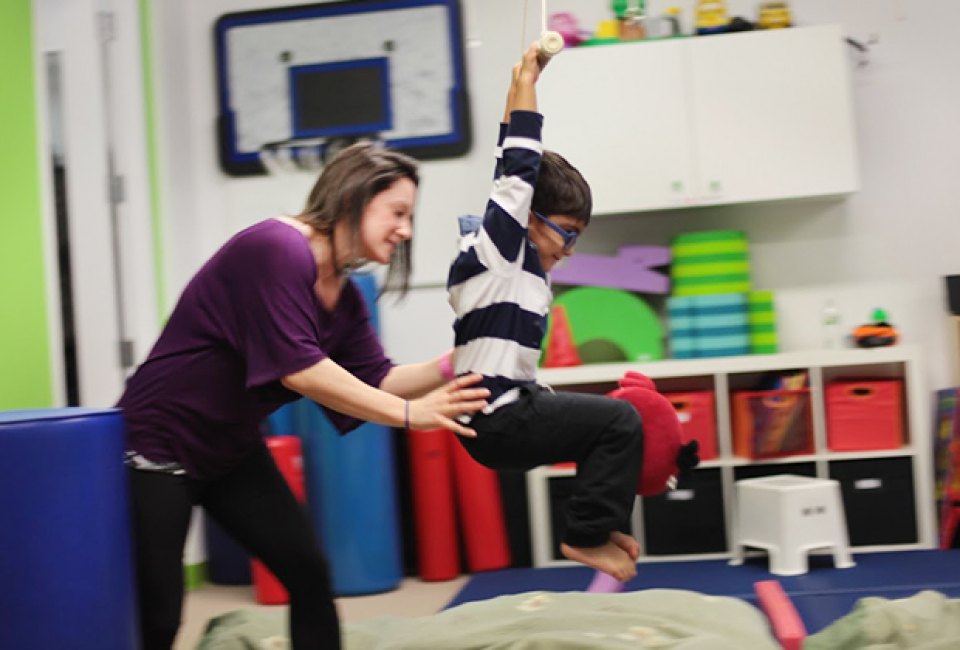 5/12/16
- By
Michaela
Living in a city as diverse as New York means that many services are right at our fingertips, including expert physical, occupational, sensory and speech therapists who specialize in children. Whether your child is facing a lifetime of therapy due to disability, or is working to overcome a developmental delay or other issue, the city's sensory gyms and therapists can help.
Manhattan has a bunch of amazing sensory gyms that offer fun, safe environments for children to work on their core strength, balance, fine motor skills, language, sensory integration, behavior, attention and social interaction skills. The bad news? There are so many options that picking the best sensory gym for your child's particular needs may feel like finding a needle in a haystack. We've rounded up nine top gyms to get you started. This list is by no means comprehensive, but as the mom to a tween with special needs who's been to quite a few of these spots, I believe these nine are a great place to start.
Check out our special needs and disability guide for more crucial info on resources and services for NYC families.
Some final thoughts as you get started: If you think you might like a specific facility, call right away to see if anyone is available during your child's free time. Get on waiting lists, even if you're not sure. You can always change your mind, but getting in later might not be so easy. Make sure to visit the gyms in person—what works for one child might not appeal to another.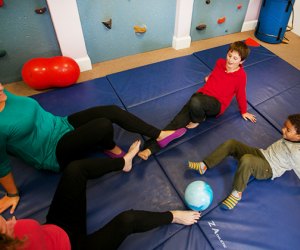 Crab soccer at CommuniKids makes the work a bit more fun—and silly.
CommuniKids – Upper West Side
164 West 79th Street at Amsterdam Avenue
212-712-2014
CommuniKids has two locations, including one in New Jersey, and provides occupational and and speech therapists. Each child is treated as an individual and upon evaluation provided with a personalized plan to address difficulties. A variety of therapies and specialties ensures each child can receive necessary treatments to address parents' concerns. Therapists are trained in the PROMPT Method, Myofacial Release, Floortime, The Listening Program and more.
RELATED: Find Special Needs Parent Groups Online and in NYC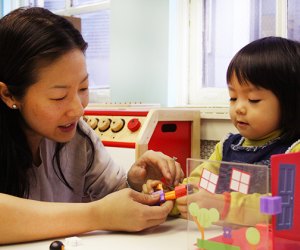 Fine motor skills are challenged at Connect the Dots, a pediatric occupational therapy clinic that specializes in sensory issues.
Connect the Dots – Midtown West
38 West 32nd Street between Broadway and Fifth Avenue
212-290-0290
True to its name, Connect the Dots will work with parents, caregivers and teachers to develop a holistic, individualized treatment plan for every child. With an emphasis on sensory integration, Connect the Dots provides OT and PT services as well as handwriting assessments and remediation and a therapeutic listening program complete with CD rental. The organization offers socialization classes during the summer months to help children get ready for the challenges of school. It works with facility-based clients whose services are mandated, as well as private-pay clients, and says it works with the latter to make the insurance reimbursement process as easy as possible.
Just Play NYC – Upper West Side
740 West End Avenue at 96th Street
212-665-5119
With locations in Manhattan and Westchester, Just Play focuses on occupational and physical therapy through the use of therapeutic play. Founder Craig J. Tollin partners with conventional and alternative medicine professionals to develop a course of action for children in his care. School visits are performed if necessary. You'll also find a speech-language pathologist and optometrist on staff, too.
Making Milestones – Upper West Side
150 West 92nd Street between Amsterdam and Columbus Avenues
212-595-1705
Making Milestones offers PT, OT and speech services for children. Specialties include working with children on the autism spectrum, those with developmental delays, social integration issues or handwriting problems. Making Milestones services clients through the use of sensory integration and offers individual and small-group sessions. In addition to care at its facility, Making Milestones will come to your home or your child's school.
Sage for Children – Upper West Side
140 West End Avenue at 66th Street
212-787-4086
Sage, which stands for Sensory Awareness and Growth through Exploration, primarily serves preschool through early elementary school children. Offering a multi-disciplinary approach, Sage offers PT, OT, speech-language therapy and counseling services in individual and small-group sessions.
Sensation New York – Upper West Side
127 West 82nd Street between Amsterdam and Columbus Avenues
212-362-6243
Sensation sees clients ranging in age from birth to 21. Founded by OT Chaya Gottesman, Sensation New York bills itself as "personal trainers, teaching skills for the job of everyday living."
RELATED: NYC Summer Camps for Kids with Special Needs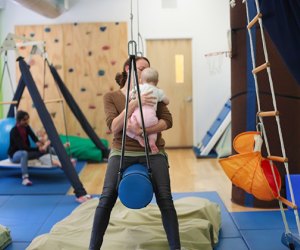 Try the booster swing for vestibular regulation and trunk control at SMILE Center.
SMILE Center – Murray Hill
171 Madison Avenue between 33rd and 34th Streets
212-400-0383
The SMILE Center provides OT, PT and speech therapy while emphasizing sensory integration. In addition, therapists are trained in DIR/Floortime techniques. One-on-one and small-group therapies are offered at this well-stocked, pediatric-focused sensory gym that lets kids try out swings and even a trapeze in some instances.
Theraplay NYC – Upper East Side
353 East 78th Street at First Avenue
212-288-1450
Theraplay NYC offers OT, PT, speech and play therapy. Its therapists are also trained to provide PROMPT Therapy and therapeutic listening. Theraplay NYC also offers small-group sessions to address handwriting difficulty and promote school readiness.
Watch Me Grow – Upper West Side and East Village
162 West 72nd Street between Amsterdam and Columbus Avenues
98 East 4th Street between First and Second Avenues
212-721-5220
Watch Me Grow strives to create a therapy environment that is an extension of your own home, believing that children will grow most in a "fun, energetic and caring environment." All therepy—OT, PT and speech—is done in equal partnership with parents. Services can be performed at one of Watch Me Grow's two Manhattan locations, in-school or at home. Individual therapy, small-group therapy and summer camps are all offered.
This article first published in October 2012.
Top image: Trapeze activity to work on core activation and visual coordination at SMILE Center. All photos courtesy of the respective venues.