The Adventures of Tortoise & Hare The Next Generation
The Sheen Center

The Very Hungry Caterpillar Show
DR2 Theatre

NYC Easter Brunch Cruise 2023
Event Cruises NYC
Sign up for our free newsletters.
Find Special Needs Parent Groups Online and in New York City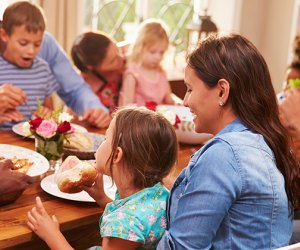 3/13/16
- By
Sona Charaipotra
For parents' of kids with special-needs, sometimes it helps to know you're not alone and to talk to someone else who gets it. But finding support from parents who know what you're going through can fall to the bottom of a long to-do list. We've gathered some of the best support resources—both online and in-person—for parents of New York City kids with special needs.
Autism Parent Support
This active Facebook page offers resources, news, links and a place ask questions (anonymously, if you prefer). You can interact directly with other parents who understand. Perhaps one the best features is the "daily vent" posts, where you can air your concerns, angst and anger and receive practical feedback and emotional support.

ADHD Support Group for Parents
An active community for parents of kids with ADHD, this Facebook group offers a safe space to anonymously ask questions and receive answers from other parents who've been there and can share.

Bronx Parents Autism Support Circle
With nearly 200 parents involved, it's dubbed by one enthusiastic member as a "best-kept secret." This Bronx-based group offers monthly meetings, casual gatherings and informational events, but perhaps as importantly an active (and private) Facebook community that offers resources, guidance and connection.
RELATED: NYC Summer Camps for Special Needs Kids

Downtown Spectrum Parents
An active group for parents of kids on the autism spectrum, this online forum, moderated by parent and advocate Lynn Decker and run via a Yahoo listserv, offers advice, insight and support for New York-area families.

Fathers Forum
In the mommy meet-up game, dads are often forgotten. So this group—offering online support and quarterly "fathers' forums" as well as more casual events—is focused squarely on fathers of special-needs kids.

Gigi's Playhouse
This drop-in community center, based in Manhattan, offers support, workshops and guidance for children with Down syndrome, including no-fee language, music, and physical education classes. It also offers support groups for parents, focusing on prenatal, new parents and Spanish-language resources.

MOCHA – Moms of Children Who Have Autism
With more than 140 members, this Astoria-based group offers support, advocacy and connections citywide for parents of children on the autism spectrum, including a Facebook group and weekly phone chats. The group offers lectures, evening events and group outings to things like the county fair, aquarium and Brooklyn Kite Festival.
RELATED: Autism-Friendly Museum Hours and NYC Cultural Programs

Queens Autism Parent Group
Run by the nonprofit Queens County Parents Autism Coalition, this group offers an online listserv for discussion, resources and support, as well as monthly meetings and events for families with children on the autism spectrum in the Queens area.

Single Mothers With Special Needs Children
This 95-mom strong Meetup group for single mothers of special-needs kids provides plenty of ways to connect, including a Facebook group, Twitter, Skype chats and even Slack (for those in the know). There are in-person meet-ups like sensory-friendly movie nights and museum outings for families who need a break with others who understand.
Photo via Shutterstock