NYC's Best Gluten-Free Bakeries for Kids: Sweet Spots for Gluten-Free, Nut-Free, and Dairy-Free Treats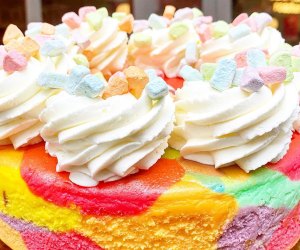 7/12/22
- By
Michaela
When it comes to special occasions, it's easy to leave kids with food allergies out of the fun, but NYC is home to myriad gluten-free bakeries and other sweet spots serving treats that include all the fun of a spectacular dessert while leaving out gluten, dairy products, nuts, soy, and other common allergens. Next time you're planning a birthday party or on the hunt for a sweet treat, consider supporting one of these local allergy-conscious sweet shops and gluten-free bakeries in NYC.
Looking for more kid-friendly sweets, treats, and eats? Bookmark our Guide to Kid-Friendly Restaurants in NYC for more picks at every meal.
Subscribe to our newsletters to get stories like this delivered directly to your inbox.
Before chowing down, make sure you discuss your specific food sensitivities with the staff to confirm the treat you're ordering doesn't contain any of those ingredients. All of these bakeries have allergen-free options but not everything they sell is necessarily allergen-free.
Specialties: Gluten-free, vegan, and kosher
With bakery locations in NYC, California, and Florida, this chain of gluten-free bakeries is a must-try. There are plenty of delicious options, including custom cakes, brownies, and doughnuts. If you're local to NYC, you can also order these tasty treats for delivery thanks to Postmates. The easy-to-use website lists its ingredients (or lack thereof) and merchandise to purchase, including cake mixes to try at home with the family. The treats can be a little pricey, but we think it's worth it because there are so many allergen-free options.
Specialties: Gluten and dairy-free
Craving a sweet cinnamon roll on a Sunday morning? Or perhaps you're looking for just the right way to celebrate a family birthday. Look no further than the Posh Pop Bakeshop in the Village. One of the best gluten-free bakeries in NYC, it carries about every kind of option for gluten-free or dairy-free desserts. Pop on by this popular NYC bakery for some sweet treats, including donuts, cookies, pies, and brownies.
RELATED: 20 Must-Visit Cafes, Sweet Shops, and Iconic Family-Friendly Restaurants in NYC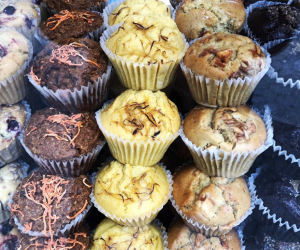 Body & Soul peddles gluten- and dairy-free muffins at a variety of greenmarket locations in NYC—most operate year-round.
3. Body & Soul – Multiple Greenmarket Locations
Specialties: Gluten- and dairy-free
Although Body & Soul doesn't have a website or storefront, you can find the treat maker at the Union Square Greenmarket and multiple other greenmarket locations depending on the season. Every time we see it, we stop by to grab some of our favorites like gluten-free apple pie or a gluten-free blueberry almond tea bread. Each item has a little card next to it that lists all of the ingredients, so you can indulge with complete confidence.
Specialties: Gluten-free and kosher
With a pair of gluten-free bakeries in NYC split between the Upper West Side and Chelsea, you can enjoy gluten-free bagels (its specialty) for breakfast, lunch, and dinner at Modern Bread and Bagel. But don't stop there. Check out its full bakery menu for chocolate zucchini bread, funfetti cupcakes, and a rotating rugelach of the month. It also offers plenty of savory bites and platters for larger parties.
Specialties: Gluten-free and vegan
Whether you're out for a quiet morning stroll or braving the whirlwind tourist destination of Midtown, you have a safe haven to stop for an afternoon delight: Mia's Brooklyn Bakery. With two gluten-free bakeries in NYC, Mia's Brooklyn Bakery also serves vegan treats. Enjoy its specialties like gluten-free chocolate mousse, a gluten-free and vegan hazelnut cake, and a gluten-free caramel coffee tart. Mia's focuses on classic desserts perfected and serves a wide variety of traditional baked goods as well. You can't go wrong with this NYC treasure.

The chocolate croissants at Noglu lack gluten but don't sacrifice taste.
6. Noglu – Upper East Side
Specialties: Gluten-free
With a 100% gluten-free menu, this Upper East Side treasure is sure to delight every family member. The menu includes both savory and sweet options, so if you're in the mood for a sandwich or a salad, you can also find those on Noglu's menu. The madeleines are a favorite choice for kids; we also recommend trying a chocolate eclair or the pecan tart. One bite and you can see why this is one of our favorite gluten-free bakeries in NYC.
7. By the Way Bakery – Upper West Side, Upper East Side
Specialties: Dairy-free, gluten-free, and kosher
Inspired by the original in Hastings-on-Hudson, this Upper West Side bakery offers dairy and gluten-free treats like delicious almond cookies, brownies, and tea cakes, all made from scratch in small batches. The menu changes daily but that's OK, it just means you can find a new favorite if your usual is out.
Specialties: Vegan
One of our favorite doughnut shops in NYC also happens to be vegan. Somehow, the texture is still just right. I recommend the jelly and maple glaze, but you can't go wrong here. A tip for this popular place: Many varieties sell out long before closing time, so go early. Or, if you need a dozen or more, order in advance.
RELATED: NYC Restaurants Where Kids Eat Free

Vegan fruit pancakes at Champs Diner.
Specialties: Vegan
If you're going to try one vegan place in the city, start here. Originally just a bakery, Champs has transformed into more of a restaurant and now offers 100-percent vegan salads, sandwiches, and other entrees in addition to desserts. This place is super kid-friendly and the "Death Before Decaf" sign that hangs in the window is totally in line with my life philosophy. The recent addition of mozzarella sticks is worth mentioning, too. Speaking as someone who hasn't had a real piece of cheese in a year (and misses it so much), I can attest to their awesomeness. If sweets are what you're after, try the blueberry pancakes with dairy-free cream or a delicious cinnamon-swirl version.
Specialties: Gluten-, nut-, sesame-, and dairy-free
Pick up gluten- and nut-free breads, cookies, cakes, and even pizza and pasta at this kitchen. It also carries a handful of dairy-free options like banana bread, challah, and deli rolls. The whole family can enjoy goodies from this allergy-free and gluten-free bakery.
I also want to put in a good word for the bakery at Whole Foods. Even though it's not allergen-free, every baked good has all of its ingredients listed on a card. I usually find several nut-, dairy-, and soy-free options for my family.
Originally published in 2014.
Photos courtesy of the bakeries and diners