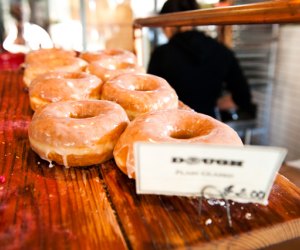 NYC Doughnut Crawl: 7 Great Shops to Indulge with Kids
As a bona fide foodie, I love going on culinary adventures in NYC. My picky 10-year-old? Not so much. There is no way he would ever hoof it through Queens sampling an array of ethnic eats like Anna and her family recently did. A doughnut crawl, however, was a much easier sell! After all, doughnuts are the new cupcakes, with shops ranging from been-there-forever classics to hot new hipster hangouts in far-flung corners of Manhattan and Brooklyn.
Armed with a well-researched list of doughnut shops and a MetroCard, my son, his pal and I set out to sample the city's best rings of fried deliciousness. We hoped to visit more shops, but our goal was bigger than our stomachs. Still, we had a ball trying and will definitely attempt part two soon!
So embrace your inner Homer Simpson and read on to see where we went and how to plan your own doughnut crawl with your family.
First a piece of advice: Don't order a doughnut for each child at every shop. Unsurprisingly, after three stops both kids felt sick and were begging to go home. Be sure to pace yourself or share those dunkers!
Stop 1: Peter Pan Donut & Pastry Shop – Greenpoint
727 Manhattan Avenue between Norman and Meserole Avenues
We traveled from midtown Manhattan to this iconic Brooklyn mainstay. I had been dying to visit for years, and it was well worth the trip. In fact, out of the three shops we hit, Peter Pan had our favorite doughnuts. Kitschy (in a good way), the bakery still has the same signs, countertops and pink-and-green staff uniforms since it opened in the 1950s. The doughnuts were a delicious surprise for the kids, who are used to a more processed taste. They opted for a decadent red velvet doughnut, a cream-filled ring topped with cake crumbs and frosting, and a way-better-than-basic vanilla frosted with sprinkles. Peter Pan also offers ice cream-filled donuts, egg creams and a large selection of other baked goods.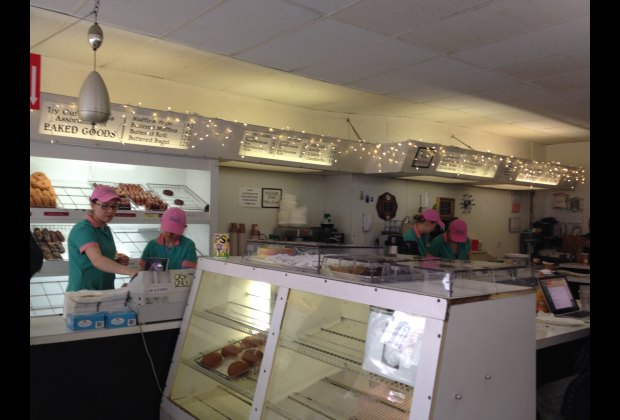 Peter Pan oozes with old-fashioned charm and doughnuts to match.
Stop 2: The Donut Pub – Chelsea
203 West 14th Street near Seventh Avenue
We took the subway back to Manhattan for another serving of nostalgia at The Donut Pub. This legendary shop is open 24-seven and has been serving delicious doughnuts and famous black and white (or half-moon) cookies since 1964. Our visit was a real NYC experience for the kids as they sat at the short counter and ate their treats. We indulged in our second vanilla frosted with sprinkles of the day, and a huge, chocolate-covered eclair. The Donut Pub bakes dozens of different varieties including old-fashioned, honey-dipped and even minis.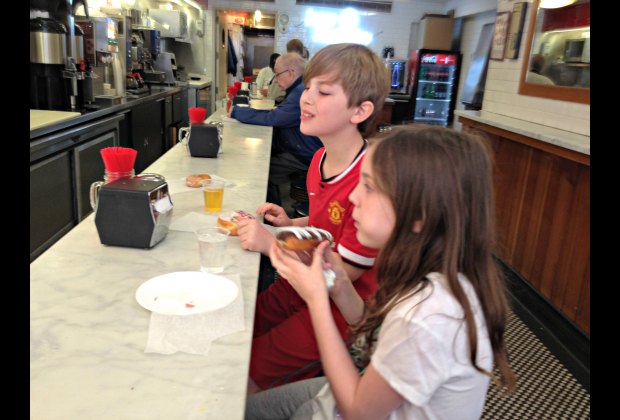 An old-school experience awaits at The Donut Pub.
Stop 3: Dough – Flatiron
14 West 19th Street between Fifth and Sixth Avenues
The original Dough is in Bed-Stuy, Brooklyn, but there are two outposts in Manhattan as well. We visited the recently opened West 19th Street location, but you can also sample Dough at City Kitchen in the Theater District. The bakery was packed with a line snaking out the door, but these doughnuts were worth the wait. The back of the shop houses the kitchen where you can see the bakers in action. Dough is known for serving creative varieties like hibiscus topped with its namesake flower. The doughnuts here are all yeast-raised (versus cake-style doughnuts) and are huge, delicate and incredibly good. We took a seat at the communal table where the sugared-up and carbed-out kids tried to finish their toasted coconut and lemon poppy seed doughnuts. They were full, though, so we packed up the leftovers to go. Afterward, I tried to get them to the West 23rd Street location of Doughnut Plant to try its funky square treats but, sadly, it will have to wait until next time.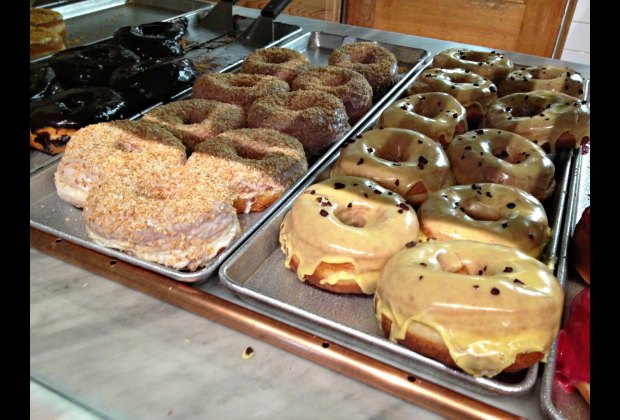 Dough's huge, exotically glazed doughnuts.
More Top NYC Doughnut Shops:
Here are the doughnut shops on my short list that we didn't get to visit. Next time!
Are we missing your favorite doughnut spot? Let us know in the comments. For more kid-friendly eats, check out our Restaurant Guide.
Top image: Doughnuts at Dough. Photo by John via Flickr.