Kid-Friendly Queens International Snack Crawl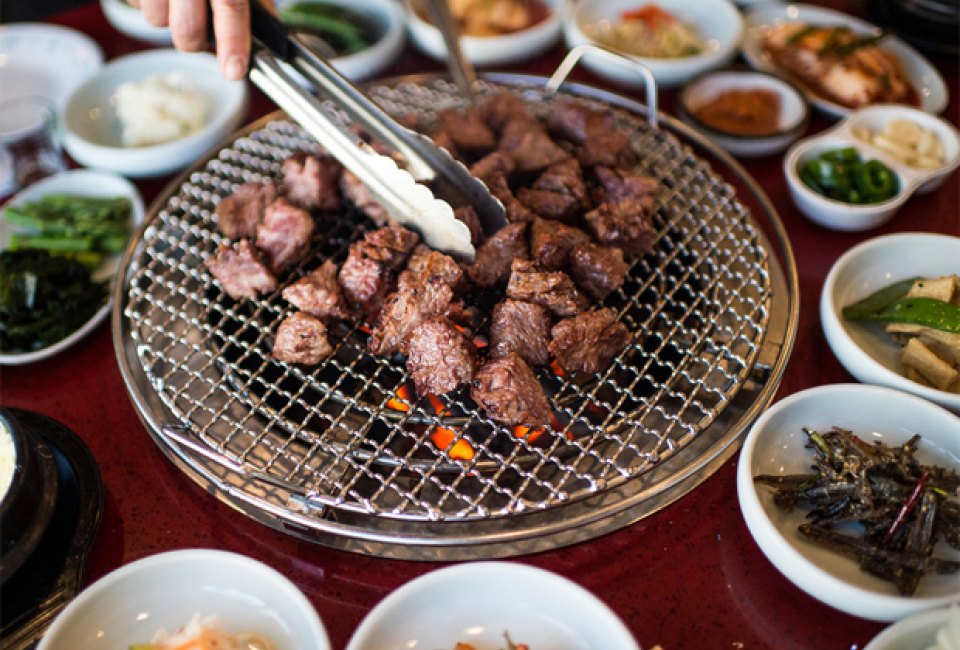 4/19/15
- By
Anna Fader
Foodies know that NYC's most diverse borough is where it's at for the best international dining delights. You can travel the globe with your kids going from neighborhood to neighborhood, exploring the different ethnic enclaves and great restaurants. After extensive research, we packed the kids in the car and set off to Queens to eat as much as we possibly could. Our Queens food crawl featured eight stops, seven nationalities and six neighborhoods. We didn't just eat great food; we had fun experiences and expanded our horizons. This is why we live in New York City, folks. If you haven't done your share of exploring the ethnic eateries of Queens, get hoppin'.
Here's where and what we ate:
Note about this tour: I planned the itinerary to be kid-friendly but adventurous, and mostly snacks that we could grab and eat in the car so we could keep moving and not fill up too much at any one place. I also focused on the areas that are a little more spread out to take advantage of having a car. Jackson Heights and Flushing have tons of great restaurants close to subway stops, and are worth dedicated foodie junkets. You can find roundups of our favorite kid-friendly restaurants in Jackson Heights and Flushing in our in-depth neighborhood guides to help plan those trips.

An adventurous eater at the ready. Dried anchovies? Why not.
Rokhat Kosher Bakery – Rego Park
Our first stop was, in some ways, the best. Rokhat is a little hole-in-the-wall bakery selling Jewish Uzbek breads, meat pies, dumplings and other unnameable treats. Well, I'm sure they have names, but since I don't speak Uzbek or Yiddish I was out of luck. The folks here literally don't speak English, not even enough to make change. At least not the guy at the counter when we were there; he sent for a kid from the back to come up and translate for me. It doesn't matter to regulars who pop in and know what they want and how much it costs, but for a first-timer it was baffling—in an awesome way. It's true immigrant New York here, bringing genuine global foods and an authentic experience.
There are lots of things to try at Rokhat, but the meat pies (samsa) are the thing to go for. I got a couple, jumped in the car and we started eating them right away, hot out of the oven. They were so good I wanted to turn around and get a dozen more before we were even down the block, especially since my kids gobbled them all down. So much for sharing! Next time I'll know to get more... and how to ask for them. Rokhat made me happy and I will definitely go back.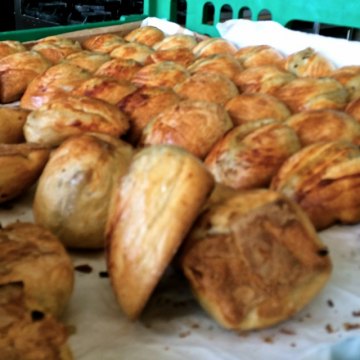 Samsa (meat pies) hot out of the oven from Rokhat Kosher Bakery
Andre's Hungarian Strudels & Pastries – Forest Hills
Just a few blocks away, we rounded out our breakfast with some baked goods from the Austro-Hungarian Empire. Andre's sells lots of traditional Hungarian cakes and pastries, but the thing to stop for here is the strudel, which is handmade the old-fashioned way. We also tried the chocolate croissant, which was heavenly. Yum.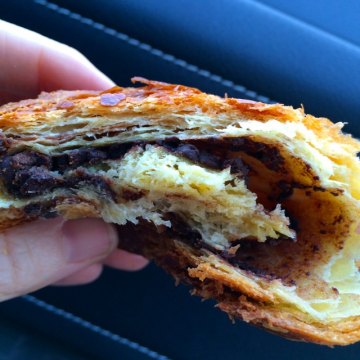 A chocolate croissant from Andre's Hungarian Strudels & Pastries
Mapo Korean B.B.Q. – Murray Hill
In deference to the limits of our stomachs and patience, we decided to pick just one sit-down meal for our food crawl, which was Korean barbecue since the restaurant experience is as important as the food. I could probably write a whole post about which Murray Hill outposts serve the tastiest Korean barbecue. We chose Mapo because it has long been touted as the best, but I agree with some foodie friends of mine that there are other, better places now. That said, you still can't go wrong here. We ordered the kalbi and cooked it up on our coal table grill. I'm not sure what was more fun, cooking at our own table or watching my kids experiment with the 20 side dishes, trying everything from little dried anchovies, spicy kimchi and many unidentifiable morsels.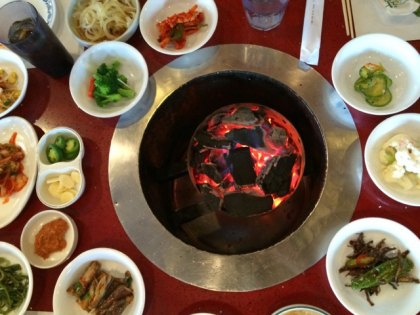 Korean barbecue comes with 20 side dishes at Mapo Korean B.B.Q.
H-Mart Asian Grocery – Flushing
Stuffed to the gills, we had to take a little break from eating, but not from buying food. We headed to H-Mart, the Asian grocery store, to stock up on goodies to take home. If you are in need of a gallon of kimchi, durian fruit, fresh squid, dozens of types of ramen, or just about any kind of Asian eats, this is your place. Just walking through the aisles and seeing all the packaging and different types of exotic foods is fun. We picked up some nice pork belly, pickled radishes and buns so we could make bao at home, something I've been wanting to try.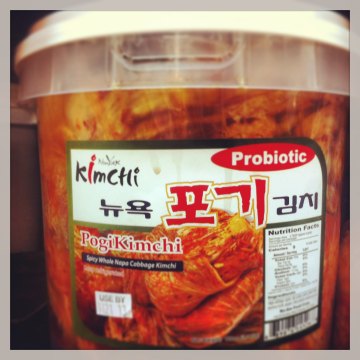 Who doesn't need a gallon of kimchi?
Kulu Desserts – Flushing
Hong Kong-style eateries are popping up all over NYC's Chinatowns, from tiny bubble tea shops to this dessert spot that sells fruit and tapioca puddings, shakes, smoothies and crepes. If you're feeling adventurous, try the snowy durian. Durian is a common fruit in Asia that is so stinky, it is actually banned in many places. It is definitely an acquired taste, but fun to try. My kids said their shakes were great. (I'll have to take their word for it since I wasn't even offered a taste.) Another great thing to try is sawdust pudding, a Hong Kong specialty that really looks like sawdust, but tastes like cookies.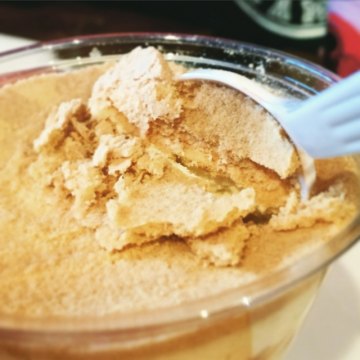 Sawdust pudding from Kulu Desserts
Empanadas Cafe – Corona
We love empanadas and eat them frequently so I hadn't originally planned to stop at Empanadas Cafe. But when a reader responded to one of my Facebook posts and recommended it as a fave, we decided to go. We were so full, I only ordered six of the delicious little pies, thinking we would take them home to eat the next day. Boy was I wrong; the empanadas were gone by the next stop and I didn't even get one! My tip for Empanadas Cafe: Call your order in when you are on your way since they take 10 to 15 minutes to prepare... and get a dozen.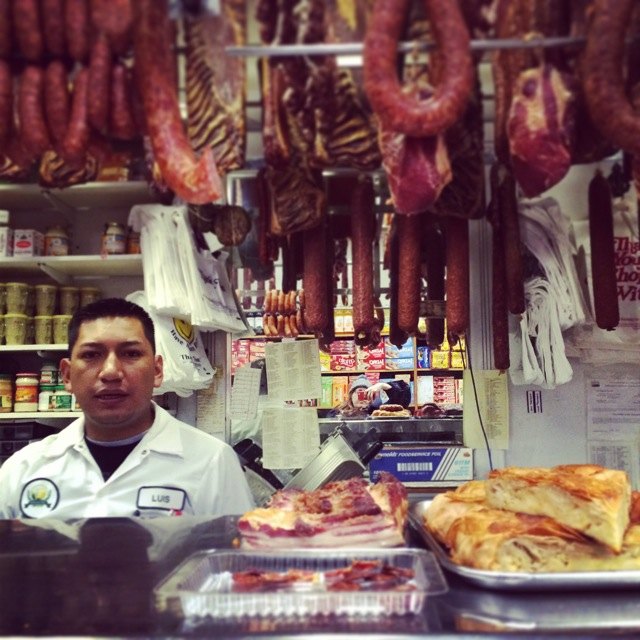 The friendly staff at Muncan Food Corp will help you navigate the seemingly endless varieties of smoked meats.
Muncan Food Corp. – Astoria
Muncan Food Corp. sounds like an industrial packaging company, but it's actually a charming little Eastern European butcher shop on Broadway in Astoria. Walking into this place you will be overwhelmed by all the types of smoked meats on offer. Luckily, the guys behind the counter are very friendly and happy to help guide you, offering samples and suggestions. I never knew there were so many types of bacon! We got two, as well as a couple of types of salami and some sausage to take home.
If you want to try our kid-friendly Queens food crawl on your own, use the map at the bottom of this page to plan your trip. If you go, we'd love to see your pictures. Share them with us on Facebook, Instagram or Twitter and tag @mommypoppins.
Top image: Mapo Korean BBQ. Photo courtesy Daniel Krieger Photography via Flickr.