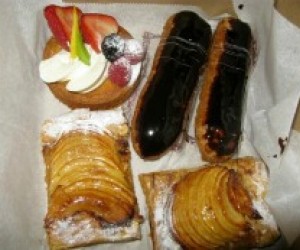 Kid-Friendly Eating in Jackson Heights: The Best Restaurants, Take-Out and Bakeries for Families
We continue our series of posts on Jackson Heights with a look at the area's best places to eat with kids. Although many people think of Jackson Heights as the place to get Indian food (they don't call it Little India for nothing), the neighborhood's diversity is reflected in its wide array of cuisine.

Last week, a Jackson Heights mom took readers on a colorful walking tour of her nabe, and not surprisingly she included many of her favorite restaurants for families. Eating is a big part of the culture here, and locals are as passionate about their top spots as they are about their borough's beloved Mets. So get ready to go on a culinary adventure: Here are 15 family-friendly restaurants, bakeries and take-out spots in Jackson Heights.
Jax Inn Diner
72-12 Northern Boulevard between 72nd and 73rd Streets
Relatively new to Jackson Heights, Jax features a modern and classy interior. Its massive selection of small plates and starters includes dishes from Italy, Asia, the South and Mexico. The two-dozen desserts and twelve shakes almost gives you too many choices. Despite spotty service, Jax is always packed.

Jahn's
81-04 37th Avenue between 81st and 82nd Streets
One of the few remaining original old-school soda fountains in NYC, Jahn's is famous for its desserts and drinks. So while the food is the usual diner fare, families can indulge in colossal and creamy concoctions like "The Rainbow Mountain" and "The Kitchen Sink," which includes 22 different flavors of ice cream.

Jackson House
82-14 37th Avenue between 82nd and 83rd Streets
No one seems to remember when this neighborhood institution opened. But this diner has long been known for its breakfast, burgers and fries, hearty chicken soups and roasts. Booths are cramped but service is friendly and fast.

Mama's Empanadas
8505 Northern Boulevard between 85th and 86th Streets
You'll find more than 30 tasty varieties of the little stuffed Latin pastries here, which makes it a great place for kids to sample and share. It's also cheap and fast, and what kid doesn't like to eat with his hands?

La Porteña
74-25 37th Avenue between 74th and 75th Streets
An Argentinean steakhouse may not sound all that family-friendly, but this place has a huge and varied menu, with great choices for kids like mozzarella sticks, empanadas, rice and beans, and a large selection of pastas. The gaucho (or cowboy) gear and soccer memorabilia adorning the walls should also wow youngsters.

Jackson Diner
We couldn't write about Little India without mentioning Jackson Diner, arguably the most famous Indian restaurant in Jackson Heights. Visitors flock here for the Indian buffet, which is excellent. But if you're looking for a less touristy experience, try...

Mehfil
76-05 37th Avenue between 76th and 77th Streets
We mentioned this neighborhood favorite in our Jackson Heights walking tour post, but it's worth touting again. Don't be deceived by the empty seats: The food is excellent and the addictive naan is brought fresh to your table rather than lying limp at the buffet. Samosas, mango chutney and tandoori fish are kid pleasers.

Rajbhog Sweets and Snacks
72-27 37th Avenue
This South Indian sweet shop offers a beguiling array of exotic little cakes in pinks and yellows that will most likely be totally foreign to your kid's tongue. The friendly owner is willing to give samples, or better yet, pick a bunch to try and share. Rajbhog also serves vegetarian savories, mango lassis and chai drinks.

UFC Chicken
71-22 Roosevelt Avenue between 71st and 72nd Streets
Due to expansion of the popular Bon Chon Chicken chain, Korean barbecued chicken is a hot item right now. Korean fried chicken is crispy and sweet, or can be ordered spicy. Either way it's delicious. The kids will also get a kick out of the name: UFC stands for Unidentified Flying Chickens.

Pio Pio
84-21 Northern Boulevard at 85th Street
This cheery, busy restaurant with bright yellow walls churns out a healthier Peruvian roast bird.

Pollos a la Brasa Mario
83-02 37th Avenue between 83rd and 84th Streets
Some locals prefer the rotisserie chicken at this Colombian restaurant, which also serves rice and beans, fried yucca and smoothies.

Cannelle Patisserie
75-59 31st Avenue at 79th Street
How's this for foodie cred: The owner of this French bakery trained under Parisian macaron connoisseur Pierre Hermé. It's hard to believe such high-end pastries are sold in a Jackson Heights strip mall 10 minutes from LaGuardia airport! Our photo above includes a few of the treats you'll find here... is your mouth watering yet? Other offerings include breakfast fare, sandwiches, quiches and the spot's famous pecan pies.

Espresso 77
35-57 77th Street near 37th Avenue
Owned by a pair of Jackson Heights spouses, this quirky local fave is known for its industrial-strength New Orleans iced coffee and locally baked organic treats. You can peruse work by local artists on the walls while your kids browse the book collection, which is stored in baskets. Both owners have a background in architecture which is reflected in the venue's sleek interior. There isn't much stroller space but there is a diaper-changing-friendly bathroom, and there are benches outside.

La Gran Uruguaya Bakery
85-06 37th Avenue between 85th and 86th Streets
You'll find plenty of space at this massive and immaculately clean bakery, which sells inexpensive pastries, empanadas and sandwiches along with tea, coffee and espresso drinks. La Gran recently launched a sing-along for kids. Call 718-505-0474 for the schedule.

Lety's Bakery and Cafe
77-07 37th Avenue between 77th and 78th Streets
Though it's not much to look at, Lety's serves quality mini Italian-style tarts and cookies. The cannolis and cheesecakes are superb.

Read more of our posts about Jackson Heights, Queens.