The Adventures of Tortoise & Hare The Next Generation
The Sheen Center

The Very Hungry Caterpillar Show
DR2 Theatre

NYC Easter Brunch Cruise 2023
Event Cruises NYC
Sign up for our free newsletters.
Favorite New York City Indian Food Restaurants for Eating with Kids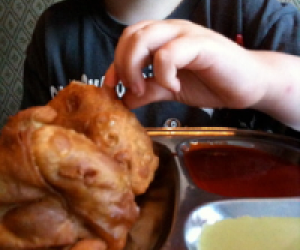 3/14/11
- By
Anna Fader
Some people might not think of Indian food as very kid-friendly since it is famous for its spiciness, but you know, kids in India eat too and there are tons of very child-friendly foods that your kids will love. In fact, Indian food is my kids' favorite food and we eat it almost weekly in one form or another. I even send samosas in their lunch boxes.
If you aren't familiar with kid-friendly Indian food, try these non-spicy dishes: samosas (pastry filled with meat or vegetables), chicken tikka masala (a creamy, sweet curry), tandoori meats, pulao or biryani rice dishes, mango lassi (an Indian milkshake) and of course lots of delicious Indian breads, which are made fresh to order.
Indian Restaurants:
When I was growing up, the place to get Indian food was East 6th Street in the East Village between First and Second Avenues. For a few dollars, you could get a huge meal and the restaurants were always outrageously decorated with Christmas lights and fabric draping from the ceiling. Most people do not think these little hole-in-the-wall restaurants are any good, but I still love to go to 6th St where most spots will serve you a complete dinner for $8, and the outrageous atmosphere is kind of fun.
For great Indian food we head to 28th and Lexington (affectionately known as Curry Hill) where Chennai Garden serves deliciously spiced vegetarian dishes and dosas. The more casual Haandi on 28th street is also good and has an $8 combo platter.
The Jackson Diner has become the most well-known stop for visitors looking for Indian food in Jackson Heights (cash only), and has forced the restaurant to move out of its old incongruous diner building (hence the name). But its popularity hasn't dampened the excellent food. While Jackson Diner serves authentic northern Indian foods, nearby Southern Spice does the same for Southern Indian cuisine.
Dosas:
Dosas are giant pancake-like breads that are served with different fillings plus lots of chutneys to dip. We LOVE dosas and since our favorite dosa place closed down, we have been on the look out for a replacement. Chennai Garden serves them, as I said, but some other spots that I have been dying to try are the Dosa Hutt in Flushing, Queens and the dosa cart in Washington Square. Hampton Chutney Co in SoHo (also UWS and Amagansett) serves An americanized version that I enjoy, but it's not the same thing.
Treats:
Trying out desserts from other cultures is really fun. In Manhattan The Pakistani Tea House, a hole-in-the-wall restaurant in TriBeCa has a glass case filled with different desserts. In Jackson Heights, Maharaja Sweets and Snacks has an even more extensive display case of treats. They also serve other wonderful snacks and delicious masala chai spice tea.
A word of warning about Indian desserts: Some kids get very offended when their treats are not as they expect them to be, so I recommend explaining that these sweets are Indian and they will be trying something new before they take their first bite. I'd also recommend letting them pick out a few things to sample so hopefully at least one will suit (and guess who gets to eat the leftovers?).
What are your favorite Indian food restaurants?