Flushing Family-Friendly Restaurants for Dim Sum and More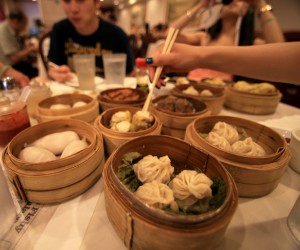 Flushing, Queens is famous for its Chinese restaurants—it's got as many dim sum houses as Manhattan's Chinatown. As Queens residents, this is where my family goes for dumplings and bubble tea. But while there are certainly a slew of Chinese eateries in Flushing, many other Asian and other ethnic cuisines are represented in the diverse neighborhood. Large Asian shopping centers like New World Mall and Golden Shopping Mall contain food courts jam-packed with pan-Asian vendors, and you'll find Malaysian, Korean, Indian and even pizza in the nabe's commercial center. Here are our top 12 places to eat with kids in Flushing.
Asian Jewels Seafood Restaurant
13330 39th Avenue between College Point Boulevard and Prince Street
Well known as one of the best dim sum spots in the nabe, this restaurant has a swanky style (chandeliers, gold-colored tablecloths) and a massive menu with both exotic and down-to-earth offerings, like all kinds of dumplings (seafood and otherwise), spring rolls and main dishes, too. Not sure what the servers are pushing around in their carts? Ask and they're happy to tell you, although sometimes it's fun just to say yes and eat whatever comes your way. If you go on a weekend, be prepared to wait... for a while. Weekdays are less crowded and the dim sum is discounted, too.

Jade Asian Restaurant
136-28 39th Avenue at 138th Street
Another iconic Flushing dim sum house, Jade Asian has pretty red lanterns, floor-to-ceiling windows and delicious food. Choose from small dishes like pork buns, shumai and dumplings, or go for entrees and share. This place is also super-busy on weekends.

Tianjin Dumpling House
Golden Shopping Mall, 41-28 Main Street near 41st Road
Located in the basement of the Golden Shopping Mall, this tiny stall serves up some of the best dumplings in town, including a dessert dumpling called Tang Yuan filled with black sesame paste. Other specialties include beef roll, lamb and green squash dumplings, and scallion pancakes. Look for the red sign pointing you to the right stall—it's definitely worth searching for in this crowded food court.

Red Bowl Noodle Shop
40-52 Main Street near 41st Avenue
Once you spy the big red bowl on the top of the building, you'll know you're in the right place. The dim sum is yummy but my family also loves the fried rice with taro, congee and the Chinese sausage. I brought a group of students here on a school trip once after a show at Flushing Town Hall to try dim sum and they loved it.

Ten Ren Tea & Ginseng
135-18 Roosevelt Avenue between Prince and Main Streets
My family's go-to place for bubble tea: cold milk or fruity tea drinks with black tapioca balls floating inside. This international chain is based in Taiwan and specializes in a wide variety of teas, bubble and otherwise. You'll also find Ten Ren outposts in Brooklyn and Manhattan's Chinatown.

Taipan Bakery
37-25 Main Street between 47th and 38th Avenues
42-05 Main Street near Maple Avenue
With two locations in Flushing and one in Chinatown, Taipan is a popular spot for delicious Chinese desserts. Drop by for yummy cakes with offbeat flavors like green tea and mango tofu, sweet breads, egg custards and seasonal moon cakes.

Sentosa Malaysian Cuisine
39-07 Prince Street near Roosevelt Avenue
This Asian fusion restaurant specializes in Malaysian and Singaporean dishes. There are lots of tasty rice and noodle items on the menu. My family loves the roti canai, a thin crispy pancake that you dip in potato curry sauce and the Malaysian nasi lemak, a rice dish cooked in coconut milk and pandan leaf.

Hahm Ji Bak
41-08 149th Place between 41st and Barclay Avenue
Chow down on spicy barbecue and other Korean staples like bibimbap. Complimentary banchan (small plates) like kimchi pancakes, steamed egg custard, and cabbage and white radish kimchi precede the meal. Kids have fun trying a bunch of little dishes and especially barbecuing their own meat.

Gyro Corner
32-69 Francis Lewis Boulevard near 33rd Avenue
Not in the mood for Asian food? This Mediterranean place has great burgers, gyros and other regional staples. It's popular with locals and even my mom who lives all the way in Jackson Heights makes the trip for take out. The personal pizzas and kabobs are perfect for kids. My daughter loves the Greek-style pizza with chicken cubes.

Lucia Pizza
136-55 Roosevelt Avenue between Union and Main Streets
One of the only pizzerias in the nabe is, happily, pretty great with thin-crust pies with all the usual toppings. This spot is often filled to the rafters so in nice weather, grab your pizza to go and hit nearby Weeping Beech Park.

Punjabi Indian & American Restaurant
160-20 46th Avenue
Enjoy Indian, pizza, pasta or sandwiches at this multicultural eatery. In truth, most folks drop by for the Indian dishes, including tandoori, veggie and meat specialties.

Five Guys Burgers and Fries
40-24 College Point Boulevard near Roosevelt Avenue
And if you just need a good ol' burger and fries, there's an outpost of the ubiquitous chain in the heart of downtown Flushing.

Read all of our posts about exploring Flushing, Queens with kids.