NYC Restaurants Where Kids Can Make Their Own Food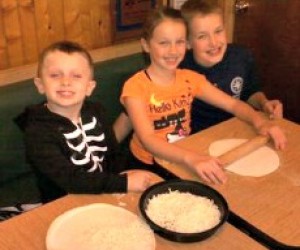 When you have four kids like I do, eating out can be more of a chore than just staying in and cooking. A "kid-friendly" restaurant isn't going to cut it; we need a place where our brood will be truly engaged. That's why I'm always on the lookout for interactive restaurant experiences so eating out feels like a fun activity, not just another meal.

In the past, we've covered New York City restaurants where kids can play and eateries with family entertainment. But there are also a handful of local restaurants that offer make-your-own-food activities. My family has tried a few of them, and they're worth seeking out. Where else can you encourage your kids to play with their food and mean it?
Uno Chicago Grill – Citywide
Yes, I realize it's a national chain. But my family and I are regulars because of the make your own pizza option for children under 13. Kids get their own apron, thin-crust pizza dough, sauce and toppings, and then they go to town setting up their pies exactly the way they want. Bonus: On Tuesdays one kid eats free per paying adult at most locations.

Blue Smoke – Battery Park City & Murray Hill
255 Vesey Street near North End Avenue
116 East 27th Street between Park Avenue South and Lexington Avenue
My family and I have enjoyed many a meal at the Battery Park City outpost of this tasty barbecue spot. It's a very kid-friendly place, with plenty of high chairs, a baby-changing station in the bathroom and stroller storage. There's a great kids' menu for ages 10 and under that includes one entree, a side, a beverage and dessert. The DIY part? The big pig sugar cookie that kids can decorate at the beginning of the meal, which is then baked while you eat.

Jimmy Max – Staten Island
280 Watchogue Road near Livermore Avenue
150 Greaves Lane
This popular family-owned Staten Island mini-chain made our list of the top ten kid-friendly restaurants in the borough. Both locations offer regular Children's Pizza Making workshops where kids can prepare individual pies in just nine simple steps. These pizza seminars (as they're called on the website) take place at both Jimmy Max locations on Mondays and Tuesdays from 5 to 7:30pm and are FREE with the purchase of an adult meal. Reservations are required. In addition, the Watchogue Road outpost offers live music for kids by Music With Patrick during the pizza making.

Rosa Mexicano – Manhattan
1063 First Avenue at 58th Street
61 Columbus Avenue at 62nd Street
9 East 18th Street between Fifth Avenue and Broadway
In addition to a delicious kids' menu, this high-end Mexican chain offers a Rock the Guac program, where kids learn how to prepare guacamole right at the table. Contact individual locations for further details.

Another awesome interactive eating experience? Gogigui, a.k.a. Korean barbecue, where you can cook your own meat at the table. We wrote an entire post about the best Korean barbecue spots for NYC kids.

Also worth mentioning: family-friendly Sycamore in Ditmas Park, which offers up its grill to customers who bring their own food.

Read our other posts about the best NYC restaurants for kids.