Staten Island Family-Friendly Restaurants: 10 Places to Eat with Kids on SI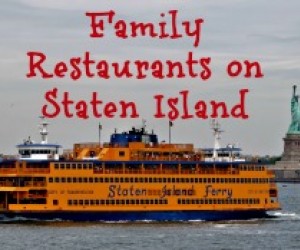 Before I had children, I was always eating out. And now that I have kids, nothing has changed—except perhaps the time that we eat. (No more 9pm dinners!) As a Staten Islander, I'm constantly on the lookout for restaurants in our borough that serve good food and have a nice atmosphere, but are also welcoming to my two boys, ages eight and one.

While it's true that Staten Island has a lot of fast-food joints and mall food court chains, we've got other options, too. Over the years, my family and I have dined all over the borough, and there are certain restaurants that stand out from the rest. Some spots offer entertainment along with the eats, others feature an old New York ambiance and a few offer great deals specifically for families, including one where kids eat free. Here are my top ten favorite places to eat with kids on Staten Island.
Every Thing Goes Book Cafe & Neighborhood Stage – Tompkinsville
208 Bay Street at St. Marks Place
Even if you're not a bookworm, this bookshop/cafe is a great hangout. It's got floor-to-ceiling shelves of used books, is cozy and quiet, offers free Wi-Fi, and serves a variety of healthy snacks, sandwiches, fruit juices, exotic teas and coffees. My family and I often stop here after school so my school-age son can do homework and grab a bite before we head to our next activity. There's also a garden and even a small stage where kids can pretend to perform (when it's not in use, of course). Make sure to check the event calendar as there are occasionally kid-friendly performances on weekend afternoons.

Beans and Leaves Coffee and Tea Cafe – West Brighton
422 Forest Avenue near Metropolitan Avenue
This is one of my family's go-to places. We even have a favorite table: It's got two cushy Victorian chairs and looks out onto the street. The daylight shines in as we sip tea or cocoa. We even go in the afternoons so my son can do his homework there (again... before we're off to our next activity. It's never straight home after school for us!). On most days you'll see kids at every table with backpacks, grabbing snacks like pastries or bagels (no hot food here) or warm sweet beverages. Despite the young crowd, it never gets rowdy or loud, something I really appreciate, and there are lovely paintings by a local artist on the walls. There are even high chairs so my baby can sit and people-watch.

Bayou – Clifton
1072 Bay Street between Chestnut and St. Marys Avenues
Looking for something fancy for dinner? Try Staten Island's only Cajun-Creole restaurant, which looks like something you'd find in New Orleans' French Quarter. Even though Bayou is fine dining, don't let that scare you off. My kids enjoy coming here. The atmosphere is cool, the food is great and children are definitely welcome, there are even high chairs and a kids' menu. It's a fantastic way to introduce the brood to dishes like crepes, po boys, jambalaya and even alligator. Check the website for Bayou's lineup of live music. There's even a jazz brunch.

Unfortunately, this location has closed.
Moonstruck Cafe – Richmond
3483 Richmond Road near Andrews Avenue
A cute family-owned cafe located in a tiny strip mall, Moonstruck has a back room where kids can lounge in comfy chairs and watch TV while parents enjoy adult time at tables in the front. The simple menu includes sandwiches, wraps, soups and a wide variety beverages, both hot (coffee, teas, lattes) and cold (fruit smothies and protein shakes). My favorite is the iced coffee with vanilla syrup. And there are pasties for dessert, too.

Jimmy Max
280 Watchogue Road near Livermore Avenue in Westerleigh
150 Greaves Lane in Great Kills
One of my eight-year-old's favorite foods is pizza! He doesn't just like to eat it, he's fascinated by how it's made. So he was thrilled when we went to the mini-chain's signature Children's Pizza Making workshop. After preparing individual pizzas (only nine easy steps!), my son and his friends played around and hung out with the servers until the pies were ready to eat. These pizza seminars (as they're called on the website) take place at both Jimmy Max locations on Mondays and Tuesdays only from 5 to 7:30pm and are FREE with the purchase of an adult meal. Reservations are required. Kids not into cooking? You can sit down and order a meal any day of the week. There's even a kids' menu. Jimmy Max also offers pizza-making party packages.

Gennaro's – Oakwood
413 New Dorp Lane near Hylan Boulevard
After a soccer game at Miller Field, nearby Gennaro's is the place everyone goes. The restaurant is smartly split into two sections: One side for fine dining and the other a casual pizza joint. If you have older children, you can send them to the pizzeria part while you and your partner (or friends) enjoy a grown-up dinner in the swankier space. Of course my boys aren't old enough to dine alone so when we go, we all eat together in the pizzeria. We even held my son's first birthday here and the staff was so helpful and accommodating.

Marie's Gourmet – Silver Lake
977 Victory Boulevard near East Cheshire Place
Conveniently located next to Silver Lake Park, Marie's Gourmet is a great place for comfort food before or after an outing there. I especially like the eatery during warmer months because we can enjoy the lovely outdoor eating area. I first visited Marie's with my son's soccer team. We arrived with about eight seven-year-olds in tow and without batting an eyelash the staff seated the kids in booths and gave the parents tables. The children got a kick out of ordering on their own and the staff made sure everyone was happy. Ever since then, Marie's has been a place my family frequents.

Cheeburger Cheeburger – Charleston
2935 Veterans Road West between North Bridge Street and Tyrellan Avenue
Yes, it's a national burger chain. But this Johnny Rockets-style restaurant is fun for the kids. Every Wednesday is Family Fun Night. There's a clown who does balloon animals and face painting. In addition to being spacious and equipped with booster seats and high chairs, Cheeburger Cheeburger has cute retro decor and the kids' meals are served in little old-fashioned cars. Though I'm not recommending it, if your kids finish their entire "pounder," their pictures will go up on the Wall of Fame and a small speech will even be given in their honor.

Moe's Southwest Grill – New Dorp
2397 Hylan Boulevard at Locust Avenue
I decided to check out Moe's after reading about the chain's kids eat free offer. For every purchase of $5 or more, kids eat free on Wednesdays from 5 to 9pm. At Moe's, you can customize your meal so just placing an order is fun for my eight-year-old. Moe's also pays homage to late great musicians in the artwork on the walls and the tunes that play. This always sparks conversations with my son. He'll hear a familiar melody and then we'll discuss how a contemporary artist sampled it.

Bay Street Luncheonette & Soda Fountain – Rosebank
Unfortunately this restaurant closed in June 2014
A genuine old New York soda fountain that originally opened in 1938, Bay Street is currently owned by a local Staten Island family. Due to its late '50s/early '60s rock and roll theme, it looks and sounds like walking into into a scene from Happy Days. The vibe is great, authentic and super kid-friendly, and many Staten Island families have been coming here for generations! During fall, winter and spring, the restaurant, which serves a wide variety of typical diner food, closes at 3pm on weekdays to avoid after-school crowds. But during the summer, teens pack the place to enjoy milk shakes, old-fashioned egg creams and ice-cream floats. All that's missing is a jukebox. I'll have to put that in the suggestion box next time we visit.

Check out our Staten Island Family Guide for other great places to visit with kids in the borough.