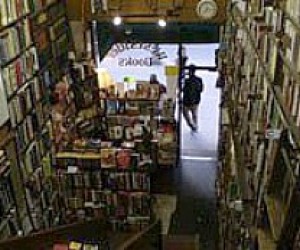 Used Kids' Books in NYC: Where to Buy Second-Hand Children's Lit
As a novelist myself, I'm all for people supporting authors by purchasing brand-new copies of their books. However, as a budget conscious mom who has watched her two small children spill/drool/color all over expensive picture books, I know that sometimes buying used titles makes a lot more sense.

While there are lots of ways to snag second-hand kid-lit online—I see tons of kids' stuff up for grabs on sites like freecycle.org and paperbackswap.com—I really enjoy browsing used books in person. I always end up finding wonderful, weird vintage tomes, and I don't have to wade through all of the branded characters stocked by big box bookstores.

Here are my top shops in New York City to find used children's books.
The Strand – Union Square
828 Broadway at 12th Street
212-473-1452
When it comes to used books for readers of all ages, The Strand is always your best bet. Post-renovation, the store has an expansive children's section, and even the new books are discounted. The shop hosts a free Family Hour storytime on Thursdays at 3:30pm, and other intermittent kids' events. It's also a great place to sell off books you're done with, but the staff only accepts items in good condition, so drool-encrusted stuff won't cut it.

Books of Wonder – Flatiron District
18 West 18th Street between Fifth and Sixth Avenues
212-989-3270
NYC's oldest children's bookstore offers an outstanding selection of rare, out-of-print books, including its famous Oz collection. While it's a fun to look, these second-hand tomes are meant for serious collectors. Every week, Books of Wonder hosts multiple author events, and over the years many big names have stopped by to read and promote their work. The shop also has a weekly "good old-fashioned" storytime on Sunday, featuring books pulled from the shelves and tailored to the ages of the kids in attendance.

Unnameable Books – Prospect Heights
600 Vanderbilt Avenue between St Marks Avenue and Prospect Place
Brooklyn, NY 11238
718-789-1534
This small but well-curated shop has a proportionally tiny kids' section. Curl up in the comfy easy chair and flip through a stack of vintage Little Golden Books. The staff is friendly and knowledgeable, and accepts old books in exchange for store credit. Bonus: You're near the amazing ice cream haven Ample Hills Creamery.

P.S. Bookshop – Dumbo
76 Front Street at Washington Street
718-222-3340
You'll find a great selection of children's titles at this airy used-book store. The shop also buys second-hand books, and hosts a weekly story-playtime for preschoolers on Thursdays at 4pm, which includes a sing-along. The cost is $5 and reservations are recommended.

Westsider Rare & Used Books – Upper West Side
2246 Broadway between 80th and 81st Street
212-362-0706
This cozy haunt is my idea of the archetypal used-book store, featuring ceiling-high shelves crammed with all kinds of tomes, and a rickety staircase stacked with—you guessed it—even more books. While the shop offers lots of children's titles (you can check the inventory online!), kids need to know how to keep their hands to themselves here. Westsider also buys books and sells records.

Housing Works Bookstore Cafe – Soho
126 Crosby Street between Houston and Prince Streets
212-334-3324
The children's section here is admittedly small, but the proceeds go to such a great cause, and the cafe is adorable.

Freebird Books & Goods – Cobble Hill
123 Columbia Street near Kane Street
718-643-8484
Browse an eclectic selection of titles at this quaint used-book store, which has a smattering of offerings for children. The shop also hosts Writopia writing classes for tweens and teens.

Every Thing Goes Book Cafe & Neighborhood Stage – St. George
208 Bay Street at Liberty Street
718-447-8256
Part of a Staten Island mini-chain of stores that sell used items, this is the biggest second-hand bookshop in the borough. This happening spot also boasts a garden, gallery, stage and cafe that sells organic and fair trade coffee and tea. The retro vibe is reflected in its collection of children's books, which are of the Nancy Drew variety, and the free programming includes art and performance workshops for kids.

Kids' Resale Shops and Thrift Stores
Although you probably wouldn't go to a children's resale shop expressly to buy books, many have a small selection of titles. Some thrift stores turn out to be treasure troves, too. So if you happen to be dropping by anyway, it's worth asking if there are books around.

Looking for more great bookshops? Read about our favorite local bookstores in NYC.