Mommy-and-Me Exercise Classes in NYC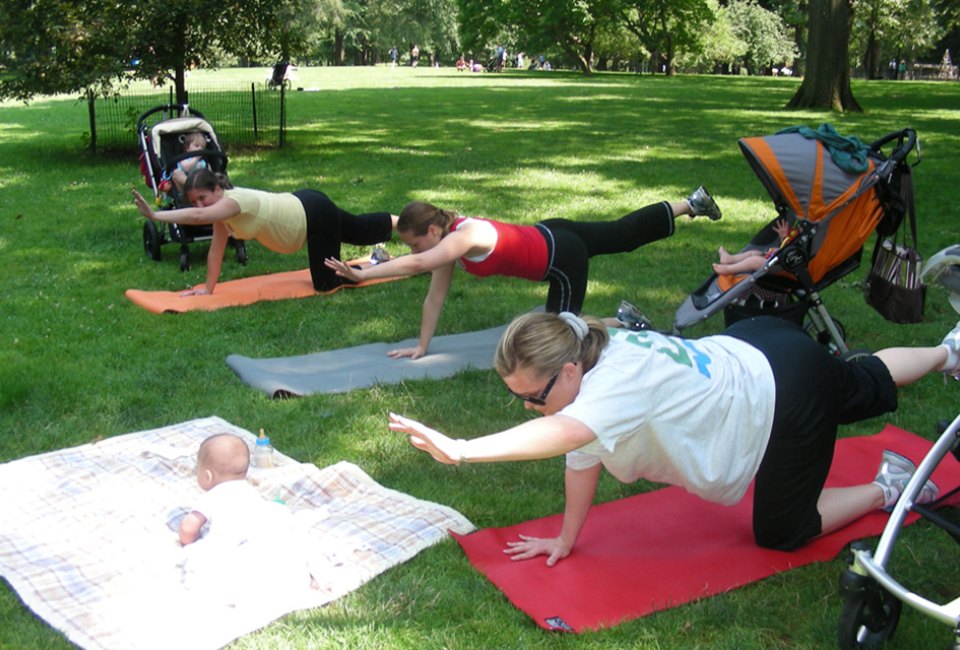 5/16/23
- By
Amy S.
After my daughter was born, our mommy-and-me classes were a bright spot in the middle of some of the longest days. Not only did our yoga class help me regain my strength, it was also a place where I could form lasting bonds with other new parents in the city. Having a self-care routine proved essential for me after becoming a new mama—and my daughter seemed to enjoy the atmosphere, too.
The beauty of good postnatal mommy-and-me classes is that instructors have designed workouts just for postpartum bodies, plus they understand if you or your little one are having a challenging day. Mommy-and-me classes should be a judgment-free, safe zone for you and your baby.
Here are places and programs that regularly offer mommy-and-me exercise classes in New York City. As with any new exercise program, check with your doctor for the go-ahead. For more classes, check out our NYC Classes Guide for Kids or search our classes directory to find programs by age, interest, and borough from the Bronx to Brooklyn, Manhattan, Queens, and Staten Island.
Subscribe to our newsletters to get stories like this delivered directly to your inbox.
Mommy-and-Me Yoga Classes in NYC
This East Village community hot spot offers prenatal and postnatal yoga for parents and babies. It also offers baby chat and playgroups, as well as breastfeeding support groups. Drop-in class schedules change often, so visit the website for current offerings. If you plan to attend often, a membership may be a money-saver.
Here, yoga classes are designed to rejuvenate your body after childbirth, while connecting you with your newest addition. After flowing yoga, the focus shifts to bonding with baby through infant massage and gentle stretching. Bend + Bloom also offers gentle postnatal workshops just for moms, and yoga classes for older kids.
RELATED: 25 Good-to-Know Tips for New Parents in New York City

Take a solo or mommy-and-me yoga class at the Prenatal Yoga Center.
This Upper West Side standby offers classes in postnatal yoga, where babies are welcomed, in addition to a mommy-and-me class that focuses more on establishing a bond with your baby. The studio is a one-flight walk-up, but someone will be there to help you carry your stroller if needed.
Harlem's yoga class for mothers and newborns focuses on gentle stretching, deep breathing, and moving with your baby. The baby-and-me class is relaxed and flexible while helping you to rebuild core strength and release tension. The studio is a third-floor walk-up, and stroller storage is limited, so wear your baby or bring a small stroller. The studio also offers family-and-me classes for an adult caregiver and child (toddler and up).
RELATED: 20 Things To Do with NYC Babies Before they Turn 1

Take a strengthening Baby Meets Barre mommy-and-me class at Pilates Heights.
Mommy-and-Me Exercise Classes in Brooklyn
This Barre + Baby mommy-and-me exercise class includes an extra dose of resistance and cuteness, as you work out with your baby by your side. All exercises are challenging, yet safe for you and your baby.
Diapers & Dumbbells is a one-hour postpartum fitness class designed to help new mothers and their partners safely return to exercise, connect with other parents, and develop the strength they need to support their growing babies. You don't have to have any CrossFit experience to join. Classes are open to mothers (and partners) of all fitness levels and their pre-crawling/pre-walking babies.
7. FIT4MOM – Multiple Brooklyn Locations
FIT4MOM offers several different programs designed specifically for moms. Stroller Strides and Stroller Barre are mommy-and-me fitness programs where kids of any age are welcome in a stroller, or on bikes or scooters if older. FIT4MOM also offers a Body Boost fitness class for moms looking for a full-body workout without baby, as well as a running club for moms, offering an eight-week 5K training program and a 10K or half-marathon program for moms who want to increase speed and stamina or train for longer races.
Mommy-and-Me Exercise Classes in Manhattan
8. Fitnotic – Upper East Side
Sheryl Wilson, mom and founder of Fitnotic, specializes in prenatal and postpartum fitness, and offers a unique blend of online, in-home, and group programs for moms and expectant moms. Wilson customizes a workout for you based on your fitness level, interests, and the equipment you already have on hand. Programs can be done online or via Facetime or Zoom and emphasize core and pelvic strengthening. She also offers a fun hoop dance cardio class, as an option for a group class/private event upon request.
Local NYC mom and certified personal trainer Meri Treitler offers an energizing stroller workout class for new moms that varies every time: You'll jog, squat, lunge, jump rope, use resistance bands, and use the city as your own personal training room.
Postnatal Pilates instructor and mom Randi Stone offers an hour-long stroller class for moms to move and sweat together where babies are welcome. Stone has created a whole-body workout that aims to rehabilitate the core, heal the pelvic floor, improve posture and flexibility, relieve aches and pains, and release stress. The workout uses your own bodyweight for resistance, along with the stroller, bands and balls, park benches, trees, and more. The Movin' Mamas classes are scheduled "on demand" and priced at $210, so you can invite 2-5 friends + babies to join this mommy-and-me class. Classes take place in Central Park or Riverside Park, or at the NYC Pilates studio on West 80th Street in the event of inclement weather.
RELATED: 35+ Baby Registry Lifesavers for New York City Parents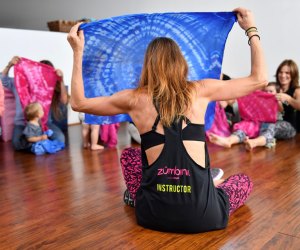 Zumbini classes celebrate the power of music, stimulate learning, and strengthen the bond between parent and child.
More Mommy-and-Me Exercise Classes in NYC
11. Zumbini – Multiple Queens and Staten Island Locations
If you're not into the yoga scene, consider Zumba for you and your baby! Zumbini allows you and your little one to dance, play with toys, and sing for 45 minutes. The choreography is easy, so there is no need to be intimidated. Find the closest NYC location on its website.
With 24 locations throughout the five boroughs, it's likely there is a YMCA location near you. Parent-child classes range by location and include parent-and-me yoga and Pilates. Some locations also offer family Zumba and specialized Rumble & Tumble classes geared toward honing motor skills in kids with parental support.
Originally published in 2015.
Photos courtesy of the venues
t Click Here to Sign Up!