35+ Baby Registry Lifesavers for New York City Parents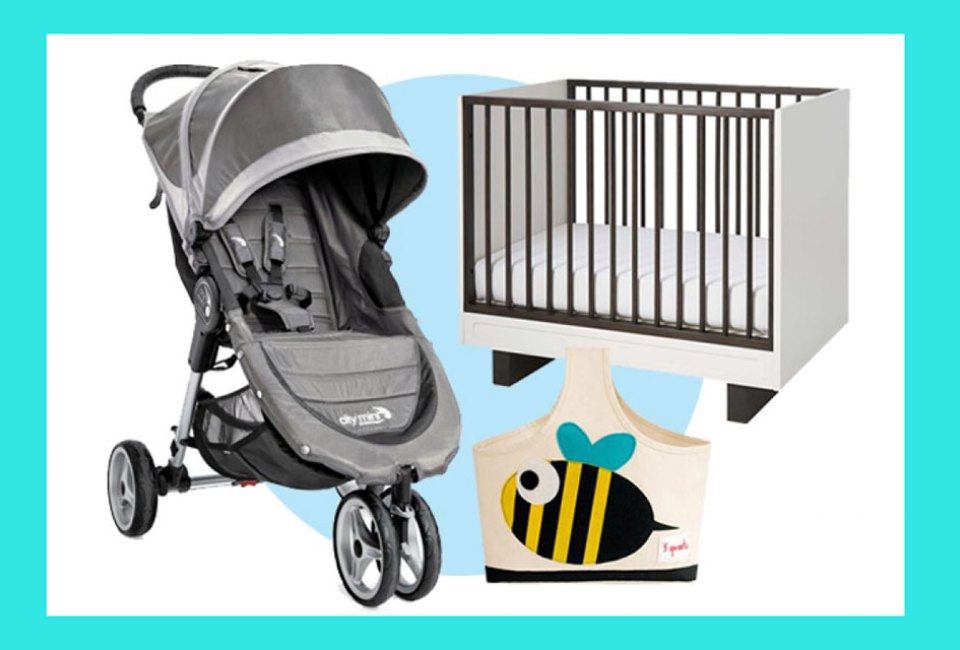 1/22/23
- By
Vanessa Leigh
When crafting a baby registry in NYC, take a breath before you let your suburb-dwelling sister sell you on that giant all-terrain stroller. Remember that creating a city-friendly baby registry is a whole other ballgame. With all the subway riding and small-space-living urban parents do, it's important to choose baby registry items made for the many hurdles (and perks) NYC throws your way.
Wondering where to start with your baby registry wish list? Here are more than 35 must-have baby registry items to get you and your little New Yorker through the first year.
Want more advice on making this whole new parent thing work? Take a look at our NYC Baby Guide.
Subscribe to our newsletters to get stories like this delivered directly to your inbox.
Best Strollers for Your New York City Baby Registry
This baby registry addition is an absolute must for expecting NYC mamas. Whether you live in a walkup, brownstone, or take all forms of public transportation, you'll seemingly carry your stroller as much as you'll steer it.
Our downstairs neighbors—who also had babies in a walk-up Upper West Side two-bedroom—told us this was the stroller we needed to get. Boy, were they right. It's a car seat and a collapsible stroller, and the size is perfect for NYC living. Do yourself a favor and invest in this one.
Consider a lightweight travel system such as the City Mini, which can be folded and carried by a single strap, and is compatible with a number of popular infant car seats.
As your baby grows, a lightweight, reclining, umbrella stroller is a must, and we love Summer Infant's 3D Lite Convenience Stroller, which is perfect for sleepy, naptime strolls and more subway friendly than its supersized counterparts.
Finally, if you're thinking about splurging (or grandma's feeling generous), go with a premier stroller such as the Babyzen YOYO+, which has a one-handed fold and car-seat compatibility.
This sleek and stylish stroller can be folded with one hand—a big plus for New Yorkers. The strollers have canopies for shade, and also can be transformed into dual-capacity strollers for twins or siblings.
RELATED: Postpartum Support Services for NYC Moms: Lactation, Sleep, Parent Groups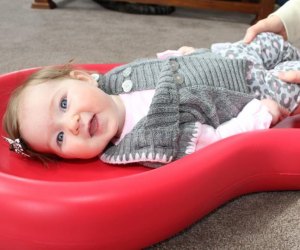 The Keekaroo Diaper Changer is easy to wipe down.
Mess-Free Diaper Changing Pads to Add to Your Baby Registry
If you're looking for more peace of mind and less waste, consider investing in the Keekaroo Peanut Changer, which is water-resistant and easy to clean. It also eliminates the need for a pricey and space-hogging changing table. Put it on top of a dresser or use the bed or floor.
No washer and dryer? No problem. As long your diaper changing station is outfitted accordingly. Instead of relying on traditional fabric changing pad covers and liners, keep a stash of three-layer, leak-proof Munchkin Arm & Hammer disposable changing pads at the ready for added protection during those messy blowouts.
Compact Cribs for Baby Registries in NYC
Because your one-bedroom railroad apartment is already crowded enough, a sleep option with a small footprint is probably imperative. The Fisher-Price Rock With Me Bassinet is seriously streamlined and features an easy, compact fold for travel or storage.
Meanwhile, if your little one's nursery used to be your coat closet, a mini crib such as Dream On Me's Aden 4-in-1 Convertible Mini Crib might be a good choice beyond the first few months. It's Greenguard Gold certified, too.
There's no need to sacrifice style with miniature options such as this mini crib from Babyletto. This chic crib is one of our top baby registry picks for New Yorkers living their best lives...in small spaces.
RELATED: 20 Things To Do With NYC Babies Before They Turn 1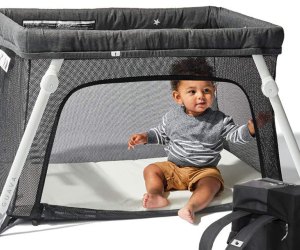 The Guava Lotus Travel Crib is a sleek space-saver.
This easy-to-set-up travel crib is perfect for small spaces and on-the-go travel. It's Greenguard Gold certified and a non-toxic sleep option for your baby. You can also purchase a bassinet kit set to convert this crib into a bassinet.
Best High Chairs for Your Baby Registry
It's currently $29.99. Need we say more? This pick is also super easy to clean and stow away when it's not needed. This one is a no-brainer for a baby registry item.
This high chair is more pricey at around $249, but it's a great fit for newborns and comes in many different colors. It has different modes of reclining to fit the baby's age and grows with them as they begin to self-feed.
Bottle and Breastfeeding Necessities for Your Baby Registry
Comotomo baby bottles can be a great addition to a New Yorker's baby registry. These bottles are dishwasher and microwave safe. They're also BPA- and phthalate-free and are known to help babies transition between bottle and breast.
This is an actual lifesaver. If you're breastfeeding, you'll want to have this on hand at all times. While it's a manual breast pump and can be used as such, it's also perfect for catching milk from the breast that the baby is not feeding from at that moment. With so many uses to help as milk supplies adjust, this product is a must-have baby registry item.
These colorful cotton muslin squares from Little Unicorn come in handy all throughout the day and night. You can use them for burping, feeding, playing, and much more.
Easy-to-Clean Bibs to Put at the Top of Your Baby Registry
Save yourself another trip to the laundry with easy-wipe, waterproof bibs, like those made by Bumkins. These stain- and odor-resistant bibs can be hand-washed in the sink and hung to dry, plus they're lightweight and foldable, so they'll easily fit in your diaper bag when you're dying to have dinner out (minus the mess).
You might know Austin Baby Collection for its sleek bento boxes, but it also has colorfully designed silicone bibs to catch those drips at mealtimes.
RELATED: Best Baby Shops in NYC: 12 Stylish Stores for Tiny Tots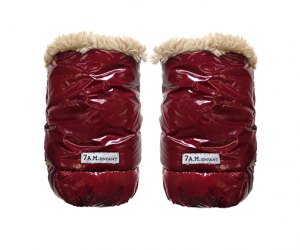 Stroller gloves are a must for winter.
Stroller Accessories for Baby Registries
With all the tricky clips, lids, and clasps we're forced to tackle, parenting while wearing winter gloves is practically impossible. So, when you consider the amount of time city parents spend outside in freezing temperatures, you can see why stroller gloves are a brilliant sanity-saver—keeping your hands warm and dry in all weather while enabling you to quickly tend to baby. The 7AM Enfant Warmmuffs are a tried-and-true choice and attach easily to any stroller.
Instead of being that parent who is constantly posting missing shoes to the local listserv, register for a pair of booties that won't budge. Zutano's two-snap design means no more canvassing the neighborhood after a post-Sunday brunch stroll looking for lost footwear. Choose from cotton, velour, and even fur-lined styles depending on the season, plus tons of colors and patterns for your inherently stylish city kid.
For those rainy day strolls, you'll be glad you had one of these on your baby registry. They're inexpensive and worth the hassle to keep your little one dry in NYC downpours.
Best Baby Carriers for NYC Parents
Sometimes even the smallest, lightest, toughest stroller just won't cut it. Whether you're braving the subway during rush hour, running errands, or just craving a cup of coffee from that tiny and impossibly crowded cafe you love, a comfy carrier can be a game-changer. The Tula carrier offers lightweight fabric that supports both parent and baby.
This comfortable baby carrier is another NYC family favorite. In addition to being safe and supportive for babies, it's designed with padded, adjustable straps and lightweight, breathable materials.
This carrier is quite versatile and can grow all the way through toddler years with your baby. There are four ways to wear a baby using this carrier, including as a backpack. And as far as carriers go, it's a killer price.
RELATED: Questions to Ask When Choosing Baby's Pediatrician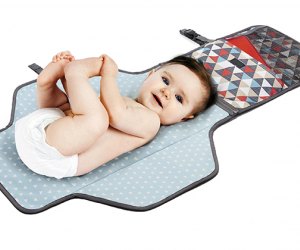 Change the baby anywhere, even those icky but life-saving public changing tables, with the Skip Hop Pronto.
Diapering Essentials for Your Baby Registry
Public changing tables are a blessing and a curse—convenient during a diaper emergency, but otherwise a bit gross. Minimize the NYC public restroom yuck factor with an on-the-go kit such as the Skip Hop portable baby changing pad, which features an oversize, wipe-clean mat that keeps kids from touching everything you don't want them to touch. Plus, you can toss the kit in any bag or throw it in the stroller to ensure you have all the diapering essentials as you need them.
Did you just catch this company on Shark Tank recently? Say bye-bye to plastic on your newborn's bum. Kudos is making waves with its plant-based material diapers. If you're looking for a diaper that has 100% cotton touching your baby's skin, look no further. They've also got you covered with 99% purified water wipes.
These wipes are plastic-free, 99.9% water-based, and unscented. We tried a bunch of different wipes with our little one, and they all had a funny scent. These do not. If you subscribe on Amazon, they're also even more cost-effective.
This tiny jar of balm works true wonders on a rashy bum. There's no petroleum or preservatives. Instead, your baby's skin is soothed with ingredients such as calendula and organic lavender oil. We used it regularly during diaper changes.
I wish we'd had this organic diaper cream and balm at the very beginning. Say au revoir! to sticky butt paste and bonjour to this baby wipes alternative. After we used this, our baby had no rash and we saved on wipes. La Petite Creme was created by two French moms. To learn more about how it works, check out its website.
As an expecting mom, I definitely overthought the diaper bag. Which one was best? How can I choose? What do I need? We'll make it simple and recommend Skip Hop to store all of your necessities. It has two pouches for bottles and comes with a changing pad and two small packing cubes (one insulated). It wears like a backpack, freeing your hands to handle baby so you're ready to go.
You've probably already lugged some interesting purchases on the subway in your life as a New Yorker, but if you have no desire to carry home warehouse-sized boxes of diapers and wipes, here's an easy solution. These cute diapers come in a variety of patterns and can be bundled with other baby essentials like wipes, rash cream, skincare, and more. It's all packaged up and delivered to your door in a fun box that's play-ready with fun designs and cutouts. Trust us: Kids love boxes.
Cab-Friendly Car Seats for New York City Parents
Another unique NYC parenting adventure: bringing your newborn home from the hospital in a cab. An infant car seat easily installed without a base is a New York City must-have for taxiing, Ubering, and car rentals. While all seats can be installed without a base, those that can be installed using the European belt path are ideal because they allow for a more secure installation and added head and neck protection.
Yes, it's on our list twice. This all-in-one stroller car seat is our top pick for NYC parents because it doesn't require a base (although it does come with one if you own your own car). And you can stroll the baby right out to the car without worrying about transferring or lugging around two giant pieces of equipment.
The Cybex Aton is a popular pick because it's compatible with a number of different strollers and weighs in at just 9 pounds.
All Nuna car seats are flame-retardant-free. The Pipa styles are for infants and the brand has convertible car seats and booster seats as children grow.
RELATED: 25 Good-to-Know Tips for New Parents in New York City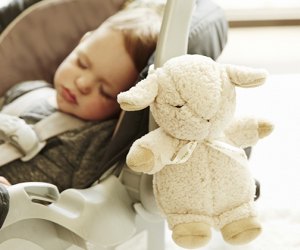 The Sleep Sheep travels with you.
Baby Sound Machines for Your Baby Registry
The good news is your baby will be accustomed to the sound of ambulances, car alarms, and construction. But you're wise to set your child up for major sleep success with a sound machine that brings a little calm to the city's natural soundtrack. The Sleep Sheep On The Go is ideal for naps, nighttime, and even travel. It comes in a convenient size and easily attaches to bassinets, cribs, strollers, or just about anywhere else your little one wants to snooze.
Looking for more serious white noise? Try the Dohm sound machine. It's simple, utilitarian, and does the job of blocking out all that street and apartment noise. It now offers options just for babies, but we've used the basic one for years. It stows nicely in a suitcase, too.
RELATED: Mommy-and-Me Music Classes in NYC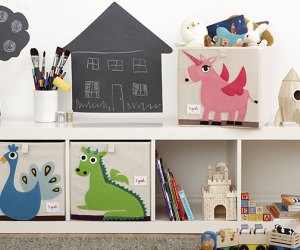 Playful storage solutions like these from 3 Sprouts add color to any nursery and work to hold clothes, swaddles, and toys as they get older.
Smart Storage Solutions for NYC Parents
Take a look at 3 Sprouts for some storable solutions. its animal-themed storage boxes can bring a nursery to life.
Ikea's Trofast collection offers a wide variety of storage units with bins and drawers of various sizes.
This article contains some affiliate links, which means we might earn a small commission if you make a purchase. There is no extra cost to the reader. We only recommend products and services that we have personally used or have thoroughly researched.
Originally published in 2017. Jessica Laird contributed additional reporting. All photos courtesy of the companies.
Click Here to Sign Up!
i