5 Baby Gear Essentials for a Small One Bedroom Apartment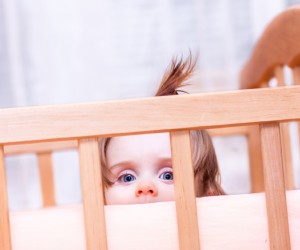 5/14/18
- By
Allison
When I was pregnant the question I was asked most often—after "What are you having?"—was, "When are you going to move out of the city?" So many people, especially non-NYC dwellers, wanted to know where we planned to put all of the baby's stuff in our small, one bedroom Manhattan apartment. They were shocked to see the baby registry and find out that we planned to get by without so much of the "stuff" they told us we needed.
In fact, when our son turned 1 year old, we were still happily living in our one bedroom apartment, and it actually wasn't all that different. Our friends were amazed when they would come over in the evening and hardly see any evidence of "baby stuff" in sight.
That's because we discovered a few essential baby gear items that made living with a 1-year-old in a one bedroom apartment doable for us. Many families in the city have found their own winning formulas for making it work—some with more children in smaller apartments. It certainly can be done. Here is my list of recommended baby gear that helped make living in our small apartment with a baby doable.
RELATED: NYC Parenting Groups: Meet Local Moms and Dads Online and IRL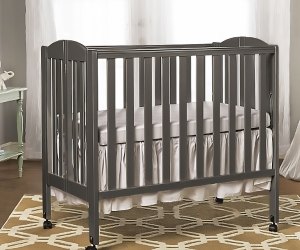 Because it's on wheels you can easily roll the Dream on Me Convertible Crib out of the way. Photo courtesy of Dream on Me
The Crib
Find a small crib on wheels that can easily fit through the bedroom door, so you can move the crib from room to room as needed. This gives you the best of both worlds. You have the living area to yourself during nap times and early bedtimes, and you have your bedroom to yourself overnight and don't have to sleep in the same room with your baby unless you choose to. We rolled our babe out to the living room every night when we went to bed for over a year—and it never woke him up! (My pick: Dream On Me 3 In 1 Portable Convertible Crib. The foldable Babyletto is another popular option, and many parents opt to start with a co-sleeper, such as Arm's Reach, that can be rolled right up to the bed for nursing in those early weeks and months.
RELATED: A Stroller for Every NYC Lifestyle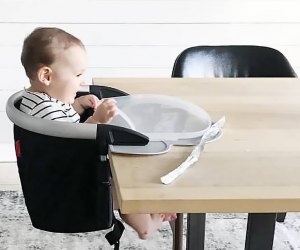 No need to take up precious floor space, just clip the genius Lobster High Chair from Phil and Ted onto the table. Photo courtesy of Phil and Ted
The Feeding Chair
Who needs a big, bulky highchair when your baby can sit right at the table with you? There are seats that strap into one of your dining chairs. Or better yet, how about an even more compact and multi-functional baby seat that clips right onto the edge of the table? That way you can take it to restaurants, on vacation, or just to visit friends. (My pick: Phil & Ted's Lobster Highchair)
Storing Baby's Clothes
Bye-bye entertainment system, hello baby dresser. We got rid of our TV stand and instead put our TV on top of drawers for the baby's clothes. One added benefit: that moved the TV and cable box buttons a bit higher and out of the baby's reach once he became mobile. Of course, the setup really means the TV should have a safety harness to the wall for baby proofing.
Contain All Toys
Rather than one of those huge, traditional toy chests, try stackable bins or a storage ottoman for holding baby toys, and keep only as many toys in the apartment as can fit inside it. Think ahead to toddlerdom by getting one with material that is easily wipeable. For the bath, a suction cup caddy or a bath toy bag can hang in the shower and drain bath toys. It's a tidy solution that doesn't use up valuable bathroom storage space.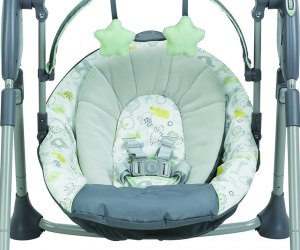 The Graco Slim Spaces Compact baby Swing will fold up in a jiffy and it's easy to carry. Photo courtesy of Graco
Swings, Bouncers, and More
Get the "portable" or "travel" version when it comes to baby seats, bouncers, and bigger toys. We used our portable baby swing every day, but every night it could fold up and go under the couch out of sight. We also picked a doorway bouncer with the fewest bells and whistles that fit easily in a closet. Great space-saving toy for a toddler? Expandable nylon tunnels that scrunch up into a simple, small hoop.
I'm not sure if city dwellers get by with less "stuff" because our small spaces demand it or because we have so much other cool "stuff" just outside our front doors. Either way, you don't have to leave your tiny apartment just because you're expecting another tiny tenant...unless you want to. Find more city hacks for new parents and baby activities in our NYC Baby Guide.
A version of this article was first published in 2010, but it has since been updated.
Top photo via Shutterstock