NYC Parenting Groups: Meet Local Moms and Dads Online and IRL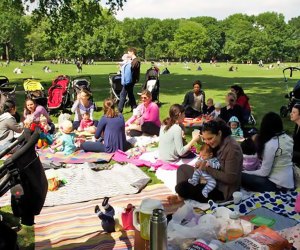 4/16/18
- By
Sarah G
Parenting takes a village. Finding the right parent group can give you an instant support network to share the highs and lows of parenthood, especially if you're new to the game and especially if you live in a busy, overwhelming urban area like New York City! Many parent groups host events and social gatherings, while some offer valuable seminars and discussions. Other groups serve as classifieds where you can swap and sell baby gear, and many offer a place to simply connect with like-minded people.

We've pulled together a sampling of some of the city's best neighborhood and citywide groups for moms and dads. Fortunately, there are so many great ones that we had a hard time whittling down the list. Most are free or include low annual dues. Read on for more details, and be sure to check out our NYC Baby Guide for more ideas for exploring and enjoying NYC from pregnancy to preschool.
Remember, this list is a sampling of some of the largest groups, but certainly not definitive. If you don't see your neighborhood on our list, search Facebook for your neighborhood, as well as the Yahoo Groups directory for your area (or interest), plus "parents." Also visit Meetup's Parents & Family page. And remember, in NYC there's a specialty group for just about every family, including a group for NYC vegetarian and vegan families and French-speaking families!
Manhattan
Bowery Babes
For Lower East Side and Soho moms, Bowery Babes organizes everything from potluck picnics in local parks and art classes to seminars on parenting in the digital age. The website contains passionate discussions about topics ranging from alternative lifestyle ideas to green products. Free to join.
First-Time Upper West Side Moms
Not just for first-time moms, this Upper West Side group welcomes dads too and includes more than 5,000 members and an email listserv where members exchange advice and post events. Annual membership is $10 and events, such as music classes, kiddie photo shoots, and museum trips, are typically free or low-cost.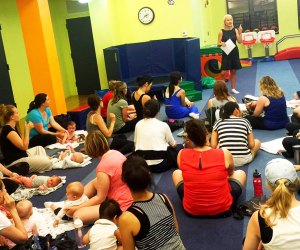 Connect with other mamas at the variety gatherings the Hudson River Mamas organizes. Photo courtesy of HRP Mamas

HRP Mamas
Hudson River Park Mamas organizes free play groups, as well as educational and social events for mothers, children, and families residing in Lower Manhattan. Group members have access to online forums, classifieds, and specialty groups. Annual membership starts at $55.
Madison Square Park Moms
This private Facebook group of more than 4,000 parents is a space to seek parenting advice, share milestones, and stay up-to-date on events and product information. Parents do not have to live in the Madison Square Park neighborhood to join.

Soho Parenting
Soho Parenting hosts groups that balance developmental information with guidance surrounding the emotional work it takes to be a thoughtful parent, as well as being a place for parents to meet and form lasting friendships. Groups are monitored by a Soho Parenting counselor and organized by the ages of members' children. There are regular blog posts about parenting, and the group also offers a variety of counseling opportunities.
UES Mommas
This Facebook group has ballooned to over 30,000 members, making it a go-to for parents on the Upper East Side and adjoining neighborhoods. You'll always have someone to ask about local school issues, get the skinny on the best local baby classes, and even parking and housing issues. The downside is that there are hundreds of posts a day, so there is a lot to filter out.
UWS Mommas
​Another active uptown Facebook group, the UWS Mommas supports moms (and dads) with local parenting advice and tips. There are more than 13,000 members, so intimate it is not, but it certainly is robust.
Smaller Facebook groups to consider for your neighborhood or interests include Chelsea NYC Moms, Tribeca Moms, Midtown East Mommas, Harlem Moms, and Single NYC Moms.
Brooklyn
Bay Ridge Parents
This Facebook groups boasts over 5,000 local members who share neighborhood information about raising kids, as well as swap and sell their baby and kids' clothes and gear. Learn more about your local schools, top spots for kids, and unload those too-small baby duds.
BoCoCa Parents
A Yahoo and Facebook group for families living in (and near) the Brooklyn neighborhoods of Carroll Gardens, Boerum Hill, and Cobble Hill, this active listserv has more than 10,000 members and is free to join. The group has an active classifieds exchange where you can sell baby clothes and pick up a new-to-you stroller. It also hosts groups for expectant and new parents and serves as a neighborhood resource for families to connect and discuss local issues.
DUMBO Parents Organization
This active Yahoo group with around 2,000 members is focused on neighborhood information in an ever-changing (read: construction happy) Brooklyn nabe. Find out about new restaurants, classes, shops, and even the most preferred pediatricians.
RELATED: 12 Things to Do with Your NYC Baby Before Age 1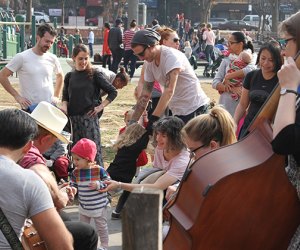 The active Park Slope Parents listserv includes over 100 specialty groups, and many Brooklyn parents will tell you they met some of their closest friends through it. Photo by Susan Fox/courtesy of Park Slope Parents.

Park Slope Parents
Park Slope Parents is a passionate group of local parents dedicated to supporting the families of Park Slope and surrounding neighborhoods by providing a way to exchange information about parenting in the community through a Yahoo group (plus over 100 specialty groups). The group organizes special events and meet-ups, and has an information-packed website that includes tips on hiring a nanny and reviews of OBs and pediatricians. Park Slope Parents also has a robust classifieds group where neighbors can buy, sell or swap just about anything—even a shift at the local food co-op. $40 to join for one year.
You might also consider these Facebook groups for Brooklyn parents: Brooklyn Moms, Sunset Park Mamas (and papas), Prospect Heights Parents (Yahoo Groups), the Brooklyn Heights Parents Facebook group, Bed-Stuy Parents Facebook group, Prospect Lefferts Gardens Parents, Cortelyou Moms (Yahoo Groups) and Windsor Terrace Parents.
Bronx
Bronx and Westchester Moms
This Facebook group of more than 2,000 moms hosts online discussions, organizes social gatherings, and helps moms in the area get to know their neighbors. It also provides the latest information on all of the local kid happenings in the northern-most reaches of the city. Free to join.

Riverdale NY Families
A message board for parents in the Riverdale section of the Bronx, this group has over 3,000 members, who use the listserv to connect with other parents, discuss parenting issues, and share news about events and activities. Free to join.
Queens
Jackson Heights Parents
This Yahoo group for Jackson Heights includes more than 3,000 members and aims to help families build community with discussion of local issues and general parenting concerns. Trading and selling of baby gear takes place within this group too, but the classifieds make up a small portion of the overall listserv. It is one of many Queens family groups, including Woodside Families, and Sunnyside Moms.

Little in the City
With over 1,000 members, this Queens neighborhood group organizes holiday events, play dates, and parties for local families. The group also takes on a public role advocating for educational issues, as well as improved parks and playgrounds. The annual membership fee is $33.
Forest Hills Parents
This popular Facebook group of over 8,000 parents will keep you in-the-know on all things kid and baby related in Forest Hills!
You might also consider the Mommies of Long Island City, Astoria NY Mom's, LIC Parent Group, and Sunnyside Moms groups on Facebook.
RELATED: 13 Indoor Play Spots for Toddlers with Weekend Hours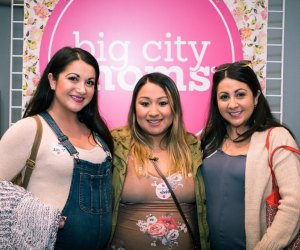 This group is great to meet other expectant moms. Photo courtesy of Big City Moms
Citywide Groups
Big City Moms
Big City Moms hosts social and informative events for its 300,000 members. Events include the annual Biggest Baby Shower, book launches, nanny safety classes, expectant mom dinners, and new mom lunches. Free to join. Events cost $60 and up and are predominantly held on the Upper West Side and the Upper East Side.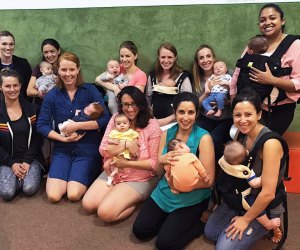 Let's face it, moms can greatly benefit from support during and after pregnancy and these small groups offer just that! Photo courtesy of The Moms Group
The Moms Groups
Keeping groups small and spread out over 23 Manhattan locations each week, The Moms Groups has been connecting mothers since 2008 (originally as part of Mommybites). There are specialized groups for expectant moms, new moms, moms of older babies, and second-time moms. Groups are led by a facilitator and members may also access parenting support online and via phone. The six-session groups cost $200.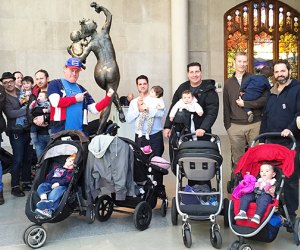 Don't forget the dads! This group organizes get-togethers just for men and their kids. Photo courtesy of NYC Dads Group.

NYC Dads Group
This group for fathers, in and around New York City, creates opportunities for support and socializing through weekly play dates and events. The group also hosts new and expecting dad boot camps. Most events are free or low-cost.
Also consider the NYC Mom Buy/Sell/Swap or NYC Baby Stuff Swap groups for citywide buying/selling of your kid and baby gear. Both have over 15,000 members!
A version of this post was first published in August 2009, but it has since been revised and updated.