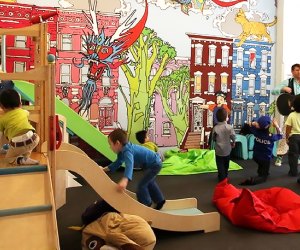 Indoor Play Spots for NYC Toddlers with Weekend Hours
Indoor play spots are an essential resource for NYC families with young children (and limited square feet) as temperatures begin a steady decline into winter. Unfortunately, so many of the city's indoor play spots are limited to weekday hours. That's great for caregivers Monday through Friday, but mom and dad are left out in the cold, scrambling to fill up those chilly fall, rainy spring or snowy winter weekends with their preschoolers in other ways.
Luckily, we've uncovered over two dozen fantastic play spaces that get it, and are keeping weekend, drop-in play hours for kids, no membership required. All include playthings sized just right for the little ones, including for babies in many instances. They are stroller-friendly and equipped with changing stations, making them no-fuss options for the toddler squad.
Note: Hours and prices can fluctuate, so call ahead to get the latest info.
Manhattan
14th Street Y – East Village
Sundays, 9:30am-11am (school year only)
Ages 6 months-3 years
The padded playroom on the top floor of the 14th Street Y is a no-frills classroom-sized space that's clean, with soft climbing and sliding structures. Staff will sometimes stock the spot with large toys, bubbles, or giant balls. The Y does not offer programming when school is out, so call ahead to confirm hours.
The Art Farm in The City – Upper East Side
Saturdays and Sundays, 8am-10am
Ages 6 months and older
Don't have a pet of your own? Kids can get up close and personal with the animals at The Art Farm, and weekend mornings are especially fun as children get to feed the animals.
Children's Museum of Manhattan – Upper West Side
Saturdays, 10am-7pm and Sundays, 10am-5pm
A visit to this beloved Upper West Side institution is practically a toddler rite of passage. The PlayWorks exhibit is a perfectly sized slice of New York with a soft-play area for the museum's youngest visitors. The exhibit also includes a fire truck and MTA bus on which to climb, a deli, small playground, sandbox, and a nostalgia-inducing giant lite brite. My kids all have graduated from PlayWorks right into the Adventures with Dora and Diego exhibit one floor below. For a dose of culture, check out the museum's rotating array of exhibits.
RELATED: 50 Indoor Activities for Kids on a Rainy Day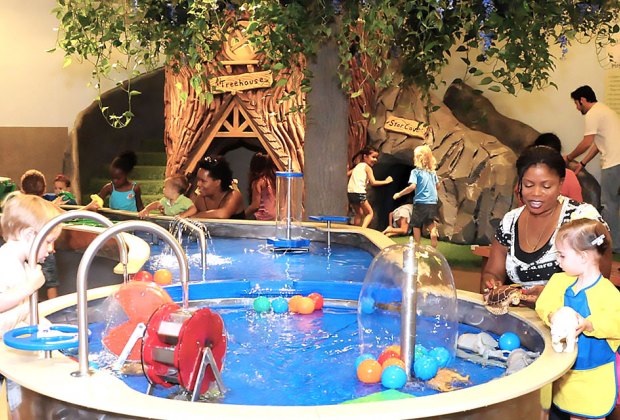 Climb a tree or play in the water at City Treehouse.
City Treehouse – Chelsea
Saturdays and Sundays, 10am-5pm
Ages 2 months-8 years
Reservations are required for this boutique play space, but advance planning is rewarded with a visit to this beautiful, nature-themed spot. There is a two-story tree house that invites kids to climb up, crawl through, or lean back and gaze at the twinkling (fiber-optic) stars in the secret cave. A second play area provides a kid-level water table with gentle streams, whooshing jets, dumping buckets, and more interactive fun. Smocks are provided, but you might want to pack a change of clothes.
RELATED: Best Play Spaces for Preschoolers and Tots in Manhattan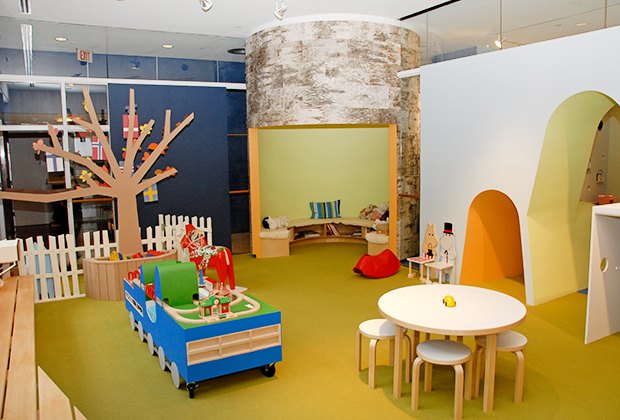 The reading nook at the Scandinavia House's play area welcomes tots.
The Heimbold Family Children's Playing and Learning Center – Midtown East
Saturdays, noon-5pm
Ages 1 and older; children must be walking independently
Scandinavia House's indoor play spot is stocked with classic toys such as Brio trains, Legos, Pippi Longstocking, and more. Completely redesigned in 2011, the center is inspired by early childhood centers in Scandinavia and features a reading room full of English- and Scandinavian-language books connected to a softly lit sensory room by a kid-sized tunnel. Wild romping doesn't fly here; the staff ensures the spot maintains its relaxing atmosphere.
TLB Music Playroom – Upper East Side
Saturdays and Sundays, 9:30am-1:30pm
Ages 6 months-6 years
An arm of the music education program, this cozy playroom features slides, a play kitchen and market, soft block area, a short rock-climbing mountain, a train table, and lots of puzzles, books, and toys. Space is limited to 15 children, so reservations are recommended.
Union Square Playspace — Union Square
Saturdays, 9am-noon
Ages 5 and under
We're fans of the latest family-friendly hang to open in Union Square. The open play space is made up of entertaining equipment and toys, with weekend drop-in classes that include art, music, sensory play, and movement. Advance reservations are recommended, but you can cancel any class or open play slot without penalty up to 1 hour in advance of your enrollment time. Socks are required.
Brooklyn
Busy Bodies – Clinton Hill
Sunday and Saturday hours available; visit the website for current schedule
Ages 0-4 years
This bright, airy space is a welcome addition to the Clinton Hill neighborhood. In addition to two indoor romping spots, there's a seasonal backyard for play. We loved it when we visited upon its opening. The spot hosts play groups, music classes, and more.
Kids 'N Action – Borough Park
Sundays, 10am-7pm; opens one hour after sundown on Saturdays
Ages 0-12
An indoor amusement center a la Chuck E Cheese's, this activity zone has attractions for all ages, from soft play tunnels, mazes, and a ball pit for preschoolers to a roller coaster, train ride, go-karts, and video games for older children. The upside: If you have kids of varying ages you can satisfy them all here. The downside? The more activities you try, the more you pay.
Little Chubs Playground — Bensonhurst
Saturday and Sunday, 11am to 7:30pm
Ages 1 to 10
Brooklyn's newest indoor play space is open to children ages 1 to 10 years old and features slides, ball pits, trampolines, and a space for toddlers. The price is lower than most, at $10 admission for two hours of open play. Snacks are available for purchase and socks are required.
PLAY – Greenpoint
Weekend hours vary; visit the website for current hours
Ages 0-5
The play spot is great for tots, and though birthday parties impact its weekend hours, we find there is usually at least one full day of open play on the weekend, or two solid afternoons or mornings, so we're including it here. Preschoolers can hit the play sets, activity stations, including a food market and laundry set, and romp around the tumbling gym. There's also a separate baby area, where infants can safely crawl and explore.
RELATED: Top 30 Things to Do in Brooklyn with Preschoolers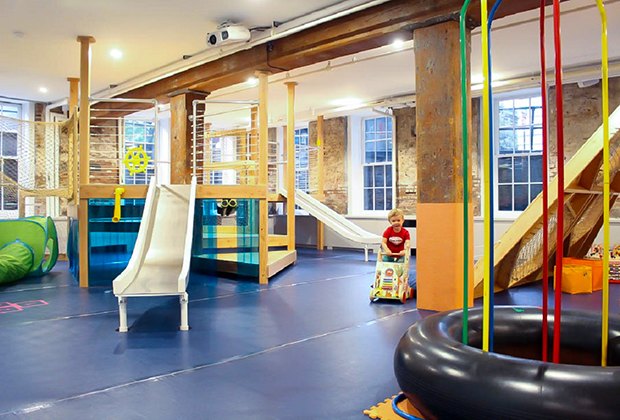 Its handcrafted climbing structures make Recess d.u.m.b.o. a hit with children of many ages.
Recess d.u.m.b.o. – Dumbo
Saturdays and Sundays, 9am-11:30am
Ages 6 months-6 years
Opened by a pair of neighborhood moms in June 2015, this play space features gorgeous, custom-made equipment, including a wooden climbing wall, hidden ladders and tunnels made from rope netting. Drop-in play is offered seven days a week. Read our full review for more information and pictures of this Dumbo kid haven.
Spark – Dumbo
Saturdays and Sundays, 1pm-5pm
Ages 6 months-6 years
As if Dumbo wasn't family-friendly enough, the Brooklyn Children's Museum thrilled us by opening its offshoot, Spark, in November 2016. The play space boasts plenty of programming and entertainment during open-play hours. The stars of the show are the Imagination Playground blocks, but there are plenty of art and sensory activities for toddlers and preschoolers. Its proximity to Brooklyn Bridge Park is just icing on the kid-friendly cake.
Sundays@Senesh – Carroll Gardens
Sundays, 9am-noon through March 17, 2019
Ages 0-4
Jewish day school Hannah Senesh opens its spacious, sunny gym to neighborhood kids for play on Sunday mornings all winter long. Kids race around the gym with pals while parents chat over coffee and bagels. Ride-on toys and mini climbing structures keep everyone busy, but there's also a music session and art-making station.
Totally Tots at the Brooklyn Children's Museum – Crown Heights
Saturdays and Sundays, 10am-4:30pm
Ages 18 months-5 years
The nation's oldest and greenest children's museum is filled with hands-on fun for children of all ages. If you've got a preschooler who needs to get the sillies out, Totally Tots is for you. The Baby Hub features colorful padded structures where infants can crawl, cruise, stand, or just sit. Children can romp in a wide variety of stations, including a water-play area, a multilevel climbing structure with instruments to pound and play, a building zone, and a theater.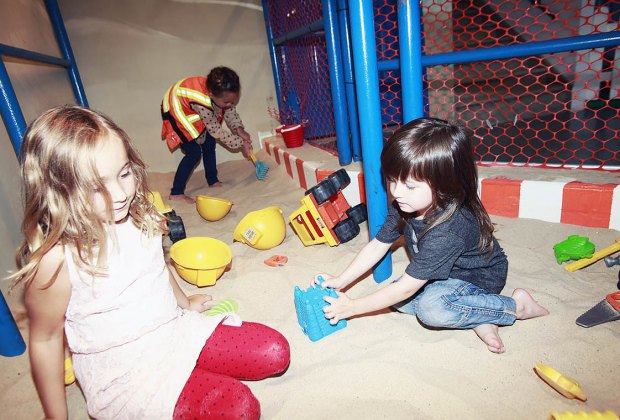 Sand isn't only at the beach—it's at Twinkle Playspace too!
Twinkle Playspace – Williamsburg
Saturdays and Sundays, 8am-11:30am
Ages 0-6
We raved about this drop-in play space when it opened in 2013. Owned and operated by a longtime local family, this 4,500-square-foot tot spot features creative, custom-designed, hands-on activity stations, including a water table, firehouse, salon, general store and barnyard. Beware, though, weekend spaces are first-come, first-served and the spot's popularity means visitors are often turned away. Those with memberships or six-session passes get first dibs.
Superstar Family Fun Center – Sunset Park
Saturdays and Sundays, 11am-6:30pm (hours vary depending on party bookings, check website for details)
Ages 0-12
This is a great playspace for active kids, and has features that appeal to a large range of ages. Bouncy houses and slides are geared toward the bigger kids, while smaller nooks are arranged for younger children to climb and play. Costumes, blocks and a water table are just a few of the other offerings this Sunset Park gem has to offer. Before you head there, check their website to determine which hours they are open each weekend. Depending on birthday parties, the hours vary.
232 Playroom – Cobble Hill
Saturdays and Sundays, hours vary (check website for details)
Ages 0-3
Toddler parents rejoice! Here's a great little indoor option with enough action to fill an entire Sunday. More than one child? Siblings play free! This awesome playroom feels bright and homey, offering books, toys and various slides and cars to ride on. There is also a train table, which for some kids (like mine) is worth the cost of admission.
Power Play – Gowanus
Saturdays and Sundays, 9am - 3pm
Ages 0-100
Power Play is a great way to burn off some energy on a weekend morning. Their facility has fun activities for kids (and adults!) in their multi-level complex. Outside their weekly gymnastics classes for tots, the weekends offer open play that includes slides, a playhouse, tunnels and lots more. There is a climbing wall and rope swing for older kids and adults to enjoy, as well.
Queens
City Owlets – Long Island City
Saturdays and Sundays, 8:30am-noon
Ages 1-6 years
City Owlets is one of the newest kids on the block when it comes to the play space landscape in Queens. It offers a host of nooks in which to play, each overflowing with toys from an area all about wheels (hello car-and-train enthusiasts), to an overflowing walk-in closet full of dress-up things, and a sensory spot for wee tots. There's an on-site espresso bar for weary parents, too, where kids can also snag a snack once they've worked up an appetite.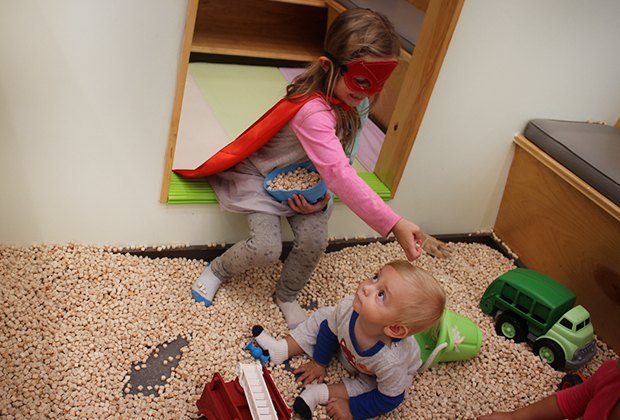 The Hinoki cypress wood cube pit is a hit with the wee ones!
Good Day Play Cafe – Bayside
Saturdays, 10:30am-6:30pm; Sundays, 10:30am-5:30pm; follow on on social media for weekend hours update
Ages 0-6
Modeled after play spaces in Korea, Good Day Play Cafe has been a welcome addition to its neighborhood. Part play space, part healthy cafe, there's something to please everyone at this bright, airy spot. Kids will enjoy the whimsical play areas, which include a Hinoki cypress wood cube pit, climbing area, ball pit, Lego table, kitchen set, dress-up area, and more. Parents go for the Stumptown coffee, free Wi-Fi, and a decidedly laid-back vibe. If you're a Brooklynite, check out their Park Slope location!
Jungle Adventure — Whitestone, Queens
Saturdays, 10am-7pm; Sundays, 10am-6pm
This indoor playground invites little ones to jump on the trampoline, and crawl, climb, slide, and wriggle through a colorful maze of play equipment. Admission is $15 to $32, depending on how long you want to play and day of the week. Children under 2 are FREE with a paid child and each ticket includes one adult. Additional adults are $5. Package deals are also available. Socks are required.
Kanga's Indoor Playspace — Long Island CIty
Saturdays and Sundays, 9am-6pm ​
Ages 1 to 11
Highlights of this new Long Island City hotspot include a multi-level indoor playground, a merry-go-round, inflatable bouncy attractions, plastic ball pools, and a dedicated toddler play area. They also host birthday parties. Parents can chill at the cafe or get in on the fun in the play center. Children are given wristbands that correspond with their guardian's ticket number for added security. Adult admission is $5 and children's admission ranges from $13 to $20, depending on height and weekday versus weekend play, and children under 1 are FREE. Socks are required.
Kids Fun House – Ridgewood
Saturdays-Sundays, 10am-8pm; subject to change, visit website for updated times
Ages 1-12 years
Don't be overwhelmed by the age range at this longtime Queens favorite: There's a separate socks-only toddler area for ages 6 months to 4 years with a tree to climb through, a playhouse, and a small slide. Adults can grab a seat and a snack at the cafe.
Peekaboo – Flushing
Saturdays and Sundays, 9am - 8pm
Ages 0-12
This whimsical indoor gym is a delight for kids who love to climb. Slides, tunnels and an elevated climbing structure (enclosed, of course!) make for an awesome day of play. Sit and play in the sandbox or let kids tire themselves out in the ball pit. The space is bright, clean, modern, and open all weekend. Give them a call before you head over to make sure they aren't closed for a party.
Preschool Place – Corona
Saturdays and Sundays, 10am-5:45pm
Ages 0-6 years
There are tons of hands-on attractions at New York Hall of Science, but this wonderful multi-sensory play area is a highlight for young children. It's equipped with a play kitchen and an array of toys. Older siblings are welcome, but should be supervised so they don't interfere with young ones. Storytime and art projects are offered on weekends and holidays.
RELATED: 50 Things to Do with Kids Indoors This Winter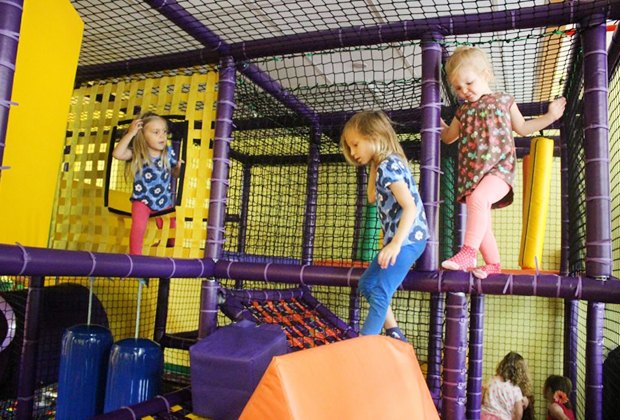 Kids love the climbing structure at Sabrina's Play Studio in Woodside.
Sabrina's Play Studio – Woodside
Saturdays-Sundays, 9am-11am
Ages 4 months-10 years
The brainchild of a local mom, this 1,900-square-foot play space includes a two-level maze, small bounce house, and a play area with a kitchen, toys, and dress-up clothes and a gated baby zone for tiny tots.
Sunnyside Plays – Sunnyside
Drop-in play schedule varies, but does include weekend hours; visit the Facebook page for weekly schedule
Ages 0-7
The brainchild of another pair of local parents, Sunnyside Plays offers 1,700-square-feet of open space for kids to romp and roam, including a jungle gym for preschoolers and there are plenty of smaller toys scattered throughout to entertain tots. Padded floors make this friendly to the crawling set and an on-site cafe will give you a break.
Need more options? Many play spaces offer changing weekend hours around their private parties. Be sure to check our roundups of play spaces in Brooklyn, Queens, and Manhattan for more options.
Photos courtesy of the play spaces
This article, originally published in October 2015, is updated annually. Louise Finnell contributed additional reporting.