Indoor Play Spaces With Weekend Hours for NYC Kids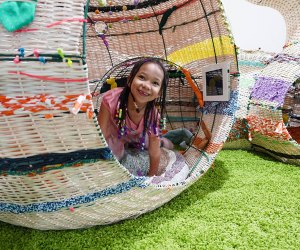 Indoor play spots are an essential resource for NYC families with young children—and limited square feet—as temperatures begin a steady decline into winter. Unfortunately, so many of the city's indoor play spots are limited to weekday hours. While that's great for caregivers Monday through Friday, mom and dad are left out in the cold, scrambling to fill weekends with their preschoolers in other ways. But, lucky for you, we've uncovered nearly three dozen fantastic play spaces with weekend hours.
The spots all offer drop-in play hours for kids; no membership required. All include playthings sized just right for the little ones, including babies in many instances. They are stroller-friendly and equipped with changing stations, making them no-fuss options for the toddler squad.
Note: Hours and prices can fluctuate, so call ahead to get the latest info.
Play Spaces With Weekend Hours in Manhattan
14th Street Y – East Village
Sundays, 9:30-11am (school year only)
Ages 6 months-3 years
The padded playroom on the top floor of the 14th Street Y is a no-frills classroom-sized space that's clean, with soft climbing and sliding structures. Staff sometimes stocks the spot with large toys, bubbles, or giant balls. The Y does not offer programming when school is out, so call ahead to confirm hours.
The Art Farm in The City – Upper East Side
Saturdays and Sundays, 8-10am
Ages 6 months and older
Don't have a pet of your own? Kids can get up close and personal with the animals at The Art Farm, and weekend mornings are especially fun as children get to feed the animals.

CMOM's new Inside Art exhibit lets kids interact with larger than life pieces and create art of their own. Photo by the author
Children's Museum of Manhattan – Upper West Side
Saturdays, 10am-7pm; Sundays, 10am-5pm
Ages 6 months and older
A visit to this beloved Upper West Side institution is practically a toddler rite of passage. The PlayWorks exhibit is a perfectly sized slice of New York with a soft-play area for the museum's youngest visitors. The exhibit also includes a fire truck and MTA bus on which to climb, a deli, a small playground, a sandbox, and a nostalgia-inducing giant Lite Brite. My kids have all graduated from PlayWorks right into the Adventures with Dora and Diego exhibit one floor below. The first-floor maker space caters to older kids, and the newly-opened Inside Art encourages plenty of creativity. In February, another major preschool-friendly exhibit, Superpowered Metropolis, opens on the lower level. In short, there's always something new to explore at this all-ages spot.
FunFit Kids – Morningside Heights
Sundays, 10-11am
Ages 0-8
A multi-sport spot, FunFit Kids was founded with the mission to help kids build confidence through sports, so you'll find plenty of specialized equipment and classes here. During drop-in hours, kids have free-run of the 2,700-square-foot play space and can climb the walls (literally), propel themselves around a scooter raceway, clamber up playground equipment, play with soft balls and sports equipment, and more. Sound too wild for your brood? There's also a book and music nook.
RELATED: Best Play Spaces for Preschoolers and Tots in Manhattan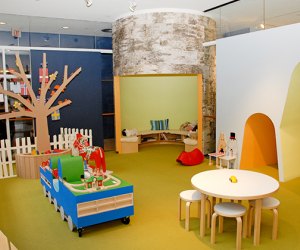 The reading nook at the Scandinavia House's play area welcomes tots.
The Heimbold Family Children's Playing and Learning Center – Midtown East
Saturdays, noon-5pm
Ages 1 and older; children must be walking independently
Scandinavia House's indoor play spot is stocked with classic toys such as Brio trains, Legos, Pippi Longstocking, and more. Completely redesigned in 2011, the center is inspired by early childhood centers in Scandinavia and features a reading room full of English- and Scandinavian-language books connected to a softly lit sensory room by a kid-sized tunnel. Wild romping doesn't fly here; the staff ensures the spot maintains its relaxing atmosphere.
TLB Music Playroom – Upper East Side
Saturdays and Sundays, 9:30am-1:30pm
Ages 6 months-6 years
An arm of the music education program, this cozy playroom features slides, a play kitchen and market, a soft block area, a small rock-climbing mountain, a train table, and lots of puzzles, books, and toys. Space is limited to 15 children, so reservations are recommended.
Union Square Playspace — Union Square
Weekend hours vary, confirm drop-in availability before visiting.
Ages 5 and under
We're fans of the family-friendly spot in Union Square. The open play space is made up of recreational equipment and toys, with weekend drop-in classes that include art, music, sensory play, and movement. Reservations recommended, but you can cancel any class or open play slot without penalty up to 1 hour in advance of your booking. Busy parents appreciate its text-to-play reservation system.
Play Spaces With Weekend Hours in Brooklyn
Busy Bodies – Clinton Hill
Weekend hours vary; confirm drop-in availability before visiting
Ages 0-4 years
This bright, airy space is a welcome addition to the Clinton Hill neighborhood. In addition to two indoor romping spots, there's a seasonal backyard for play. We loved it when we visited upon its opening. The spot hosts playgroups, music classes, and more.
Fairytale Island — Bay Ridge
Saturdays and Sundays, 10am–8pm; confirm drop-in availability before visiting.
Ages 0-7
This epic play zone offers a giant ball pit, two-level train, trampolines, swings, a rock-climbing wall, and plenty more to keep kids occupied for hours. You can even get food here—light lunch fare such as pizza and popcorn chicken is available, as well as smoothies and a full ice cream bar.
Kids 'N Action – Borough Park
Sundays, 10am-7pm
Ages 0-12
An indoor amusement center a la Chuck E Cheese's, this activity zone has attractions for all ages, from soft play tunnels, mazes, and a ball pit for preschoolers to a roller coaster, train ride, go-karts, and video games for older children. The upside: If you have kids of varying ages, you can satisfy them all here. The downside? The more activities you try, the more you pay.
Little Chubs Playground — Bensonhurst
Saturday, 11:30am-7:30pm; Sunday, 11am-6:30pm
Ages 1-10
This play space features slides, ball pits, trampolines, and a separate zone for toddlers. The price is lower than most, at $12 for all-day play. Snacks are available for purchase, and socks are required.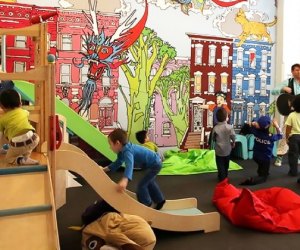 Kids enjoy climbing at PLAY Greenpoint.
PLAY – Greenpoint
Weekend hours vary; confirm drop-in availability before visiting.
Ages 0-5
The play spot is great for tots, and though birthday parties impact its weekend hours, we find there is usually at least one full day of open play on the calendar, or two uninterrupted afternoons or mornings, so we include it here. Preschoolers can hit the playsets, activity stations, including a food market and laundry set, and romp around the tumbling gym. There's also a separate baby area, where infants can safely crawl and explore.
RELATED: Top 30 Things To Do in Brooklyn With Preschoolers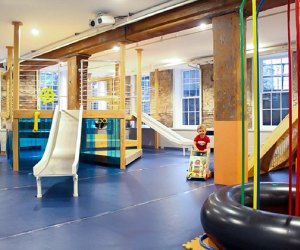 Its handcrafted climbing structures make Recess d.u.m.b.o. a hit with children of many ages.
Recess d.u.m.b.o. – Dumbo
Saturdays and Sundays, 9-11:30am
Ages 6 months-6 years
Opened by a pair of neighborhood moms in June 2015, this play space features gorgeous, custom-made equipment, including a wooden climbing wall, hidden ladders, and tunnels made from rope netting. Drop-in play is offered seven days a week. Read our full review for more information and pictures of this Dumbo kid haven.
Sundays@Senesh – Carroll Gardens
Sundays, 9am-noon through March 22, 2020
Ages 0-4
Jewish day school Hannah Senesh opens its spacious, sunny gym to neighborhood kids for play on Sunday mornings all winter long. Kids race around the gym with pals while parents chat over coffee and bagels. Ride-on toys and mini climbing structures keep everyone busy, but there's also a music session and art-making station.
Little Lola and Tots — Bed-Stuy
Saturdays, 9am-1pm; Sundays, 10am-1pm
Ages 0–4
While this tot spot offers plenty of "parent and me" classes, there is also open play for kids to slide, read, climb, and explore during daily drop-in sessions. Beautifully curated and mindfully constructed, the space offers plenty of play opportunities for kids to get physical and use their imaginations.
Totally Tots at the Brooklyn Children's Museum – Crown Heights
Saturdays and Sundays, 10am-7pm
Ages 18 months-5 years
The nation's oldest and greenest children's museum is filled with hands-on fun for children of all ages. If you've got a preschooler who needs to get the sillies out, Totally Tots is for you. The Baby Hub features colorful padded structures where infants can crawl, cruise, stand, or sit. Children can romp in a wide variety of stations, including a water-play area, a multilevel climbing structure with instruments to pound and play, a building zone, and a theater.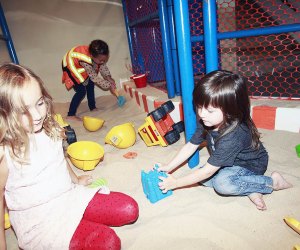 Sand isn't only at the beach; it's at Twinkle Playspace, too!
Twinkle Playspace – Williamsburg
Saturdays and Sundays, 8am-11:30am
Ages 0-6
We raved about this drop-in play space when it opened in 2013. Owned and operated by a longtime local family, this 4,500-square-foot tot spot features creative, custom-designed, hands-on activity stations, including a water table, firehouse, salon, general store, and barnyard. Beware, though, weekend play is first-come, first-served, and the spot's popularity means visitors are often turned away. Those with memberships or six-session passes get first dibs.
Superstar Family Fun Center – Sunset Park
Weekend hours vary; confirm drop-in availability before visiting.
Ages 0-10
This is an excellent play space for active kids and has features that appeal to a broad range of ages. Bouncy houses and slides are geared toward bigger kids, while smaller nooks are arranged for younger children to climb and play. Costumes, blocks, and a water table are just a few of the other offerings this Sunset Park gem has to offer.

Children engage in sensory activities at the Sensory Room at City Owlets.
Play Spaces With Weekend Hours in Queens
City Owlets – Long Island City
Saturdays and Sundays, 8:30am-noon
Ages 1-6 years
City Owlets is a relative newcomer when it comes to the play space landscape in Queens. It offers a host of nooks in which to play, each overflowing with toys from an area all about wheels (hello car-and-train enthusiasts) to a jam-packed walk-in closet full of dress-up things, and a sensory spot for wee tots. There's an on-site espresso bar for weary parents, too, where kids can also snag a snack once they've worked up an appetite.
Jungle Adventure — Whitestone
Saturdays, 10am-7pm; Sundays, 10am-6pm; confirm drop-in availability before visiting.
This indoor playground invites little ones to jump on the trampoline, and crawl, climb, slide, and wriggle through a colorful maze of play equipment.
Kanga's Indoor Playspace — Long Island CIty
Saturdays and Sundays, 9:30am-6pm
Ages 1-11
Highlights of this Long Island City hotspot include a multi-level indoor playground, a merry-go-round, inflatable bouncy attractions, plastic ball pools, and a dedicated toddler play area. It also hosts birthday parties. Parents can chill at the cafe or get in on the fun in the play center. Children are given wristbands that correspond with their guardian's ticket number for added security.
Kids Fun House – Ridgewood
Saturdays and Sundays, 10am-8pm; confirm drop-in availability before visiting.
Ages 1-12 years
Don't be overwhelmed by the age range at this longtime Queens favorite: There's a separate socks-only toddler area for ages 6 months to 4 years with a tree to climb through, a playhouse, and a small slide. Adults can grab a seat and a snack at the cafe.
Kids 'N Shape — Howard Beach
Saturday and Sunday, 9-11am
Ages 5–12
Founded in 1989 by a local family, this gym includes a bouncy castle, zip line, obstacle course, basketball/soccer court, ball and foam pits, air hockey, and more. Children are admitted on a first-come, first-served basis with a maximum of 50 kids per session. A Staten Island location offers open play on Saturdays.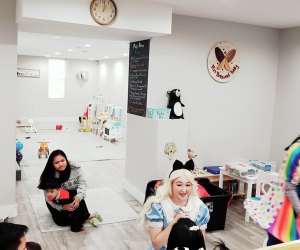 Enjoy a day at the light and bright Lidia's Play Cafe. Photo courtesy of the cafe
Lidia's Play Cafe — Ridgewood
Saturdays and Sundays, 10am-5pm; confirm drop-in availability before visiting.
Ages 0-6
Little ones can explore many different activities while parents relax and enjoy refreshments at this Ridgewood play cafe. Named after the owner's daughter, Lidia's Play Cafe is a Montessori-inspired play zone with a simple, uncluttered space and toys focused on development. As a bonus, all toys are made of environmentally friendly wood.
Little Bear Play Cafe – Forest Hills
Saturdays and Sundays, 9:30am-7pm; confirm drop-in availability before visiting.
Ages 0-6
Little Bear Play Cafe is another recent addition to the neighborhood play space scene with a cafe offering yummy international options like Hong Kong milk tea and condensed milk toast. There's a custom-designed play structure with stairs, slides, and a ball pit. There are also stations with toy kitchens, trains, blocks, and books, in addition to a room dedicated to Legos, and arts and crafts. Little Bear Play Cafe fills up fast, so check its website for "at capacity" notices and closures.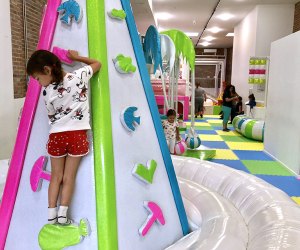 Climb a mini wall at Mini Land Play. Photo by Janet Bloom
Mini Land Play — Long Island City
Saturdays and Sundays, 9am-8pm; call to confirm drop-in availability, 929-208-2886. Ages 0-5 Mini Land is a crazy-fun indoor playground with toddler-friendly rides that doesn't break the bank. Opened by local mom Shu Yeh, Mini Land features four large moving structures, including a dolphin merry-go-round. There's a big climbing playground and a ball pit. The awesome balloon room is worth the trip on its own!
PeekabooO – Flushing
Saturdays and Sunday, 9am - 8pm
Ages 0-12
This whimsical indoor gym is a delight for kids who love to climb. Slides, tunnels, and an elevated climbing structure make for a thrilling day of play. Kids can sit and play in the sandbox or tire themselves out in the ball pit. The space is bright, clean, modern, and open all weekend.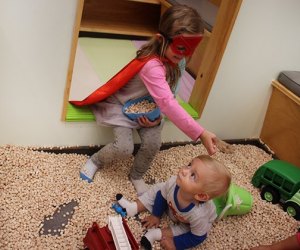 The Hinoki cypress wood cube pit is a hit with the wee ones!
Play Date Cafe – Bayside
Saturdays, 9:30am-7pm; Sundays, 10:30am-5:30pm; confirm drop-in availability before visiting.
Ages 0-6
Modeled after play spaces in Korea, Play Date Cafe has been a welcome addition to its neighborhood. Part play space, part healthy cafe, there's something to please everyone at this bright, airy spot. Kids enjoy the whimsical play areas, which include a Hinoki cypress wood cube pit, climbing area, ball pit, Lego table, kitchen set, dress-up area, and more. Parents can appreciate the coffee, Wi-Fi, and decidedly laid-back vibe.
Preschool Place – Corona
Saturdays and Sundays, 10am-5:45pm
Ages 0-6 years
There are tons of hands-on attractions at the New York Hall of Science, but this wonderful multisensory play area is a highlight for young children. It's equipped with a play kitchen and an array of toys. Older siblings are welcome but should be supervised so they don't interfere with young ones. Storytime and art projects are offered on weekends and holidays.
RELATED: 50 Things To Do With Kids Indoors This Winter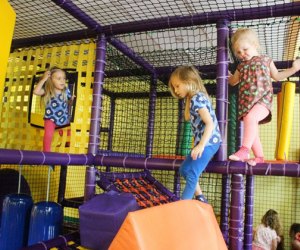 Kids love the climbing structure at Sabrina's Play Studio in Woodside.
Sabrina's Play Studio – Woodside
Saturday, 9-11am
Ages 4 months-10 years
The brainchild of a local mom, this 1,900-square-foot play space includes a two-level maze, small bounce house, and a play area with a kitchen, toys, and dress-up clothes. There's also a gated baby zone for tiny tots.
Play Spaces With Weekend Hours in Staten Island
Chelsea Playground — Chelsea
Saturday, 10am-8pm; Sunday, 11am-7pm
Ages 1-9
This indoor playground features a series of themed play spots, all visible from a central area where parents can lounge and supervise. There's a climbing wall, a pretend-play mini-village, and tons of tubes, tunnels, slides, and ride-on toys. An on-site concession stand serves snacks.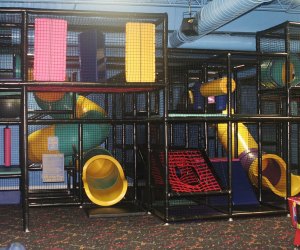 Kidz Rock is 5,000 square feet of energy-burning fun!
Kidz Rock — Rossville
Saturday, 10am-8pm; Sunday, 10am-6pm
Ages 1-9
Kidz Rock features 5,000 square feet of fun for all ages. The space includes a multilevel jungle gym, interactive floor games, arcade games, and a rock-climbing wall. Pretend playrooms feature space to dress-up and role play, whether your kid wants to be a doctor, hairdresser, or wants to re-enact your last trip to the grocery store. The only limit is their imagination.

Get active by playing a giant game of chess at the Staten Island Children's Museum. Photo courtesy of the museum
Staten Island Children's Museum — Snug Harbor
Saturday and Sunday, 10am-5pm
Ages 0-10
This kiddie haven houses 40,000 square feet of all-ages fun, with exhibits ranging from a fire truck for kids to climb on, to an unfinished house where they can channel their inner Bob the Builder. There are blocks to build with, expeditions to encounter, and a larger-than-life ant hill to crawl throw. Dress up, put on a show, hear a story, and enjoy a drop-in program. There's always something new to explore.
We Rock the Spectrum — Charleston
Saturday, 10am-7pm; Sunday, 8am-6pm
All ages
The indoor sensory gym was founded to provide a place for children of all ability levels to play and grow together. The space offers a full inclusion program with sensory-based equipment, a zip line, and a trampoline. There is also an arts and crafts section.
Need more options? Be sure to check our roundups of play spaces in Brooklyn, Queens, Manhattan, and Staten Island for more fun spots.
Unless otherwise noted, all photos courtesy of the play spaces.
This article, originally published in October 2015, is updated annually. Louise Finnell contributed additional reporting.