Queens Rising: A Celebration of Arts & Culture
Various locations

2023 Annual Bus Festival
Emily Warren Roebling Plaza

Improv 4 Kids Off Broadway Live
New York Improv Theater Times Square
Sign up for our free newsletters.
Busy Bodies in Clinton Hill: New Play Space for Brooklyn Kids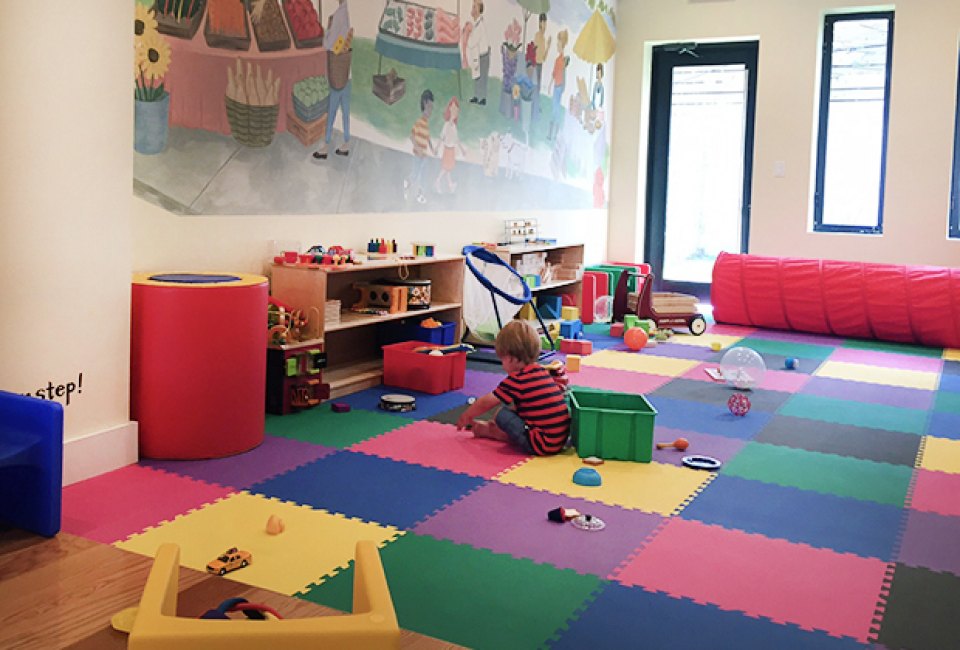 7/15/16
- By
Lisa Talarico
There's no doubt that Brooklyn is the play space epicenter of New York City, boasting about two dozen indoor romping spots for little ones to shake their sillies out. Even so, when Clinton Hill momtrepreneur noticed a need in her Brooklyn nabe, Busy Bodies was born. Offering drop-in play, a full range of kids classes, and even workshops for parents, Busy Bodies is a welcome addition to local families.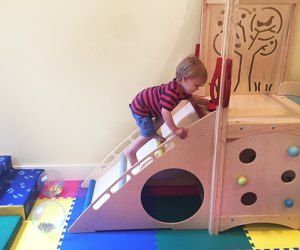 The padded play area includes toys, a modest climbing structure, play kitchen, and more.
Busy Bodies is large, clean, bright, and air-conditioned with four distinct areas—a reception area, a class area with tables and chairs, a padded play area, and a turf backyard—totaling approximately 1,400 square feet. The padded play area has ample toys to engage little ones, including a small climbing structure with slide, a play kitchen with food, multiple musical instruments (my son loved the drums), books, balls, a chalkboard wall for drawing, padded and wooden blocks, and much more. My son and I were there for about an hour and a half; he was playing the entire time and didn't want to leave. There's also a fun mural of a market painted by a friend of the owner that adds a touch of whimsy and color.
The area for classes (and drop-in artistic play) features small high chairs, tables and chairs, all kinds of art supplies, and sinks—great for creating artwork. If you don't want the mess of having your little one finger paint at home, drop in to Busy Bodies instead. Classes include yoga, art for both toddlers and older children, music classes (including a Spanish music class), among others. Adult classes and workshops include lactation support groups, preconception workshops, and an intro to pregnancy course.
RELATED: 5 Brooklyn Cafes with Dedicated Children's Play Spaces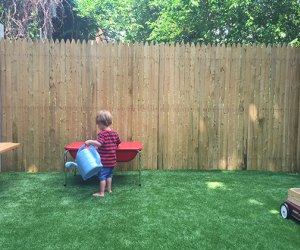 Little ones will love the backyard where they can water flowers and play with a water table.
Once your little one has exhausted the indoor play area, head out back to the turf backyard. Its attractive yet simple setup features a water table, a window box with flowers, and a long bench for caregivers to sit on. This cozy space offers enough room to play and you can even bring toys out from indoors.

Overall, Busy Bodies has a pretty laid-back vibe. Drop-ins are always welcome, though you can preregister for classes and workshops online.
Good to Know Before You Go
Eating is allowed only in the classes area and in the backyard; snacks from home are permitted but keep in mind it must be nut-free.

The two bathrooms are located in the classes area—one with child-sized fixtures and the other for caregivers, complete with a diaper changing station.

Stroller parking and cubbies for shoes are located in the front by the reception area.
Busy Bodies is located at 1004 Fulton Street between Grand Ave and Downing Street in Brooklyn. Drop-in admission is $20 for the day and includes reentry, meaning you can leave for lunch or a nap, and return the same day. Check the website for the latest class schedules and hours.

All photos by the author.
Places featured in this article: