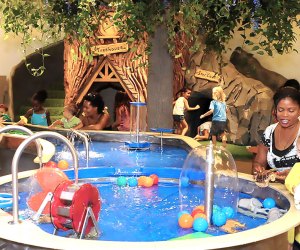 Best Indoor Play Spots for Toddlers and Preschoolers in Manhattan
The playground isn't always an option for keeping antsy little New Yorkers (and the grown-up variety) busy. When the weather turns and the stir-craziness sets in, it's time to search out indoor options that are not your apartment.
After finding myself searching for indoor play options a few too many times, I'm offering my mom-tested picks for the top spots for the toddler-and-preschool set in Manhattan. None of these places—kid gyms, museums, and even atriums—require a membership, and all will help you, your little one, and, most importantly, your apartment survive a long, cold winter or rainy day.
Read on for a dozen of the best places to play with your preschooler in Manhattan, including FREE spots.
Play Spaces
14th Street Y Indoor Playground — East Village
Open play: Sundays, 9:30am–11am and 11am–12:30pm
$20 per child, $90 for a five-class punch card ($75 for members)
Ages 6 months–3 years
The padded playroom on the top floor of the 14th Street Y is decidedly no-frills, but the classroom-sized space is clean, with soft climbing and sliding structures for toddlers. Staff occasionally bring out large toys, bubbles, or giant balls. In addition to drop-in play, the Y offers a number of drop-in classes, including sing along, messy play, and music and movement. The Y doesn't offer programming when school is out, so call ahead to confirm hours.
ACT Indoor Playstation — Morningside Heights
Open play: December–March: Monday–Thursday, noon–3pm
$6 per child, 6 months and younger free
Ages birth–5
During fall and winter afternoons, this early childhood education program opens its spacious gymnasium to the public. Child-size equipment includes slides, balls, and places to crawl, all on a safe mat area. And at $6, it's the cheapest indoor play space option in the borough. The center closes during public school breaks, so call ahead to confirm.
Editor's Note: Unfortunately City Treehouse has closed; some of its playthings, including the two-story treehouse can be found at the Children's Museum of Manhattan.
City Treehouse — Chelsea
Open play: Daily 10am–5pm but reservations required; call 212-255-2050
$30 for up to three hours, discounts for multiple-visit packages (and babies are $20)
Ages 2 months–8 years
Formerly a members-only facility, this boutique play space now offers open play daily, though reservations are required. The beautiful, nature-themed spot features two distinct areas. The first is the namesake, two-story treehouse that invites kids to climb up, crawl through, or lean back and gaze at the twinkling (fiber-optic) stars in the secret cave. The second play area is a kid-level water table with gentle streams, whooshing jets, dumping buckets, and more interactive fun. Smocks are provided, but you may want to pack a change of clothes.
RELATED: All the Best Drop-In Manhattan Play Spaces and Fun Zones for NYC Kids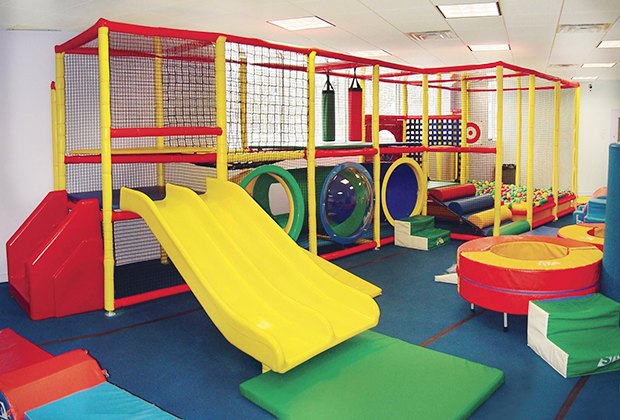 It's a jungle gym and more at the Toddler Gym at Chelsea Piers.
Toddler Gym at Chelsea Piers — Chelsea
Open play: Monday–Thursday, 9:30am–noon and 1pm–5pm; visit the website for weekend schedules posted each Thursday or call 212-336-6500, ext 0
$12 per session, discounts for multiple sessions
Ages 6 months–4 years
This awesome indoor space offers a jungle gym to climb, crawl through, and clamber over. There's also a kid-pleasing ball pit to dive-bomb into. The center has interactives on the wall, additional slides, soft playthings, and a tiny rock climbing area.
The Art Farm in The City — Upper East Side
Open play: Monday–Thursday, 12:30pm–3:30pm
$20 per child, discounts for weekly or monthly packages
Ages 6 months and older
If your kid has been begging for a pet of his or her own, but you can't fathom scooping poop while also changing diapers, this the spot for you. Kids get up close and personal with the animals at The Art Farm. There's plenty of space to romp and roam, with separate, spacious areas for the petting zoo, playroom, and arts and crafts. If you just want animal play, drop by on Saturday or Sunday mornings 8-10am, when children ages 1 and older can help feed the animals ($15 for kids, $5 for adults).
Museums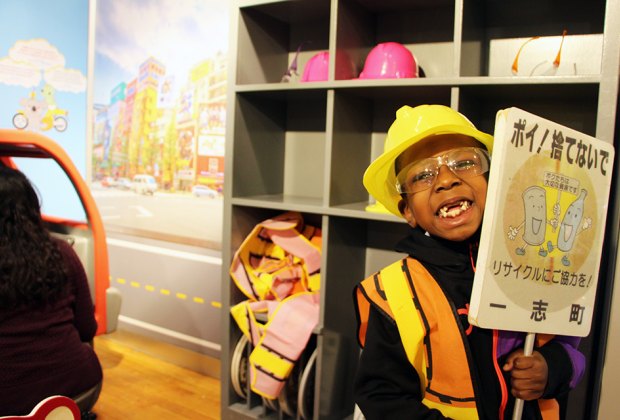 Learn the art of Japanese recycling! Photo by Emily Munro for the Children's Museum of Manhattan
Children's Museum of Manhattan — Upper West Side
Tuesday–Friday, 10am–5pm; Saturday, 10am–7pm; Sunday, 10am–5pm
$14 per person; infants younger than 1 FREE
A visit to this Upper West Side institution is practically a toddler rite of passage. The PlayWorks exhibit is a perfectly sized slice of New York with a soft-play area for the museum's youngest visitors. The exhibit also includes a fire truck and MTA bus on which to climb, a "deli," small playground, sandbox, and a nostalgia-inducing giant Lite-Brite-style board. In the summer, there's typically a fun water table or other outdoor feature. My kids have all graduated from PlayWorks into the Adventures with Dora and Diego exhibit one floor below. For a first slice of culture, check out the museum's rotating exhibits. In February 2018, the popular Hello from Japan is making a return to the museum with new features including a manga studio and an origami workshop.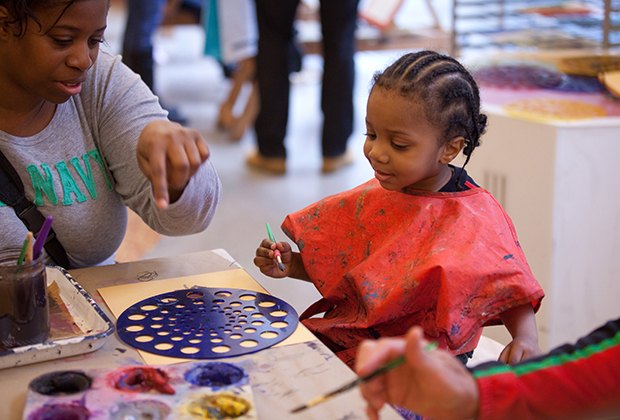 Preschoolers can get creative at the Children's Museum of the Arts' Wee Arts Studio.
Children's Museum of the Arts — Tribeca
Monday, 12pm–5pm; Thursday and Friday, 12pm–6pm; Weekends, 10am–5pm
$12 per person; infants younger than age of 1 are FREE; Thursdays 4–6pm, pay as you wish
My daughters can't get enough arts and crafts time, but I can only handle so much clean-up. This downtown spot offers an excellent alternative. The girls can create to their hearts' content and most of the clean-up is left to the museum staff. While my preschooler has tagged along with her big sister and had tons of fun during general museum hours, the under-5 set might particularly enjoy the WeeArts drop-in classes on weekday mornings from 10:45am to noon. The drop-in classes cost $25 per family; stick around to enjoy the museum once it opens for an additional $6 per person. Semester-long classes also take place in the Wee Arts Studio with teaching artists.
Sugar Hill Museum of Art & Storytelling — Harlem
Thursday–Sunday, 10am–5pm
Adults, $7; children ages 9–17, $4; children ages 8 and younger, FREE
This museum is a relative newcomer, but a welcome addition to its uptown neighborhood. Part art gallery, part creative space, there is always plenty to see and do. There are a pair of art studios here, where kids can get to work on their own, roll up their sleeves to add to a community-built project, or just dig in the sand, and draw on the chalkboard. True to its name, interactive storytelling sessions happen regularly. The main gallery, aka The Salon, is a cavernous space with site-specific art installations on the walls, but plenty of room for kids to roam and a set of bleacher-like stairs for climbing. A major bonus: Toddlers are always FREE here and there are plenty of free-admission days for adults, too.
FREE Spots to Play
180 Maiden Lane — South Street Seaport
Monday–Friday, 8:30am–5:30pm
An abundance of glass creates an elegant, light-filled, atrium steps away from the South Street Seaport. Faux grass covers the floor, making you think you're outside even with the creature comforts of an onsite coffee bar that also sells smoothies, fresh-squeezed juice, and gelato. Seating areas provide plenty of space to lounge and a regularly changing gallery of artwork keeps you coming back. For the kids, you've got a view of helicopters soaring in the sky, boats zooming by, and a stage at one end of the atrium, where they can perform to their hearts' content. Bonus points for the clean, well-maintained restrooms.
RELATED: 20 Options in NYC for Free Indoor Play with Kids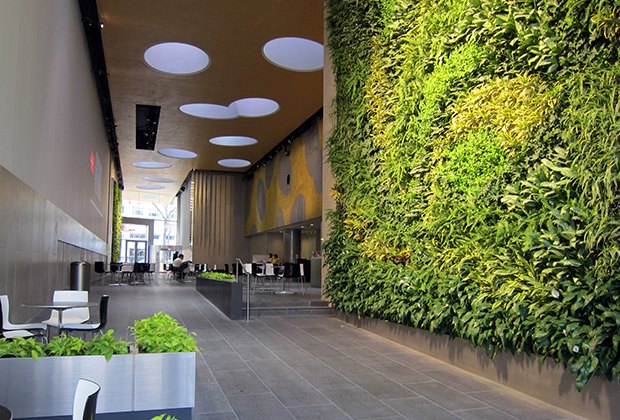 The David Rubenstein Atrium at Lincoln Center offers parents and toddlers a place to mingle, plus free shows.
David Rubenstein Atrium at Lincoln Center — Upper West Side
Monday–Friday, 8am–10pm; Saturday and Sunday, 9am–10pm
Tourists flock to the David Rubenstein Atrium to score deals on shows at the venerable arts campus, but locals know it's a great place to meet and mingle. Curious little kids will admire the floor-to-ceiling fountain and vertical gardens. There are plenty of places for mom and dad to lounge, free Wi-Fi, and a 'wichcraft cafe. As a bonus, there are free weekly performances and monthly, kid-centric LC Kids shows.
FDNY Fire Safey Zone — Rockefeller Center
Monday–Saturday, 9am–7pm; Sunday, 11am–5pm
It's easy to miss this gem in all the hustle and bustle of Rockefeller Center, but it was a favorite haunt of my son when he was small. There's a realistic fire truck, gear to try on, and maybe best of all, a real fire fighter on duty to share safety tips. If you have older kids, there is a fire safety presentation for $6, but wee ones will be plenty entertained pretending to drive the big rig. We've played here plenty and have never felt rushed or crowded.
Lego Store — Flatiron District
Monday–Saturday, 10am–8pm; Sunday, 11am–6pm
Lego lovers will be happy at this location or the flagship Rockefeller Center location. This location is my pick because it's more spacious and even has a Lego Lounge complete with a recreation of the neighborhood in the middle of a cushy seating area. When you've wrenched every last Lego piece out of your little one's hands, head next door to Eataly to treat yourself.
For more indoor entertainment options, visit our Indoor Play and Family Fun Guide.
Top photo: The water play area at City Treehouse. All photos courtesy of the venues.
A version of this article was first published in 2016, but it has since been updated.