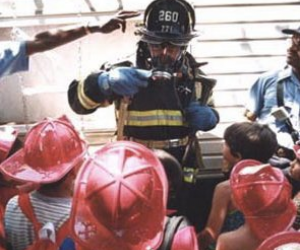 Where to Meet a Fire Fighter and Learn about Fire Safety in New York City
My daughter who is 7 years old had an educational workshop about fire safety at her after school program. I'm interested in taking her to a real fire house to help bring his lesson home. Do you know of any? — Yolanda

It's great to teach our children about fire safety and I've always found the firemen at our local firehouse to be really friendly. If they're not rushing off to a fire, they generally will welcome kids into the station to check out the trucks and see what they do. But, there are also two special museums set up just to teach children about fire fighting and fire safety rather than just trying to show up at your local fire house.

I did look for a listing of fire stations around the city. It was actually harder than I thought to find. Perhaps post-9/11 they don't want to list police stations and fire houses. I did find an
unofficial FDNY website
that lists all the fire houses by borough, but it's not very easy to navigate. I also tried google maps, searching for fire station and other keywords. I did get some stations to show up that way, but not the one that I know is closest to me. So if you don't know where there's a station near you, you can try doing a google search or else browse your borough through
this listing
.
The
NY Fire Zone
is set up for the exact purpose of bringing fire safety home to kids, while making it fun and exciting. Kids can climb on a real fire truck, try on bunker gear, meet a firefighter, feel a "hot" door, and learn to crawl through a smoke-filled hallway. Children 5 and up can watch a fire-simulation presentation, a multi-media show that demonstrates a real fire situation. The
website
is pretty cool too. You can learn about a day in the life of a fire house, the different types of vehicles and equipment firefighters use and more.
The
Fire Zone
is at Rockefeller Center, 34 West 51st Street and is open 9am-7pm Monday through Saturday and 11am-5pm on Sundays. Entrance to the Fire Zone is free. The Fire Simulations are $6 per person.
The
New York City Fire Museum
also offers fire safety simulations where visitors experience a simulation of a real fire in a NYC apartment complete with theatrical smoke, lasers and black lights to make it seem very real, but these education tours must be reserved for groups of at least 20. But, anyone can visit the museum though and see its incredible collection of historical fire fighting equipment including pre-civil war hand-pump fire engines, horse-drawn engines through early motorized engines. A series of mannequins display fire fighting uniforms and the evolution of their safety gear over the decades. The collection hosts many many other colorful historic items. A firefighter is also on hand to answer questions and talk to visitors. Of course, our favorite time to visit the NYC Fire Museum is for their annual Santa Rescue.
The NYC Fire Museum is located at 278 Spring St. The Museum is open Tuesday through Saturday from 10:00AM to 5:00PM and on Sunday from 10:00AM to 4PM. Admission is $5 for adults and $1 for children under 12.
Places featured in this article:
---
NY Fire Zone
---
New York City Fire Museum