The Very Hungry Caterpillar Show
DR2 Theatre

NYC Easter Brunch Cruise 2023
Event Cruises NYC

Easter Fun Cruise with Egg Hunt 2023
Event Cruises NYC
Sign up for our free newsletters.
Sugar Hill Children's Museum Opens in Harlem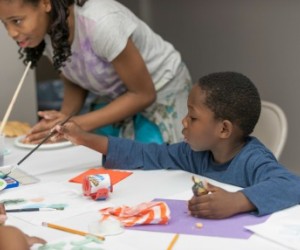 10/1/15
- By
Jody Mercier
New York City just gained a brand-new children's museum. Sugar Hill Children's Museum of Art & Storytelling opens to the public on Saturday, October 3 with a FREE kickoff party that includes music, face painting and of course stories and art-making. The museum aims to serve the youngest New Yorkers with a target audience of 3 to 8 years old.
As a Harlem resident, I was especially excited about this new space and, after getting a sneak peek, I'm delighted to welcome it to the nabe.
The 17,000-square-foot Sugar Hill Children's Museum of Art & Storytelling is housed in the recently completed affordable—and eye-catching—housing complex at the intersection of 155th Street and St. Nicholas Avenues. Designed by renowned architect David Adjaye, the interior space provides a bright, airy contrast to the building's foreboding exterior.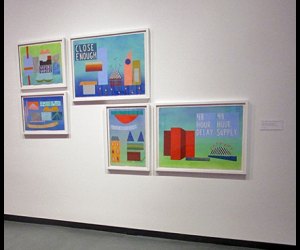 Art is hung at a kid-friendly level in each of the gallery spaces.
You won't find ball pits or water tables at this intimate museum, but plenty of engaging art adorns the walls, and the art studio spaces and a storytelling lineup, which has not yet been released, will likely draw crowds. Small touches like hanging art low enough to engage a toddler, as well as its FREE admission for those 8 and under go a long way in achieving the group's goal of making art more accessible to preschool and early-elementary aged kids.
Colorful murals by Saya Woolfalk run over six walls of the museum's main hall, dubbed The Living Room, reflecting organizers' hopes that it becomes the "living room" of the local community. Woolfalk, integrated the drawings of her 4-year-old daughter into her work, The Pollen Catchers' Color Mixing Machine.
RELATED: NYC's Best Museums and Exhibits for Kids
On the opposite side of The Living Room, light streams from a skylight, illuminating the studio spaces that provide room to work and create for children and the museum's Artist-in-Residence, Harlem native David Shrobe. The studio is filled with child-sized tables waiting for visitors and schoolchildren to create masterpieces of their own. (Students at the museum's preschool have already been hard at work!) Nooks are carved in the hallway to provide seating for kids to curl up with a book or take a break from the museum's bustle.
Two more galleries round out the museum, which is knitted together on the ground floor of the building: The Legacy Gallery and The Salon.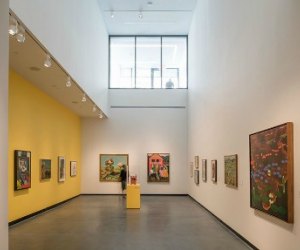 The brightly-lit Legacy Gallery contains works by local artists. Photo by Wade Zimmerman/courtesy the museum.
The Salon's fascinating opening exhibition is entitled Txt: art, language, media and presents a mixed media look at modern day communication with works that include a scrolling LED digital sign, a collection of hats made from copies of The Wall Street Journal and a floor mat crocheted with plastic bags.
(Opening exhibitions are presented in conjunction with El Museo del Barrio and The Studio Museum in Harlem.)
RELATED: Best Fall Exhibits for NYC Kids
You'll find the People, Places, and Things: Selections from The Studio Museum in the Legacy Gallery with works created from the 1930s to 1980s by well-known late Harlem artists like Jacob Lawrence and Romare Bearden who explore daily life in the local neighborhood and beyond.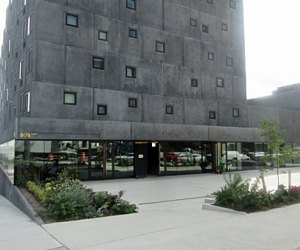 The children's museum is located on the basement level of this new Sugar Hill housing complex.
Where: The Sugar Hill Children's Museum of Art & Storytelling is located at 898 St. Nicholas Avenue, directly above the 155th Street C-train subway stop. (Strollers are allowed in the galleries or can be checked with coats upon arrival.)
Hours: The museum will be open Saturdays and Sundays from noon-5pm during October. Starting in November, public hours will be added on Thursday and Friday from 10am-5pm. Monday-Wednesday is reserved for school visits.
Cost: While Saturday's event is FREE, regular admission prices will be $7 for adults and $4 for children ages 9-17; those ages 8 and younger are always FREE.
Top photo by Michael C. Palma/courtesy the museum.