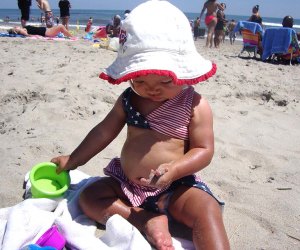 20 Things To Do With NYC Babies Before They Turn 1
The whole "New York City is a terrible place to raise babies" debate seems to continue, especially in conversations on local parenting groups. But as a mom of three NYC babies, I disagree. Yes, it can be a nuisance to find subway stations with working elevators and contend with tiny spaces and noisy neighbors. Still, there are so many enriching first-time experiences to share with your baby in the city that it's worth muddling through the inconveniences.
So stock your diaper bag, strap your infant into a stroller or carrier, and try these 20 things to do with NYC babies before age 1.
RELATED: Postpartum Support Resources for New Moms in NYC

Catch a storytime at Books Are Magic or another local literary spot. Photo courtesy of bookstore
1. First Storytime
There are drop-in storytimes for babies all over the city, including these in Manhattan, Brooklyn, and Queens, to name a few. Or head to one of our favorite independent bookstores with sizable children's book collections to pick up Big Apple-set picture books such as This is New York, Knuffle Bunny, and Good Night New York City.
2. First Library Visit
Once you've attended enough storytimes to find some favorite characters, why not head to your nearest library to encourage those early-reading habits. There are destination libraries across the boroughs just waiting to be explored.
3. First Movie
A handful of NYC movie theaters welcome parents with babies to special screenings, where the sound is turned down, house lights are left on low, and no one cares if your baby needs to fuss for a few minutes, or you need to stop to rustle about to change a diaper. These are films for adults, but babies get in free. You get a day out, and you're prepping your tiny New Yorker for when she's ready to see movies on her own.
RELATED: Favorite Offbeat Baby and Me Classes in Manhattan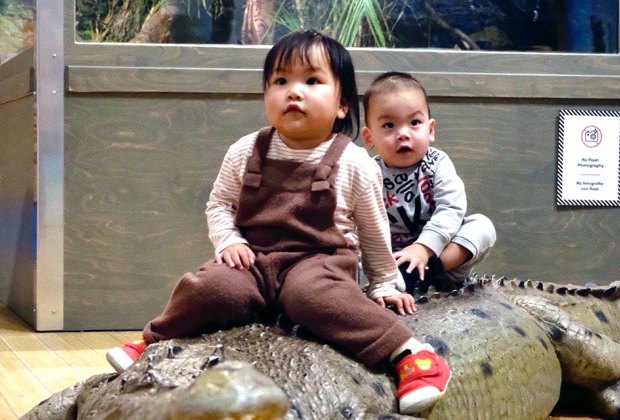 The Brooklyn Children's Museum has plenty of fun sensory-filled experiences for the youngest museum-goers to explore. Photo courtesy of the museum
4. First Museum
No need to wait until your child can walk or talk to introduce him or her to NYC's world-class museums. The Guggenheim and Whitney host regular stroller tours. Also, many of our favorite children's museums have interactive areas for tots such as the Brooklyn Children's Museum's Totally Tots, a safe, padded area to practice motor skills, and the Children's Museum of Manhattan's PlayWorks, and newly opened Superpowered Metropolis. Bonus: All of these museums are FREE for babies, though grown-ups have to pay.
RELATED: 25 Good-to-Know Tips for New Parent in NYC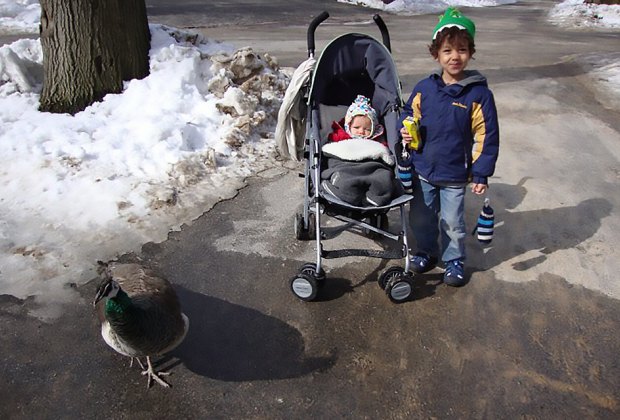 A visit to the zoo is fun in any season and there's always some fun animal encounters to enjoy.
5. First Animal Encounter
One of my best annual family purchases is our Wildlife Conservation Society membership, which grants admission to the Central Park, Prospect Park, Queens, and Bronx Zoos, plus the New York Aquarium. While the Bronx Zoo is a lot to handle with a little one, the Central Park, Prospect Park, and Queens Zoos are small enough to let a new walker wander a bit. They offer interactive animal experiences in the Tisch Children's Zoo and Discovery Center or on the Queens Zoo's Farm. If you do visit the Bronx Zoo, the gorilla exhibit includes a theater with a short documentary on conservation efforts and makes an excellent, quiet place to breastfeed.
6. First Theater Show
It's never too early to expose your baby to live entertainment. Many educational theater companies are creating interactive shows aimed at babies, sometimes as young as 6 months, so build their love of the arts early and prep them for a life-long love affair with Broadway.
7. First Exercise Class
Sure, you could go to a gym with child care, but why not include baby in your workout? Relax with some mommy and me yoga, or check out these postnatal exercise classes for new moms, all of which allow you to bring your infant in a stroller or to the mat.
RELATED: NYC Maternity and Baby Guide: Safety, Diaper Services, Classes and More
8. First Haircut
When that adorable baby fuzz finally needs some professional styling, try hitting a children's hair salon in Manhattan, Brooklyn, or Queens. Unlike your local barber, these spots cater to families, and they often have TVs, books, and other things to keep kids amused, and even offer first-haircut packages with certificates and a commemorative lock of baby hair.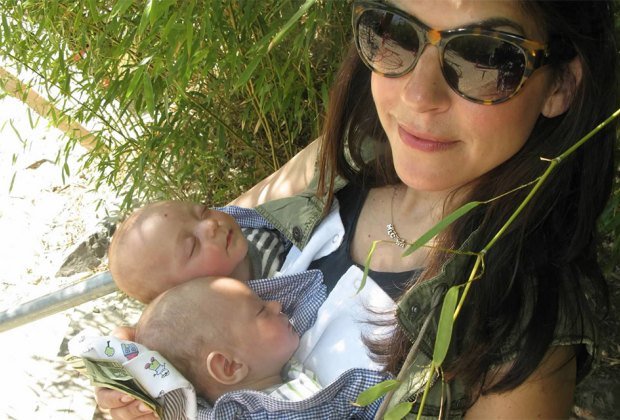 Brooklyn Bridge Park is great a hangout! Cool off in the bamboo at Pier 6 when your little ones need a break. Photo by Matt Nighswander
9. First Local Haunt
You may have lived in your East Village walk-up or Harlem brownstone for a decade before Junior came into the world, but now that you've got a kid of your own, it's time to reacquaint yourself with the neighborhood through the eyes of a parent. We've got Neighborhood Guides profiling local kid-friendly haunts throughout the five boroughs, so put the baby in a stroller and check out our top family-friendly picks, then move on to exploring other hangouts citywide. Before you know it, you'll be back here looking for advice on preschool admissions.
10. First Photo Session
You've probably got a photostream full of baby pics, but at some point, you may want a pro to snap a few special ones. Big Apple Portraits, on the Upper West Side, for example, offers no-sitting-fee 1/2-hour sessions. If heading to a studio seems daunting, hire a photographer to come to you. I did this with my firstborn at 6 weeks, and the playful shots are still hanging in my living room 14 years later.
11. First Masterpiece
Even crawlers love to get messy with finger paints. You might not dare to do it at home, so try one of these drop-in art spots in Brooklyn or Queens. The Children's Museum of the Arts offers an entire Wee Arts Studio dedicated to the under-5 set. You can also search our directory for an art class, and check our event calendar or museum guide for upcoming sessions.
RELATED: A Stroller for Every NYC Lifestyle

See the gorgeous cherry blossoms in bloom at New York Botanic Gardens.
12. First Spring Outing
Baby's first year is full of plenty of eye-opening moments, so don't forget to stop and smell the roses. New York City is surrounded by lovely, curated gardens perfect for an early-spring stroll and plenty of pretty photo-ops. The Brooklyn Botanic Garden offers a kid-sized Discovery Garden to toddle about, while the New York Botanical Garden blooms with family-friendly programming in every season. Nearby Wave Hill is an underrated gem, and the Queens Botanical Garden is known for its spectacular festivals and reasonable admission.
RELATED: 100 Things To Do with Your Kids in NYC Before They Grow Up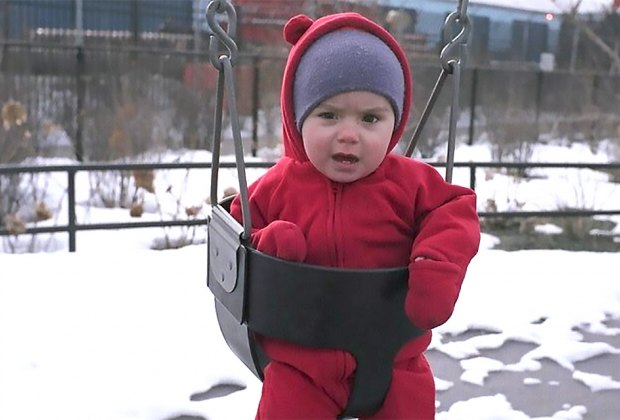 Don't let the cold keep you in! Bundle up and hit your local park to explore. Photo by Sara M.
13. First Playground
Once your baby passes the crawling stage, consider venturing to a destination playground. We've profiled many, but my mom-tested recommendations include Riverside Park's Hippo Playground, the Imagination Playground at South Street Seaport, Central Park's Tarr-Coyne Tots Playground, Brooklyn Bridge Park's mega sandbox and tot lot, and the Vanderbilt Street Playground in Prospect Park.
14. First Friends
Now that you've got a playground to hang out in, why not round up some pint-sized playmates? New parents must band together and empathize over sleepless nights and transitions from bottle or breast to sippy cups. Where will you (and your kid) find these first friends? Try a new parents group or a parent-and-me class.
15. First Play Space
Play spaces are big business in this city, and with good reason. Small apartments and soggy, snowy, or cold weather mean sometimes you need a spot to escape and let the kids run free. We've got roundups of the biggest and best play spaces citywide, as well as those catering to the youngest clientele, and those with indoor water tables.
RELATED: 12 Baby Registry Lifesavers for New York City Parents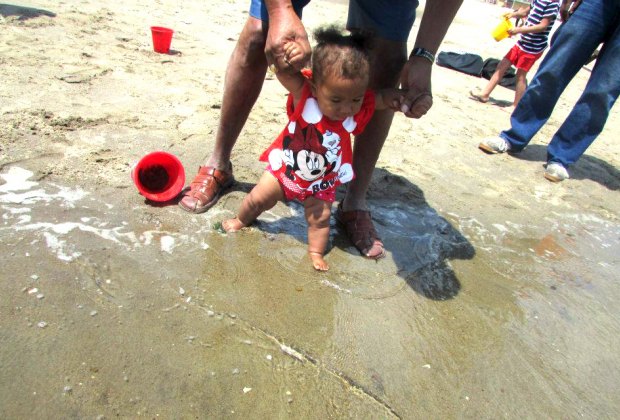 Orchard Beach in the Bronx offers a sheltered shoreline with gentle waves perfect for baby toes.
16. First Dip
Speaking of wet-and-wild fun, a splash in a local pool is a big first for baby. For the most picture-perfect photo op, consider purchasing a day pass for an indoor pool. During the summer, NYC has tons of FREE outdoor pools, though a word to the wise: There are lots of rules, and most pools aren't heated. Really want to make a splash? Visit our post on parent-and-me swim lessons citywide. If you need sand-and-sun along with your splash, consider a trip to one of these nearby beaches, all accessible with a swipe of a MetroCard.
17. First Foodie Experience
Your babe will go from suckling milk to slurping solids in the blink of a sleep-deprived eye. New York City is home to plenty of family-friendly restaurants where you can start to prime that tiny palate for NYC's impressive foodie scene. Brunch will always be a hit, but why not try some international eats? Restaurants with backyards are always more relaxed, and so are the food halls popping up all over the city. Or perhaps a play cafe where you can enjoy a nosh, and while the little ones romp.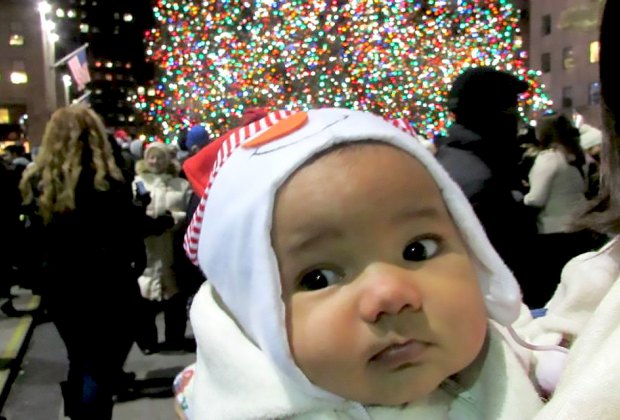 A visit to the Rockefeller Center Christmas tree might fail to impress your wee one, but you'll love the keepsake down the line.
18. First Tradition
The holiday season in NYC second to none. There's a reason movies are set here, books are written about it, and dazzling annual stage shows sell out night after night. When that special first holiday season rolls around, be sure to establish a tradition all your own. For us, it's the yearly trek to Macy's Santaland. Yes, even my 14 year old sits on Santa's lap because he knows mommy needs a photo! So, whether it's checking out the store windows, catching a family-friendly production of the Nutcracker, gazing at the Dyker Lights, or something else, start a new tradition with baby in tow, and you'll look forward to repeating it year after year.
19. First Cab Ride
Face it, you're raising a city kid. They're going to have to learn how to hail a cab sooner or later. All three of mine came home from the hospital in a yellow cab (including one during a transit strike!). Though car-seat laws are more lax when it comes to shared-ride vehicles, consider using one of these car services with car seats when you need to get around town but don't want to schlep your own.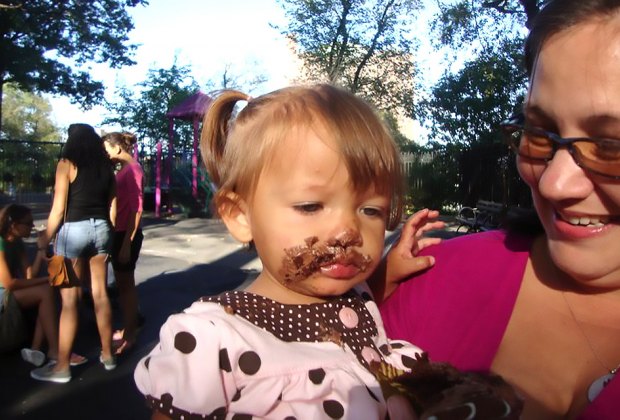 There are no cake-smash crumbs to clean up if you party at your local playground!
20. First Birthday Party!
Yay, you've made it through that crazy but amazing first year. Celebrate with a first birthday party you'll both appreciate. We have endless ideas in our NYC Party Guide, from party rooms perfect for a first fete to bakeries that can whip up a stunning, photo-worthy cake to 22 Free Ways to Say Happy Birthday, and NYC parks that make for great party backdrop.
Now that you've cleaned up the confetti and snapped those Insta-worthy cake-smash photos, take heart in knowing you've entered a whole new world: toddlerhood, NYC style.
This article first published in February 2015, but it has since been updated.
Unless noted, photos by the author