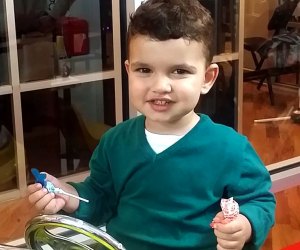 8 Children's Hair Salons in Brooklyn Perfect for a First Haircut
You can't hold on to that soft and glorious baby hair forever. Eventually, you have to get the kid a proper haircut. While you can hit the local barbershop, these dedicated children's hair salons in Brooklyn offer a more memorable and (hopefully) tear-free experience. The stylists are accustomed to snipping squirmy tots, and DVDs, toys, and balloons keep nervous kids distracted and happy. A few spots even offer activities like storytime and classes. So, pack up your little one and head to one of these cutters.
Live in another borough? Check out our roundups of children's salons in Manhattan and Queens.
General Children's Hair Salons in Brooklyn
Cut Above on 7th – Park Slope
111 Seventh Avenue between Carroll and President Streets
Previously Nick's Quality Barber Shop, this neighborhood spot is perfect for older kids who are ready to transition out of kiddie salons to a more grown-up establishment. There are no toys or personal TVs in this classic barbershop (it even has a barber pole in the window). The staff members do a great job of cutting kids' hair stylishly and quickly. All children get a lollipop as a reward (hey, even big kids like candy).
RELATED: Best Toy Stores in NYC: 15 Family Favorites and Destination Shops

Edamama Cute Cuts & More lives up to its name.
Edamama Cute Cuts & More – Williamsburg
568 Union Avenue between Frost and Richardson Streets
This adorable, sea-themed kids' salon pleases children and parents. Mom and dad can enjoy pastries and coffee in the cafe as tots get their hair snipped while watching TV or reading (it's a bookstore, too). Need to wait a bit for your appointment? Children have ample space to run around or can plop down with a book. Edamama also hosts regular sing-alongs, storytimes, and classes.
LuLu's Cuts & Toys – Park Slope
48 Fifth Avenue between Bergen and Dean Streets
The veteran on our list, LuLu's was opened by a local mom in 2001. This toy shop/salon boasts stylists who are fast, friendly, and meticulous. You'll also find a variety of playthings, along with a train table for tots, personal screens, and a selection of kids' movies and TV shows to watch. Babies celebrating their first cut receive a certificate commemorating the event, as well as a lock of hair. All ages get a balloon and lollipop upon departure, and a parting prize from the toy shop if mom is feeling generous. Schedule your next appointment online or call 718-832-3732.
RELATED: 10 Free Things To Do in Brooklyn When it's Freezing

Pinkyz Place has some super cool rides for your kid to enjoy while getting a haircut.
Pinkyz Place – Cobble Hill
152 Atlantic Avenue between Clinton Street and Henry Street
Pinkyz pulls out all the stops to make sure kids enjoy their haircut experience. From its selection of movies to the chalkboard wall and lollipops, little ones up to age 14 will love it here. The salon also hosts music, yoga, and other kids' classes.
RELATED: 8 Best Places to Get Kids' Haircuts in Manhattan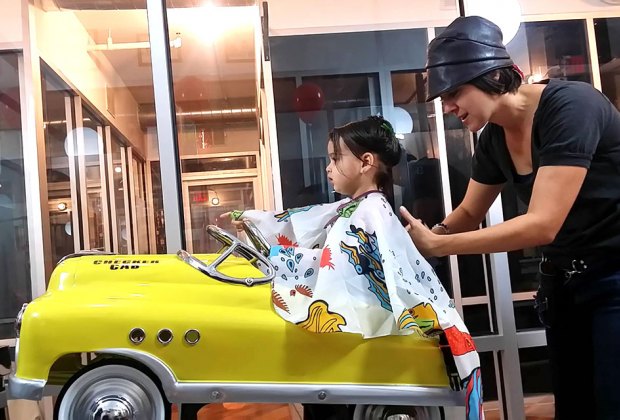 Rockin' Locks Salon customers can take a mini taxicab for a spin during their appointment.
Rockin' Locks Salon for Kids – Williamsburg
240 Kent Avenue between North 1st Street and Grand Street
This adorable kiddie salon allows its customers to sit in a race car or mini taxicab. Haircuts are offered for ages 11 and under at this kids-only spot. Rockin' Locks does not take walk-ins, so make sure to book an appointment beforehand.
Runnin' Wild Toys – Carroll Gardens
369 Court Street near Carroll Street
Runnin' Wild Toys is owned and operated by the same folks behind the kids' footwear store Runnin' Wild Shoes down the block. A wonderland for kids, it has coin-operated rides by the entrance, a toy store in the front, and a hair salon in the back. Each kid receives a balloon and a lollipop. The shop also hosts a variety of kids' classes. Call 718-222-2444 for an appointment or class schedule.
Braiding Salons in Brooklyn
Destiny Kids Salon & Spa – Crown Heights
357 Rogers Avenue between Sullivan Place and Empire Boulevard
Specializing in beading, braiding, and cornrows, this salon also offers basic cuts for boys and girls, and spa services such as mani-pedis, nail art, foot massages, and chocolate facials. If little siblings must wait while big sis is having her hair done, there are lots of toys and kid-size tables and chairs so they can play while she gets pampered.
RELATED: Pamper Your Little New Yorkers at Milk & Cookies Spa and Salon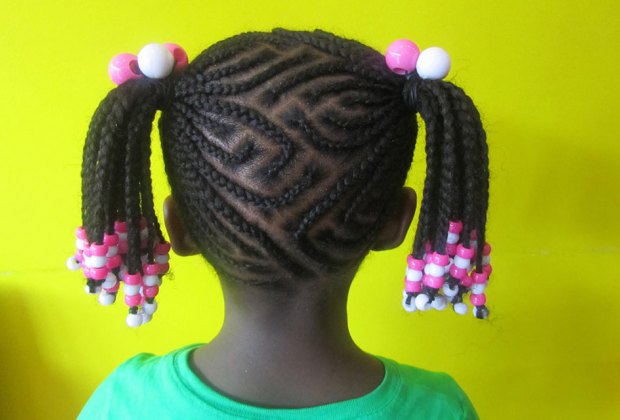 Get your kid's hair braided at Bliss Kids Salon.
Bliss Kids Salon – East Flatbush
992 Winthrop Street Between East 91st Street and Remsen Avenue
Bliss is another salon that's all about cornrows and beading. It earns high marks from fans for professional, friendly stylists who know how to handle kids, even when they're sitting for hours for a complicated 'do.
This post, first published in January 2015, has since been updated.