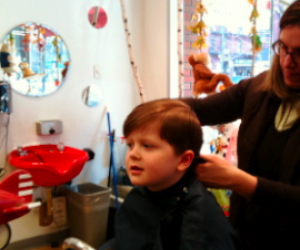 Kids Cuts: Haircutting Salons for Boys & Girls in Brooklyn
You can't hold on to that soft and glorious baby hair forever. Eventually, you have to get the kid a proper haircut. While you can hit the local barbershop, Brooklyn's dedicated kiddie hair salons offer a more memorable and (hopefully) tear-free experience. The stylists are accustomed to snipping squirmy tots, and DVDs, toys and balloons keep nervous kids distracted and happy. A few spots even offer activities like storytime and classes. So pack up your little one and head to one of these cutters.

Live in another borough? Check out our roundups of children's salons in Manhattan and Queens.
Edamama Cute Cuts & More – Williamsburg
568 Union Avenue Frost and Richardson Streets
This adorable, sea-themed kids' salon pleases children and parents. Mom and dad can enjoy pastries and coffee in the cafe as tots get their hair snipped while watching TV or reading (it's a bookstore, too). Need to wait a bit for your appointment? Children are free to run around in the ample space or plop down with a tome. Edamama also hosts regular sing-alongs and storytimes as well as kids' classes.

LuLu's Cuts & Toys – Park Slope
48 Fifth Avenue between Bergen and Dean Streets
The veteran on our list, LuLu's was opened by a local mom back in 2001. This toy shop/salon boasts stylists that are fast, friendly and meticulous. You'll also find a variety of playthings, along with a train table for tots, personal screens and a selection of kids' movies and TV shows to choose from. Babies celebrating their first cut receive a certificate commemorating the event, as well as a lock of hair. All ages get a balloon and lollipop upon departure, and maybe a parting prize from the toy shop, if mom is feeling generous. Schedule your next appointment online or call 718-832-3732.

Mini Max Toys and Cuts – Cobble Hill
152 Atlantic Avenue between Clinton Street and Henry Street
Navigate your way through the valley of toys to the children's hair salon in back featuring cute taxi and fire truck chairs, and a TV playing cartoons. There are discounts for siblings (10 percent) and twins (50 percent), every 10th haircut is free and the birthday club gets you a no-cost 'do during your birthday month. First timers can arrive early to meet the stylist to get rid of any jitters, and leave with a First Haircut Certificate, a lollipop and a balloon. After the cut, browse the toys (if you dare) or see if there's a storytime or other activity going on. Haircut reservations recommended, especially on weekends: call 718-222-8697 or email minimax@minimaxnyc.com.

Runnin' Wild Toys – Carroll Gardens
369 Court Street near Carroll Street
Formerly the site of If I were a toy, Runnin' Wild Toys is owned and operated by the same folks behind the kids' footwear store Runnin' Wild Shoes down the block. A wonderland for kids, it has coin-operated rides by the entrance, a toy store in the front and a hair salon in the back. Margaret, late of LuLu's in Park Slope, is a favorite stylist. Make an appointment with her on Tuesdays, Saturdays or Sundays, or try your luck with a walk-in. Each kid receives a balloon and a lollipop, and Margaret does adult 'dos, too. The shop also hosts a variety of kids' classes. Call 718-222-2444 for a salon appointment or class schedule.

Destiny Kids Salon & Spa – Crown Heights
567 Nostrand Avenue between Atlantic Avenue and Pacific Street
Specializing in beading, braiding and cornrows, this colorful salon also offers basic cuts for boys and girls, and spa services such as mani-pedis, nail art, foot massages and chocolate facials. Little siblings waiting while big sis is having her hair done? There are lots of toys and kid-size tables and chairs so they can play while she's pampered.

Child's Play Kids Hair Salon – Prospect Lefferts Gardens
1195 Nostrand Avenue between Fenimore and Hawthorne Streets
Also specializing in cornrows and beads, this salon has been serving Brooklyn since 2002. There's a large flat-screen TV playing family movies, a children's reading nook and complimentary Wi-Fi. However, since reservations aren't accepted, word is the wait can be extremely long.

Bliss Kids Salon – East Flatbush
5216 Church Avenue between East 52nd and East 53rd Streets
Another salon that's all about cornrows and beading. Bliss earns high marks from its fans for professional and friendly stylists who know how to handle kids, even when they're sitting for hours for a complicated 'do.

Cut Above on 7th – Park Slope
111 Seventh Avenue between Carroll and President Streets
Previously known as Nick's Quality Barber Shop Inc, this neighborhood spot is great for older kids who are ready to transition out of kiddie salons to a more grown-up establishment. No toys or personal TVs in this classic barbershop (it even has a barber pole in the window). The staff members do a great job of cutting kids' hair stylishly and quickly. All children get a lollipop as a reward (hey, even big kids like candy).

Area Kicks & Cuts – Park Slope & Carroll Gardens
335 Fifth Avenue between 3rd and 4th Streets
274 Smith Street between Degraw and Sackett Streets
We'd be remiss if we didn't mention these two Brooklyn shoe store/salons, which are run by the same folks behind local toy shop chain Area Kids. Admittedly, both outposts have received low online ratings in the past. However, we spoke to the owner, who said she recently instituted numerous changes in response to her customers' feedback. Haircuts are now only offered on weekends by two veteran and well-liked stylists. With excellent locations (the Park Slope one is right across the street from the the popular J.J. Byrne Playground), it's worth giving them a try.

Check out our roundups of children's salons in Manhattan and Queens.