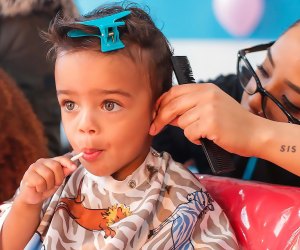 8 Best Places to Get Kids' Haircuts in Manhattan
Getting your kid's hair cut can be hard. Even a harmless trim can turn into an ordeal if you have a little one who squirms and squeals and refuses to sit still. Have you ever seen a stylist try to snip a moving target? Thankfully, NYC's top children's hair salons pull out all the stops to turn haircuts into a fun experience for families, plying young clients with balloons, bubbles, cartoons, toys, funky chairs, and lots of coddling.
Here are 8 kid-friendly salons where you can take your tot for (hopefully tear-free) haircuts in Manhattan.
Top Children's Hair Salons in Manhattan
Cozy's Cuts for Kids – Upper East Side
1416 Second Avenue at 74th Street
When it comes to kids' haircuts, this local spot has thought of everything. Children get to pick out a movie or video game to watch or play during their trim, and the colorful shop is bursting with toys and other distractions. Cozy's has its own line of hair products and every kid leaves with a balloon and lollipop in hand. Stylists are used to working with squirmy or crying youngsters and can also check for lice and show parents how to do so at home. There are also cute add-ons like a "braid bar" and manicures, and a first haircut package.
RELATED: Drop-Off Childcare Options in NYC for Date Night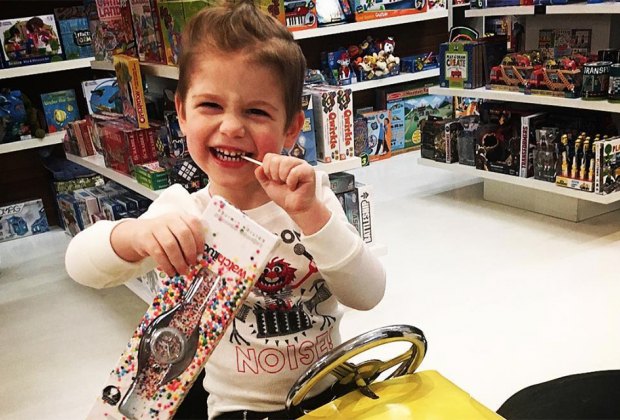 Sit behind the wheel for a cut at Doodle Doo's.
Doodle Doo's – West Village and Chelsea
11 Christopher Street between Greenwich Avenue and Waverly Place
10 West 25th Street (inside Appleseeds Chelsea)
Your kids can sit behind the wheel of a taxi or boat as they get their hair cut at this children's salon. Stylists have bubbles at the ready to distract unhappy customers. First haircut survivors and their parents are rewarded with a gift bag. There is also a toy shop in case parents want to buy little bribes to keep their kids still.
Get Coiffed – Citywide
917-548-3643
If going to a hair salon has been traumatic for your child, you may wish someone could come to you. Well, your wish is granted: Get Coiffed does at-home cuts and specializes in kids. Discounts available for multiple children. The company also caters to children with special needs.
RELATED: NYC Stores Where Kids Can Play for Free

Get a cut or a style at Kidville Salon.

Kidville Salon – Financial District
40 Gold Street near Edens Alley
The members-only kiddie gym franchise also offers cuts at their Financial District location. The stylists are patient and used to getting their work done even as kids duck and weave or just sit in their fun-car chairs staring blankly at episodes of Dora or Sesame Street. Kidville members get 15 percent off cuts.
Milk and Cookies Spa – ​Upper East Side
1196 1st Avenue between 64th and 65th Streets
If your little one isn't a fan of haircuts, a cookie could certainly sweeten the deal. This kids-only salon offers everything from deep conditioning treatments with scented "hair toppings" to "chocolate milk" mani/pedis. There is even a Dessert Lab where spa-goers can create their own treats and the popular Cookie Café offers free fresh-baked cookies and milk.
My Little Sunshine – Chelsea and Tribeca
177 Ninth Avenue between 20th and 21st Streets
145 Hudson Street near Hubert Street
Stylist Denni has been cutting kids' hair since the 90s and continues to do so at both locations of this independently owned children's store. Tots can sit in a bright-red airplane while getting their 'dos. Since she shuttles back and forth between locations, it's best to call and make an appointment.
Sharkey's Cuts For Kids – Upper East Side
1359 Second Avenue at 72nd Street
This national children's hair salon chain has one outpost on the Upper East Side. In addition to simple cuts, it offers a wide variety of services (extensions, braids, shimmer) as well as a special first haircut package. Children can sit in a Dodge Police Cruiser, Barbie Jeep, Lightning McQueen Race Car, Buzz Light Year Vehicle, Hummer, Frozen Jeep, Fire Engine, or Mini Cooper while watching their favorite cartoons or Netflix.
Supercuts – Citywide
Visit the website for locations
This national chain is aimed at adults but knows how to deal with kids. You can find a Supercuts in just about every neighborhood in Manhattan and beyond. Walk-ins are welcome and (cheaper) children's haircut prices are valid up to age 12.
Photos courtesy of the salons/spas
This post was originally published in April 2012; it has been updated for 2019. Katie Nave Freeman contributed additional reporting.