Home Haircut Tips by Experts: How To Cut Kids' Hair in a Pandemic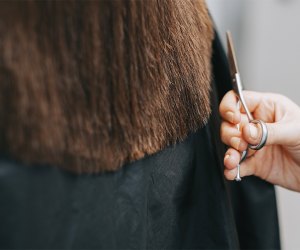 5/8/20
- By
Drew Kristofik
As days turn into weeks and the weeks turn into months, coronavirus quarantine brings a new challenge: the haircut. We're all starting to look more than a little scruffy. Your son's hair is now completely covering his ears. Your daughter's hair is slightly lopsided (one side grows faster than the other—who knew?). Hubby's hair is veering into a kind of Sasquatch/hippy hybrid. And let's not even mention a look in the mirror. When I catch a glimpse of the neighbors during our daily social-distancing walk, I can see, even at a distance, that they are experiencing a similar problem. It's evident the time has come for a haircut. Read on before you pull out your scissors: We've talked to some industry pros from kids' salons around the country to get the best tips for at-home haircuts. These tricks will get you through until the stay-at-home orders are lifted.
So, take a step back from your "let it grow" philosophy, follow these pro-backed haircut tutorials, and dip your toes into the world of home haircuts. For more helpful advice, plus boredom busters to help you survive the coronavirus with kids, be sure to visit our Stay-at-Home Guide.
Tools You'll Need for Home Haircuts
RELATED: 20 Ways Kids and Teens Can Help Others During Coronavirus Outbreak

Strap your little one into a baby seat and have a sibling or parent blow bubbles to provide a distraction from the cutting! Photo courtesy of Snip-Its
At-Home Haircutting Do's and Don'ts
Do provide a distraction to keep your child reasonably still. A haircut is a perfect time to set up cartoons or a kid-friendly movie on a tablet or phone.
Do cut hair that is both clean and wet. Bear in mind, wet hair contracts as it dries (the exception is curly hair—cut curly hair when it begins to dry, so you can see how it falls length-wise while you're cutting).
Do use a "point cut" technique, which is basically not cutting hair straight across, but instead uses the shears to snip into the hair vertically (look it up on YouTube).
For all trims: Do spray down the hair and grab about an inch of hair at a time to work with. Hold the hair between two fingers, keeping them as parallel as possible. Don't cut past your knuckles, or the haircut starts to get crooked. Cut only between the base of your fingers and the middle finger joint. – Mariah Whurr, of Snip-Its, a national chain of kiddie salons
Don't use scissors near your child's face, eyes, or ears. If you need to trim your child's bangs, lift the hair away from their face using the comb and be prepared for any sudden movements. – Idania Santiago, of Rock Hair Scissors, in Chicago, Illinois
RELATED: Virtual Events to Enjoy at Home This Week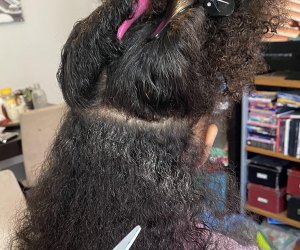 Use hair clips to divide hair so you can work in small sections during your at-home haircut. Photo by Jody Mercier
Tips for Home Haircuts for Girls
The experts are united when it comes to at-home haircuts for girls during the pandemic: Don't try to get fancy (unless you're a licensed cosmetologist). A simple trim is your best bet and all you need to get you through. But this might be a good time to experiment with braiding (perfect that French braid!), pin curls, or growing out those bangs. Teychenne Whitley, of NYC's Milk & Cookies Kids Spa, offers online haircuts-for-kids coaching, and also recommends trying your hand at new styles, like space buns, a two-strand twist, or Elsa-inspired braids.
If your daughter is the adventurous type, though, and would like to take this opportunity to experiment, you might want to try a little undercut on one side, a la Miley Cyrus, Scarlett Johansson, and Rhianna.
For curly-haired cuties, Whurr offers this valuable insight: Whether your kiddo has a soft wave or tight curly ringlets, each curl follows an "s" shape. You want to find that pattern and get as close to the end of the "c" (or right in the middle of the "s") as possible. Spray down the hair and hold that curl between parallel fingers and trim the end of the curl in a downward motion.
Cozy Friedman of NYC's Cozy's Cuts for Kids) provides a bunch of great how-to videos on her website, including this helpful how-to for girls.
RELATED: Car Parades, Zoom Calls, Neighborhood Howls, and More: How Families Connect in Quarantine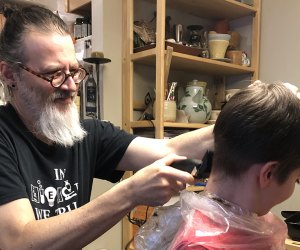 Clippers and scissors require different techniques for successful at-home haircuts. Photo by Eva Schwartz
Tips for Home Haircuts for Boys
Sabrina Feldman, of Los Angeles-based salon The Yellow Balloon, provided us with a detailed boys haircut tutorial:
Basic Boy's Haircut

Important: When using clippers, the hair must be dry.

Plug-in your clippers and use the No. 4 attachment guard to start. If you want a shorter cut, you can go down a number until you find your desired length.

Have your child look down so you can start at the nape of the neck and closely move the clippers up the head until you reach the occipital bone (the round part that you feel just above your temples that goes all the way around the head.

Keep cutting the hair all around the back and sides until you reach that bone, then stop and go to a higher attachment to blend up to a longer length on the sides and back of the head to leave the top longer. If you have a cowlick in the back, go in the direction of the swirl.

If you want a short top, then you can choose to start with a No. 2 attachment on the sides and back then use a No. 3 for the occipital bone and then blend the top from there with a No. 4 or 6. That will define the sides, back, and top. Typically, we use a comb and scissors to blend the back and sides to the top, but you can just use the attachments and remember the higher the number on the guard, the longer the haircut.

To clear hair overlapping around the ear, bend the ear down and use the clippers without a guard to carefully make the half-circle from bottom to top around the ear. Be careful not to touch the skin! The clippers are sharp and can cut.

Use the clippers without an attachment to create a straight line at the sideburns and clean up the neck hairs at the bottom edge.
Feldman recommends Wahl clippers for boys (or girls, if they want an undercut). The company has posted its own handy haircut how-to video series on its website.
And Remember...
If you have a particular haircut or look in mind, there's probably a YouTube video out there just waiting to walk you through it!
This article contains some affiliate links, which means we might earn a small commission if you make a purchase. There is no extra cost to the reader. We only recommend products and services that we have personally used or have thoroughly researched.